Joining today's show are
Sam Stein, Michael Steele, Cokie Roberts, Jim VandeHei, Willie Geist, Steve Kornacki, Brian Gabriel, Lt. Gen. Michael Flynn, Bob Woodward, Ari Melber, Hallie Jackson, Ben Ginsberg, Mark Leibovich, Ian Brzezinski, Rick Tyler, Lisa Boothe, Margaret Carlson, Sara Eisen and
Steele stumps contestants on Jeopardy!
Former RNC Chair and Morning Joe regular, Michael Steele, was a Jeopardy! question this week, and well, the contestants didn't pick up on it so much so that one snawerd or asked the question if he was Reince Preibus
...
New GOP rift as candidates refuse to pledge support for nominee. The Republican Party's already volatile 2016 presidential campaign was roiled anew Tuesday when all three Republican candidates backed away from a pledge to support the GOP nominee.
Donald J. Trump makes a strong defense of his campaign manager.
The Morning Joe panel reacts.
With rising anger between rival campaigns ripping at an already fragile Republican Party, Donald Trump, Ted Cruz and John Kasich all declined to say they would unquestionably support the candidate who emerges as the GOP standard-bearer in November's election.
It was the latest sign of chaos and division in the GOP as the race turns to Wisconsin's crucial April 5 primary and the increasingly desperate anti-Trump forces try to halt his march to the nomination.
The pledge was introduced last year amid fears that Trump could bolt the Republican Party if he failed to win the nomination and mount an independent bid if he believed that he wasn't treated well by party leaders. GOP leaders feared that such a move would automatically hand the general election to Democrats.
Read more: All three GOP candidates backed away from their pledge to support GOP nominee
But the party's paper-thin unity strained by Trump's anti-establishment campaign has led to the possibility of a contested convention. Such a scenario threatens to tear the party apart and could make Trump's legions of supporters feel angry and disenfranchised if the billionaire wins with most delegates in the primaries but is deprived of the nomination.
Asked by moderator Anderson Cooper at CNN's town hall about the pledge and whether he would support the eventual nominee regardless of who it was, Trump responded, "no."
"I have been treated very unfairly," Trump said, hitting out at the "RNC, the Republican Party, the establishment." He also said that he is not looking for chief rival Cruz's support either.
"He does not have to support me," he said. "I am not asking for his support."
Cruz, who preceded Trump at the town hall, hedged when asked whether he would support Trump if he became the Republican nominee.
"Donald is not going to be the GOP nominee. We are going to beat him," Cruz said, though he did not categorically refuse to back the billionaire.
He did, however, add that nominating the current party front-runner would be a "train wreck" and hand the White House to Democrat Hillary Clinton.
And Kasich said that in retrospect it would probably have been wiser if none of the candidates in the first place had made the promise to support the nominee no matter what.
"I have got to see what happens," Kasich said. "If the nominee is somebody I think is really hurting the country and dividing the country, I can't stand behind them."
But Kasich would not spell out whether he thought of Trump as somebody that was hurting the country.
GOP Town Hall: CNN's Reality Check Team vets the claims
Trump at the town hall also addressed the simple battery charge that has been brought against his campaign manager, standing by the aide and mocking the reporter who brought the complaint, saying she had changed her story about the incident.
Trump said he would not fire the aide, Corey Lewandowski and disputed the woman's initial account of the incident earlier this month in which she said she almost fell to the ground.
"She's not a baby. In her own words, 'I was jolted backwards' ... She wasn't 'yanked down,'" Trump said, referring to a statement made by the reporter Michelle Fields, who worked at the time for Breitbart News, which he said was not reflected in scenes shown on a security tape that has since emerged.
Addressing the incident involving Fields, Trump alleged that she was in fact pushing Trump as he tried to leave a press conference and was brandishing a pen, which he said could have alarmed Secret Service agents protecting him.
He said that Lewandowski had been "unjustly accused."
"It would be so easy for me to terminate this man, ruin his life, ruin his family ... and say you are fired. I have fired many people, especially on 'The Apprentice,'" Trump told moderator Anderson Cooper. "The problem is everybody dumps people when there is a sign of political incorrectness."
In contrast, GOP opponent Ted Cruz said earlier at the town hall that he would "of course" ask his campaign manager to resign if he were charged with battery.
"It shouldn't be complicated," Cruz said. "Members of the campaign staff should not be physically assaulting the press."
He added, "I will say it is consistent with the pattern of the Trump campaign. The culture of the campaign has been a campaign built on attacks and insults."
Ohio Gov. John Kasich, the final candidate to appear at the town hall, was also asked whether he would fire Lewandowski.
"Of course I would," he said.
READ: What we've learned about Trump's world view
The charges against Lewandowski have prompted fresh criticism of Trump's campaign and came a week ahead of the Wisconsin primary, which is shaping up as a huge night in the bid by the billionaire's rivals to deprive him of the GOP nomination.
The feud between Trump and Cruz turned even more personal last week when the real estate mogul took aim at the Texas senator's wife.
Cooper at one point challenged Trump for tweeting what appeared to be an unflattering picture of Cruz's wife Heidi, after a super PAC that the billionaire accused of working with Cruz used a revealing picture of his wife, Melania, a former model. There's no evidence, however, that the super PAC worked with Cruz, which would be illegal.
"I didn't start it," Trump, said.
Cooper replied, "Sir, with all due respect, that is the argument of a five-year-old."
"I didn't start it," Trump insisted, adding that he would prefer to talk about nuclear proliferation than candidates' families.
Cruz also argued that the Trump campaign was behind a salacious report published in the National Enquirer that alleged the senator had multiple extramarital affairs. But he said he wanted to discuss issues with the billionaire.
"What I am not interested in doing is what Donald's pattern has been. It's personal attacks, it's attacking family members," he said.
Last week, Trump took exception to an ad by a super PAC unaffiliated with Cruz featuring a risque picture of his own wife, Melania, a model, and threatened to reveal unspecified information about Heidi Cruz, prompting a furious response from the Texas senator.
On the foreign policy front, Trump also then went on to defend his statement that Japan and South Korea should consider developing nuclear weapons to defend themselves from North Korea rather than relying on the U.S. nuclear umbrella.
Read more: Rubio holds onto delegates in hopes of stalling Trump
Experts have warned that such a move could result in an arms race in Asia and elsewhere. But Trump said that America could no longer afford to be solely responsible for defending its allies.
"Maybe it is going to have to be time to change," he said.
Kasich, however, took issue with Trump's statement that NATO is "obsolete" because it was set up to combat the Soviet Union, a threat that no longer exists.
"That's absurd" Kasich said, getting a smattering of applause. But the Ohio governor said that Washington would always want its allies to do more and blamed too much "socialism" and political correctness for shortcomings among American partners.
Trump also complained that in the state of Louisiana, which he won, he appears to have been awarded fewer delegates than Cruz due to the vagaries of election law.
"I won the election, and then it is all about the delegates," Trump said. "Then I find out that I got 10 delegates less than the guy that lost. I beat him," Trump said.
Cooper challenged Trump, saying that the Louisiana developments were well within the rules and suggested that it was all down to a superior ground game by the Cruz campaign.
"I don't call it ground game. I call it bad politics," Trump replied.
Kasich has maintained that he's the only adult in the GOP race and, despite having won only one primary to date, the sole remaining Republican who could emerge from a possible contested convention to beat Clinton.
Kasich said that he would refuse to stoop to the levels of campaign rhetoric that he blamed Cruz and Trump for adopting. Asked about a tweet by a senior campaign aide that was critical of the Texas Senator, Kasich disavowed it.
"Sometimes, he gets a little tweet-happy, and I don't like that, and I will have a word with him about it." Kasich said of his aide.
Cruz earlier in the night ruled out any alliance with Kasich to maximize their chances of stopping Trump. Such an arrangement could in theory force the Republican front-runner to face only one candidate in each state for the rest of the campaign and coalesce opposition against him, complicating his hopes of winning the 1,237 delegates needed to claim the nomination.
"It makes no sense at all. John Kasich has no path to winning. We are competing to win, we are not competing to stop Trump. John Kasich went 0 for 27. He lost 27 states in a row," Cruz said.
Cruz said his "preferred option" was to win 1,237 delegates, though he said it was entirely possible that a contested convention could unfold if no one reached that number. But he argued that the only two names on the ballot in that situation would be himself and Trump.
The Texas senator was repeatedly asked to justify his call last week after the Brussels terror attacks for greater surveillance of Muslim neighborhoods in the United States.
Cruz said that he took it as a badge of honor that President Barack Obama, Clinton and New York police authorities had attacked him after he made the comment, despite their claims that such programs had not worked in New York City.
"If you want to stop radical Islamic terrorism, the answer is not to go hang out in random neighborhoods, it is instead to focus on communities where radicalization is a risk," Cruz said, before suggesting that Democrats and political correctness would consign the U.S. to the same problems in enforcing law in Muslim communities that he said Europe faces.
"America should not make the same mistakes as Europe," he said. "We should have law enforcement actively engage to stop radicalization."
READ: Wisconsin Gov. Scott Walker endorses Ted Cruz
But Kasich hit out at Cruz's call for more police patrols in Muslim neighborhoods, saying it would alienate the very people that authorities need to help combat extremism.
"If you polarize the entire Muslim community, how are you going to get the information that you want?" Kasich asked. "The vast, vast majority of Muslims -- they think that their religion is being hijacked."
In a more personal moment, Cruz, who has angered some of his colleagues in Washington with his uncompromising tactics, was asked by a member of the audience to describe his greatest failure and what he had learned from it.
"I'm a pretty driven guy," Cruz answered, saying he had a passionate commitment to free market economics and the Constitution. "At times, I am hard-charging, I have stepped on some toes ... maybe I should have pulled back some in some circumstances ... it is a strength and a weakness."
Both Kasich and Cruz need a big victory over Trump to secure most if not all of Wisconsin's 42 Republican delegates next week. They are trying to stop the former reality TV star short of the 1,237 delegates needed to win the nomination outright and open the way to a contested convention.
But the fact that they are both competitive in Wisconsin risks splitting opposition to Trump, allowing him to march on to more favorable contests next month in the Northeast with his large delegate lead untrimmed.
The town hall event is airing on CNN, CNN International and CNN en Español, and is being streamed live online and via CNNgo.
Donald Trump Gets Called Out By CNN For Arguing Like a Five Year Old At Town Hall
By Sarah Jones on Tue, Mar 29th, 2016 at 10:36 pm
During the CNN Republican town hall hosted by Anderson Cooper Tuesday night, the host called out Donald Trump for arguing like a five year old.
Donald Trump Gets Called Out By CNN For Arguing Like a Five Year Old At Town Hall
During the CNN Republican town hall hosted by Anderson Cooper Tuesday night, the host called out Donald Trump for arguing like a five year old.
Cooper had asked Trump about the tweet he sent with the unflattering picture of Heidi Cruz compared with the very flattering picture of his own wife. Trump's response was, "I didn't start it."
Trump repeated that several times. Cooper was not impressed. Cooper replied, "Sir, with all due respect, that's the argument of a five-year-old. The argument of a five-year-old is he started it." Trump replied with his version of I know you are, but what am I, "You might say that.That's the problem with our country." Cooper continued, "Every parent knows a kid who says he started it." Trump replied, "No, no, no exactly that thinking. That's the problem this country has. I did not start this."
The above exchange was about as deep into policy as Donald Trump got all night.
It has been rare to see anyone in the media call out Trump for his behavior, but Anderson Cooper deserves credit for attempting to slightly raise the bar by beginning to evaluate the Republican frontrunner's behavior by the standard that this man could be the next President Of The United States.
Instead of sucking up to Trump for ratings, more members of the media need to hold his behavior to a higher standard. Donald Trump is a five-year-old child in a grown man's body, and the little rich boy who wants to be president could be in for a spanking when he finds his childish shtick completely ineffective against Democrats this fall.
Donald Trump aide charged with assault.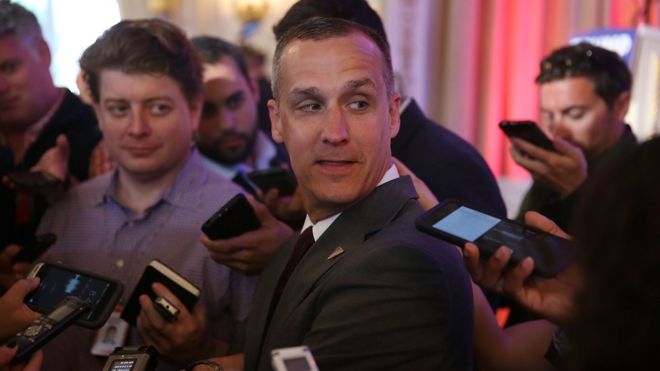 Donald Trump campaign manager Corey Lewandowski has been charged with assaulting a journalist at a campaign event.
Mr Lewandowski is charged with simple battery over his encounter with former Breitbart reporter Michelle Fields.
Police allege that on 8 March after a news conference in Florida, he grabbed her arm when she tried to ask Mr Trump a question, leaving a bruise.
Mr Lewandowski plans to plead not guilty, the Trump campaign said.
Police in Jupiter, Florida, where he was arrested, have released new footage of the alleged assault.
The security video appears to show him trying to pull Ms Fields out of the way as she walks alongside Mr Trump and tries to speak to him.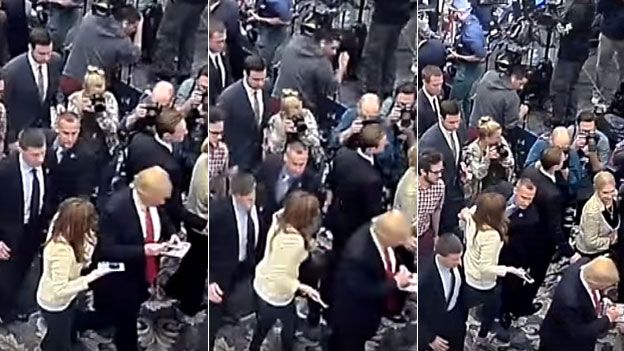 "Mr Lewandowksi is absolutely innocent of this charge," the Trump statement said. "He is completely confident that he will be exonerated."
Mr Trump himself has defended Mr Lewandowski on Twitter, saying the police footage shows there was "nothing there".
Who is top Trump aide Corey Lewandowski?
He defend Mr Lewandowski later on Tuesday, telling reporters that he is a "fine person" and that the tapes were "conclusive".
"If you look at that tape he was very very seriously maligned, and I think it's very unfair," he said.

If Donald Trump is going to win the Republican nomination without a convention fight, he will have to endure yet another string of political blows that would stagger even the strongest campaign.
A week before a key primary in Wisconsin, Scott Walker - the state's governor - gave a full-throated endorsement of rival Ted Cruz. Now Mr Lewandowski has been charged over his manhandling of a female reporter during a rally. This comes after a particularly tawdry few days in the Republican presidential battle as Mr Trump and Mr Cruz engaged in a war of words over their spouses.
The New York property developer has been able to maintain his front-runner status for months despite countless controversies and conflagrations. This time may be different, however.
Jump media playerMedia player helpOut of media player. Press enter to return or tab to continue.
Media captionDonald Trump said campaign manager Corey Lewandowski was being "maligned unfairly"
Recent events are likely to cause further damage to Mr Trump's already poor standing with female voters. The Republican presidential pack has been whittled to just three candidates, with the not-Trump vote consolidating behind Mr Cruz.
Mr Trump's path to securing the Republican nomination is a narrow one, so the slightest stumble could deny him the prize outright. Then it's on to the convention, where party loyalists and a growing cadre of Cruz-friendly activists hold sway.
The charge comes during a difficult time for Mr Trump, just ahead of next week's Wisconsin primary where he is neck-and-neck with Senator Ted Cruz.
Mr Trump took part in a CNN town hall event on Tuesday night, as all three Republican contenders faced questions.
He is currently well ahead in the Republican race with 739 delegates to Cruz's 465.
Earlier on Tuesday, Wisconsin Governor Scott Walker endorsed Mr Cruz for president.
Ohio Governor John Kasich is some way behind with 143, with the 1,237 needed to win the nomination probably out of his reach.
Jump media playerMedia player helpOut of media player. Press enter to return or tab to continue.
Mr Cruz's campaign responded to the arrest by lamenting the "abusive behaviour" that they said seems to be part of the Trump campaign culture.
Around the time of the incident between Mr Lewandowski and Ms Fields, Mr Trump was on the defensive over violence committed by supporters against protesters at his rallies.
In the Democratic race, Hillary Clinton will try in Wisconsin to stem the momentum of a resurgent Bernie Sanders, who is on a roll after a string of wins.
Trump Defends Actions of Campaign Manager, Calls Charge 'Unfair'. Donald Trump defended his campaign manager Corey Lewandowski today and disputed that his aide had injured former Breitbart reporter Michelle Fields earlier this month.
"So before [Fields] knew she was on tape, she said, 'I was jolted backwards.' Was she jolted backwards? I mean, if she was, her face stayed the same," Trump told supporters at a campaign event in Janesville, Wisconsin. "Except she never went to the ground...she never even flinched."
Lewandowski was charged with simple battery in Jupiter, Florida, for the alleged incident involving Fields following a Trump press conference on March 8 at Trump National Golf Club. Jupiter Police released a video today of the altercation.
"When somebody is maligned so unfairly as that, I will stick by them," Trump told reporters earlier today aboard his private plane. "I just can't stand by and watch a man's life be destroyed."
Trump said Lewandowski was trying to block Fields from grabbing him.
"He was trying to block her," Trump said. "That's the way I would view it, and she's grabbing me and asking questions. She's not even supposed to ask questions."
"Does that mean that I'm supposed to file charges against her?" Trump asked. "She was grabbing me."
Trump called the battery charge "unfair" and said that he will stand by his campaign manager.
"I know it would be very easy for me to discard people," he said. "I don't discard people. I stay with people."
Two days after the alleged incident, Fields shared a photo of her arm which appeared to be bruised.
Trump questioned the veracity of Fields' photo.
"How do you know those bruises weren't there before?" Trump said. "I'm not a lawyer. She said she had a bruise on her arm. I mean to me, if you're going to get squeezed, wouldn't you think that you would have yelled out a scream or something if she has bruises on her arm?"
Trump also argued that reporters "probably get treated a lot rougher than that on a daily basis."
Jupiter Police told ABC News that Lewandowski is scheduled to appear in court on May 4. Trump said he advised Lewandowski not to settle the case.
"He's got a very good lawyer. They will fight it," Trump said. "I told him he should never settle that case."
Second judge grants discovery in Clinton email lawsuit.
Citing indications of wrongdoing and bad faith, a federal judge has overruled government objections by declaring that a conservative group is entitled to more details about how Hillary Clinton's private email account was integrated into the State Department recordkeeping system and why it was not searched in response to a Freedom of Information Act request.
U.S. District Court Judge Royce Lamberth entered an order Tuesday agreeing that Judicial Watch can pursue legal discovery — which often includes depositions of relevant individuals — as the group pursues legal claims that State did not respond completely to a FOIA request filed in May 2014 seeking records about talking points then-U.S. Ambassador to the United Nations Susan Rice used for TV appearances discussing the deadly attack on U.S. facilities in Benghazi in September 2012.
Lamberth is the second federal judge handling a Clinton email-related case to agree to discovery, which is unusual in FOIA litigation. Last month, U.S. District Court Judge Emmet Sullivan gave Judicial Watch the go-ahead to pursue depositions of Clinton aides in a lawsuit for records about former Clinton Deputy Chief of Staff Huma Abedin.
The new order underscores the metastasizing potential of the email-related litigation which involves dozens of lawsuits brought by Clinton's political opponents as well as news organizations. While the morass of suits seems destined to remain a nagging headache for Clinton's presidential campaign, the immediate impact of Lamberth's ruling could be limited, as he indicated Tuesday that he'll hold off approving any particular discovery until Sullivan has ruled on the issue in the case he is handling.
"Where there is evidence of government wrong-doing and bad faith, as here, limited discovery is appropriate, even though it is exceedingly rare in FOIA cases," Lamberth wrote in his three-page order. The judge noted that State argues it had no legal duty to search Clinton's emails when Judicial Watch's request arrived because her emails were not in the agency's possession and control at that time. It was not until December 2014 that Clinton turned over a portion of her email archive to State at the agency's request.
"The government argues that this does not show a lack of good faith, but that is what remains to be seen, and the factual record must be developed appropriately for the Court to make that determination," Lamberth wrote. The judge also referred to "constantly shifting admissions by the Government and the former government officials."
The FOIA suits, directed against the State Department, are largely separate from the ongoing FBI investigation into the presence of classified information on Clinton's email server. Clinton's aides are expected to be interviewed in that probe in the coming weeks, with an interview of the former secretary of state and current presidential candidate likely sometime thereafter.
A Justice Department spokeswoman declined to comment on Lamberth's ruling, while a State Department official said her agency is aware of the order and is reviewing it.
Judicial Watch President Tom Fitton praised the judge's decision as a step toward reducing the mysteries surrounding Clinton's private email setup.
"It's a remarkable decision that highlights the serious issues about the State Department and Mrs. Clinton's activities," Fitton said in an interview. "Discovery will allow us to get into the shifting explanations and potential misrepresentations and exactly where the missing records might be."
Judicial Watch's proposal in Sullivan's case calls for depositions of eight individuals, including Abedin, former Clinton Chief of Staff Cheryl Mills, and information technology specialist Bryan Pagliano, who was involved in setting up Clinton's home server. Pagliano initially took the Fifth Amendment in response to official inquiries, but has since reached an immunity agreement with the Justice Department. Judicial Watch has left open the possibility it will seek to take testimony from Clinton, but the group has not yet asked the judge to allow that.
The State Department's response to the discovery proposal filed last month is due next Tuesday. Sullivan is expected to rule on the issue by April 15. Lamberth gave Judicial Watch ten days after that ruling to come forward with any follow-up or further discovery requests "tailored" to the dispute in front of him.
Lamberth's latest order is likely to produce a back-to-the-future feeling among some Clinton loyalists and veterans of partisan legal wars from the 1990s. The Reagan appointee oversaw a series of lawsuits in that era over issues like access to the meetings and records of Clinton's Health Care Task Force, the maintenance of security files on GOP appointees in a White House security office and the use of Commerce Department trade missions as a reward for campaign donors.
The discovery process in those cases, often pursued by Judicial Watch, became a kind of ordeal for many senior Clinton appointees. The confrontational, wide-ranging depositions were eventually dramatized in the TV show, "The West Wing."
Hillary Clinton confronts Donald Trump in New York ad. Hillary Clinton is taking to the airwaves to confront Donald Trump, airing her first television ad here in New York to challenge the Republican billionaire in hopes of strengthening her own bid for the Democratic presidential nomination.
"When some say we can solve America's problems by building walls, banning people based on their religion and turning against each other," Clinton says in the ad, "well, this is New York. And we know better."
The ad, which Clinton narrates herself, comes as she starts planting her flag for the New York primary April 19. She's engaged in a fierce Democratic primary battle with Sen. Bernie Sanders, but the new ad underscores her new effort to present herself as the best candidate to stop Trump from reaching the White House.
"When we pull together, we do the biggest things in the world," Clinton says.
The ad directly takes on Trump, showing footage of a hotel he is developing in Washington, with a sign saying: "Coming in 2016: Trump." The ad also shows footage of violent rallies, including a Trump supporter punching a protestor.
CNN has reached out to the Trump campaign for comment.
The ad is designed to remind New York voters of her commitment to the state during her years in the Senate, from the September 11, 2001, terrorist attacks and beyond.
The primary could shape up as something of a preview to a potential general election matchup between Clinton and Trump, and the unusual pairing of rivals from New York. Trump is sure to respond in kind, following his approach of pushing back aggressively when attacked.
Trump Embraces Ex-Top Obama Intel Official.
The former head of the Defense Intelligence Agency says Muslims are dangerous and Putin is a great ally—views that have made him a go-to adviser for the Trump and Cruz campaigns.
As Donald Trump inches closer to the Republican nomination for president, he has faced repeated calls from rival candidates and the press to name the national security and foreign policy experts who advise him and who are helping to shape his views on critical questions that he would confront as commander-in-chief.
Last week, Trump—who has called for banning foreign Muslims from entering the U.S., killing the families of terrorists, and using torture—said in an interview with MSNBC's Morning Joe that he would identify the members of "the team" he consults "very shortly," and that "I don't think there's any rush… I just don't want to do it now."
But in interviews with current and former U.S. defense and intelligence officials, one name continues to surface as a trusted Trump adviser and go-to man on intelligence and national security: Retired Army Lt. Gen. Michael Flynn, a well-known and outspoken critic of the Obama administration's campaign against ISIS and its foreign policy.
In Trump, Flynn may have found a kindred spirit—a brash, candid provocateur who seems more interested in upending whole systems than in fine-tuning them. He is also the most prominent name to emerge of those who could help shape the nascent Trump doctrine. And that has made some current and former officials who know Flynn nervous.
They question why the retired general, who has earned criticism for his leadership style but has generally been regarded as a well-intentioned professional, would assist a candidate who has called for military actions that would constitute war crimes.
"I think Flynn and Trump are two peas in a pod," one former senior U.S. intelligence official who knows Flynn told The Daily Beast. "They have this naïve notion that yelling at people will just solve problems."
Flynn, who was forced out of his post as director of the Defense Intelligence Agency in August 2014 after clashing with other senior officials, has said that "political correctness" has prevented the U.S. from confronting violent extremism, which he sees as a "cancerous idea that exists inside of the Islamic religion." Flynn has authored a forthcoming book that argues the U.S. government "has concealed the actions of terrorists like [Osama] bin Laden and groups like ISIS, and the role of Iran in the rise of radical Islam…" His co-author, Michael Ledeen, is a neoconservative author and policy analyst who was involved in the Iran-Contra Affair.
Trump, too, has said that sensitivity about religion has kept society from having a fuller debate about the nature of violent extremism, and broad criticism of Muslims is a rhetorical standard in his campaign. Such "outlandishness" in his speeches and pronouncements about U.S. foreign policy, and his willingness "to pull the pin on the hand grenade and see what happens is apparently attractive to Mike [Flynn]," the former official said.
Flynn is not an ordinary adviser. His position as the director of the Defense Intelligence Agency gave him top-level access to the inner workings of U.S. military operations and spycraft. A spokesperson for the agency told The Daily Beast that Flynn continues to hold a security clearance and has received briefings from the Defense Department that contain classified information.
Three former U.S. officials said that a trip Flynn took last December to Moscow—where he was filmed sitting at the head table next to Russian President Vladimir Putin during a formal dinner—set off alarms within military and intelligence circles over whether Flynn had notified the U.S. government about his foreign travel, as his security clearance requires.
The Defense Intelligence Agency spokesman said that Flynn had given the proper notices. But a current senior defense official said that word of Flynn's travel didn't reach the office of Defense Secretary Ash Carter, and that Pentagon brass were taken by surprise that he didn't notify the department.
That he would be working with the Trump campaign or pushing for better U.S.-Russian relations, even as the two nations are battling each other on the behalf of proxy forces in Syria, was less surprising, the official said.
"He's always been a bit of a wild card," he concluded.
Another former senior U.S. intelligence official who knows Flynn said that he recently praised Trump as a "skilled negotiator" during a meeting of security leaders and experts in Washington. This person said the pair had become so close that, were Trump to win the presidency, he would likely nominate Flynn as the next Director of National Intelligence, the top intelligence official in the government.
Trump has claimed that his business experience in closing real estate and marketing deals has prepared him for the delicate practice of international relations, a comparison that more than 100 Republican experts and former officials rejected in an open letter last week. "His equation of business acumen with foreign policy experience is false. Not all lethal conflicts can be resolved as a real estate deal might, and there is no recourse to bankruptcy court in international affairs," they wrote.
Flynn declined numerous requests from The Daily Beast to discuss his role with the Trump campaign. "We've met informally," Flynn said of Trump in a text message in January, without elaborating. More recently, Flynn hung up on a Daily Beast reporter who asked him to explain his relationship with Trump and whether Flynn had gone to Moscow on the candidate's behalf.
Flynn subsequently declined to respond to a detailed list of written questions sent via email. "You have it all wrong," he wrote, but refused to specify what information was incorrect or to provide any information on his meetings with Trump and whether Flynn supports the candidate's more controversial positions. "If you want to write a totally untrue story, that is your prerogative. no further comment [sic]," Flynn wrote.
A spokesperson for the Trump campaign, Hope Hicks, didn't respond to several requests for comment about Flynn's role.
While in Moscow, on Dec. 10, Flynn also appeared on stage with a correspondent for the Kremlin-linked television network, RT, who conducted a lengthy interview about U.S. policy towards ISIS and why Flynn thought the U.S. and Russia should be working together to fight the extremist group in Iraq and Syria. Russia has also attacked rebels there trying to overthrow the dictator Bashar al-Assad.
The Obama administration has called Russia an impediment to peace in the region for its support of Assad and has tried to broker peace talks aimed at ending a civil war that has killed hundreds of thousands of people and displaced millions.
Flynn said he "definitely disagree[d]" with the administration's current policy of viewing Russia as unhelpful in the fight against ISIS.
"I'm speaking really as a private citizen," Flynn said. "The United States can't sit there and say, 'Russia, you're bad.'" Flynn said the two countries were "in a marriage, whether we like it or not," and that Moscow and Washington should "stop acting like two bullies in a playground" and "quit acting immature with each other."
Flynn also praised what he described as Russia's contributions to international stability. "Europe would not be the Europe that it is today, thriving, had it not been for Russia and the United States working together 75 years ago," Flynn said, an apparent reference to the victory over Nazi Germany by the U.S. and the Soviet Union in World War II. Flynn didn't mention the ensuing partitioning of Europe nor a generations-long Cold War that put the Americans and the Soviets on the opposite sides of an ideological divide and led to a nuclear arms race.
"This idea of us not being able to work together is a misnomer," Flynn said.
The timing of Flynn's visit was notable. Seven days after his remarks, Putin praised Trump as "an outstanding and talented personality."
"He is a bright and talented person without any doubt," Putin said during an annual news conference, according to the news agency Tass. Referring to Trump as the leading candidate to replace Barack Obama, Putin said, "He says he will want to reach another, deeper, level of relations [with Russia]. What else can we do but to welcome it?"
Trump returned Putin's generous remarks.
"It is always a great honor to be so nicely complimented by a man so highly respected within his own country and beyond," Trump said in a statement released by his spokesperson, Hicks. "I have always felt that Russia and the United States should be able to work well with each other towards defeating terrorism and restoring world peace, not to mention trade and all of the other benefits derived from mutual respect."
Russian officials in Moscow didn't answer calls from The Daily Beast requesting comment on Flynn's trip. The Russian Embassy spokesman in Washington, D.C., said Tuesday that they were aware of Flynn's trip but considered it a "private visit" and had no further details.
There are defenders of Flynn within the Pentagon. While some believe the former general has flouted the understood rule that even retired commanders shouldn't veer too far from stated U.S. foreign policy, particularly while the U.S. is engaged in combat, others defended his right to speak out.
"He's developing business opportunities," one defense official who has worked with Flynn explained to The Daily Beast. "He has been engaged with a number of campaigns, and he is a pretty straight shooter."
Flynn has said that Trump is just one candidate with whom he has spoken, though he hasn't identified the others. An aide to Sen. Ted Cruz told The Daily Beast that he "frequently" discusses national security issues with Flynn. Cruz's campaign website includes a statement from Flynn commending the senator for the "new energy and ideas" that he would bring to the Defense Department.
A spokesperson for Sen. Marco Rubio said Flynn doesn't advise the campaign.
Flynn has called on former Secretary of State Hillary Clinton to withdraw from the Democratic nomination contest while the FBI investigates her use of a private email server.
Others noted that Flynn has done nothing to threaten his access to classified information, despite the fact that some officials didn't realize he was traveling abroad.
"As long as you are not caught with a dead girl or a live boy, you'll keep your clearance," said one official familiar with how the Pentagon views post-retirement activity.
Flynn has also echoed positions similar to Trump's on Islam and religious-inspired violence in recent weeks, as the candidate has won a string of caucus and primary contests and become the Republican frontrunner.
"Fear of Muslims is RATIONAL," read a tweet from Flynn's account on Feb. 26, encouraging others to share the message. It linked to a video that purported to reveal "the basics of Islam," and argued that "the term Islamophobia is an oxymoron, since having a phobia means having an irrational fear. Fearing Islam, which wants 80 percent of humanity enslaved or exterminated, is totally rational…"
On Feb. 29, Flynn's account praised Brigitte Gabriel, the founder of Act for America, an advocacy group dedicated to "fighting Radical Islam's attempts to infiltrate and take over the West." The tweet called her "an incredibly courageous person."
Gabriel, who describes herself as "one of the leading national security experts in the world," has said she advises political and business leaders.
Flynn's tweet admiring Gabriel was a retweet of an earlier message from her own account—a photograph of Gabriel and Trump standing in his opulent Florida estate.
"Here in Mar-A-Lago giving a national security briefing & look who I bumped into," it said. Daily beast writers Shane Harris, Nancy Youseef
with additional reporting from Kimberly Dozier, Tim Mak, and Anna Nemstova.
He also advises Ted Cruz but he won't answer whom is better suited from a foreign policy point of view. He asked that two times and dodged the answer both times.
Wisconsin Gov. Walker endorses Cruz, in latest primary setback for Trump. Wisconsin Gov. Scott Walker got off the sidelines Tuesday and officially endorsed one-time rival Texas Sen. Ted Cruz for president -- posing another hurdle for Donald Trump in the state's tight primary contest where the front-runner is facing some serious headwinds.
Going into next Tuesday's contest, several influential conservative radio hosts in Wisconsin already have aligned against the billionaire businessman. Walker chose to announce his support for Cruz on-air with one of them, popular Milwaukee talk radio host Charlie Sykes.
"It's time we elected a strong new leader. I've chosen to endorse Ted Cruz," he said, during an interview with Sykes.
A day earlier, Trump seemed to stumble during an interview with the same host, apparently caught off guard when informed Sykes was opposing his bid.
Trump, Cruz and Ohio Gov. John Kasich all are campaigning in Wisconsin on Tuesday as they compete for votes.
Walker, whose short-lived run for the GOP nomination ended in September, had said he would support the eventual Republican nominee, but had been sending strong signals prior to Tuesday's announcement that he would back Cruz.
Walker has been critical of Trump and said last week that Kasich "cannot" win the nomination.
Sykes already had endorsed Cruz.
Walker's endorsement didn't come as a surprise to Trump, who weighed in on Twitter Monday night.
"After the way I beat Gov. Scott walker (and Jeb, Rand, Marco and all others) in the Presidential Primaries, no way he would ever endorse me!"
But Trump's chest-beating tactics may not be resonating as well with Wisconsin voters, who head to the polls on April 5. Polls suggest the race is nearing a dead heat between Trump and Cruz, as talk radio hosts go to bat for the Texas senator.
On Monday, Sykes slammed Trump during a rocky 17-minute telephone interview with the billionaire businessman. Sykes pressed Trump to apologize to Cruz's wife, Heidi Cruz, for retweeting an unflattering picture of her next to a picture of Trump's wife Melania Trump, a former model.
Sykes also told Trump, a New Yorker, that "here in Wisconsin we value things like civility, decency and actual conservative principles."
At times, Trump seemed to be caught off guard by Sykes' questions.
"Mr. Trump, before you called into my show, did you know that I'm a hashtag 'NeverTrump' guy?"
Trump responded, "No, I didn't know that, but I assume you're also an intelligent guy."
A solid win in Wisconsin by Cruz would likely require Trump to win the five remaining winner-take-all contests to avoid scrapping for the nomination at a contested national convention in Ohio this summer.
It isn't immediately clear how much Walker's endorsement will help Cruz, who has also won the backing of other influential conservative talk radio hosts in the Milwaukee market that reach into heavily Republican suburban counties. Walker's approval rating in the state hasn't cracked 40 percent in more than a year.
Trump, who has been endorsed by former rivals New Jersey Gov. Chris Christie and retired neurosurgeon Ben Carson, holds a 1.7 percentage point lead over Cruz in a recent RealClearPolitics average of Wisconsin Republican primary polls.
Wisconsin has 42 delegates up for grabs, with 18 going to the statewide winner and 24 divided up to the winner in each of the state's eight congressional districts.
Besides Walker, Wisconsin is home to House Speaker Paul Ryan and Republican National Committee Chairman Reince Priebus.
Ryan, too, has criticized Trump for some of his more controversial remarks, while remaining officially neutral in the race.
The Associated Press contributed to this report.
Rubio holds onto delegates in hopes of stalling Trump. Marco Rubio may be gone, but he's not all the way out.
State Republican Party chairmen in places where the Florida senator won delegates -- necessary to secure the party's presidential nomination -- say Rubio's campaign has contacted them saying he wants to hold on to that support for now.
His decision to try to keep his 173 delegates could make Donald Trump's path to the 1,237 needed to clinch the nomination just a little bit tougher.
"Of course, he's no longer a candidate and wants to give voters a chance to stop Trump," said Alex Burgos, a Rubio spokesman.
A source familiar with the strategy told CNN the move to hold on to delegates was designed to deny Trump from winning the nomination on the convention's first ballot and assist rival Ted Cruz.
Trump's opponents -- including the many Republican and conservative leaders gathered in different anti-Trump groups -- are hoping to deny him a win on the first ballot and block his path to the nomination.
Tennessee Republican Party Chairman Ryan Haynes told CNN he received a letter Monday from Rubio's campaign stating that his decision to suspend his campaign was "not intended to release any national convention delegates bound to me as a result of the 2016 delegate selection process that took place in your state."
"It is my desire at this time that the delegates allocated to me by your rules remain bound to vote for me on at least the first nominating ballot at the national convention," said the letter, which was signed in Rubio's name.
In Tennessee, state rules offer delegates pledged to a candidate who has withdrawn from the race "the right to attend the convention." But in the event they should choose not to travel, the state GOP chairman has the power to select a replacement.
Rubio's strategy already pulled back a handful of delegates from both Trump and Ted Cruz in Alaska.
Alaska Republican Party Chairman Peter Goldberg said he had reallocated the delegates in his state to 14 each for Trump and Cruz after Rubio dropped out. Goldberg said his reallocation was based on lawyers' advice to divide them proportionally between Trump and Cruz.
But after receiving the letter from Rubio and consulting with his lawyers, he decided to make the five delegates Rubio won in Alaska bound to him for the first ballot -- and then divide them between Trump and Cruz on the second ballot.
If Trump does not win 1,237 delegates ahead of July's Republican National Convention, a battle is likely to ensue.
Delegates are committed to voting for the candidate who won their support in a state contest on the first ballot at the convention, but they are free to support other candidates after either the first or second round of balloting (depending on the state's rules.) In both Alaska and Tennessee, for instance, the delegates are committed -- or bound -- to Trump, Cruz or Rubio for two ballots, but after that they are up for grabs.
As the numbers tighten, the fight for Rubio's 173 pledged delegates -- and to a lesser extent, the nine won by Ben Carson and Jeb Bush's four -- is expected to heat up, giving the Florida senator, who suspended his campaign on March 15, renewed influence on the race.
The rules guiding where those delegates end up after the first ballot vary across the states, with some bound to their initial winner through the convention, others automatically unbound when a candidate drops out and others reallocated based on results from the initial primary or caucus.
Trump threatened a lawsuit after 10 of the state's uncommitted delegates, including five who had been bound to Rubio, indicated they would support Cruz.
A call to the Louisiana Republican Party seeking information about what would happen with the five delegates Rubio won was not immediately returned Tuesday evening.
CNN's Tom LoBianco, Gregory Krieg, Manu Raju and Tal Kopan contributed to this report.
Trump lambasts NATO as "obsolete" and demands reform.
Donald Trump has offered his bluntest assessment yet of Nato, calling it "obsolete" and insufficiently geared towards combating international terrorism, the "single biggest threat" in the world.
Taking questions from voters at a CNN town hall broadcast from Wisconsin, which holds its primary elections next Tuesday, the leading Republican candidate doubled down on comments he had made at the weekend to both the New York Times and The Washington Post assailing the Brussels-headquartered military alliance, to which he said the United States was paying too much money.
"Nato has to be changed or we have to do something. It has to be rejiggered or changed for the better," he said in response to a question from an audience member. He said the alternative to an overhaul would be to start an entirely new organisation, though he offered no details on what that would be.
He also reiterated his concern that the US takes too much of the burden within Nato and on the world stage. "The United States cannot afford to be the policeman of the world, folks. We have to rebuild this country and we have to stop this stuff...we are always the first out," he offered.
Threatening to take Republican Party even closer to the brink of a nervous breakdown, Mr Trump rowed back on a previous pledge to back whomever becomes its nominee - in the event it is not him. "No, not anymore," he told the night's moderator Anderson Cooper, opening up the possibility that he mght launch a third-party bid for the presidency if he is not eventually given the Republican crown.
Questioned about his determination to stand by his campaign manager, Corey Lewandowski, who on Tuesday was charged with minor battery in connection with his alleged grabbing of a female reporter, Michelle Fields, at a Trump event in Florida on 8 March, Mr Trump attempted to suggest that she might have presented a real danger at the time.
In a response that attracted scorn on social media, he noted that Ms Fields was carrying a pen, which "could have been a knife, it could have been just a pen which is very dangerous." He pressed on suggesting even that the Secret Service might have thought her pen was a "little bomb."
Appearing on the same broadcast earlier in the evening, Senator Ted Cruz, who appears to have drawn even with Mr Trump in Wisconsin, denied that he was merely staying in the race to stop the billionaire and intended one way or another to seize the nomination for himself. "We are competing to win. We're not competing to stop Donald Trump," he said.