Joining today's show are
Mike Barnicle, Nicholas Confessore, Elise Jordan, Chris Jansing, Mayor Bill de Blasio, Kristen Welker, Michael Duffy, Bianna Golodryga, Dr. Jeffrey Sachs, Hallie Jackson, Fmr. Gov. Mike Huckabee, Alex Burns, Gov. John Kasich and more...
Ted Cruz Jokes About Running Trump Over With a Car on 'Jimmy Kimmel Live!'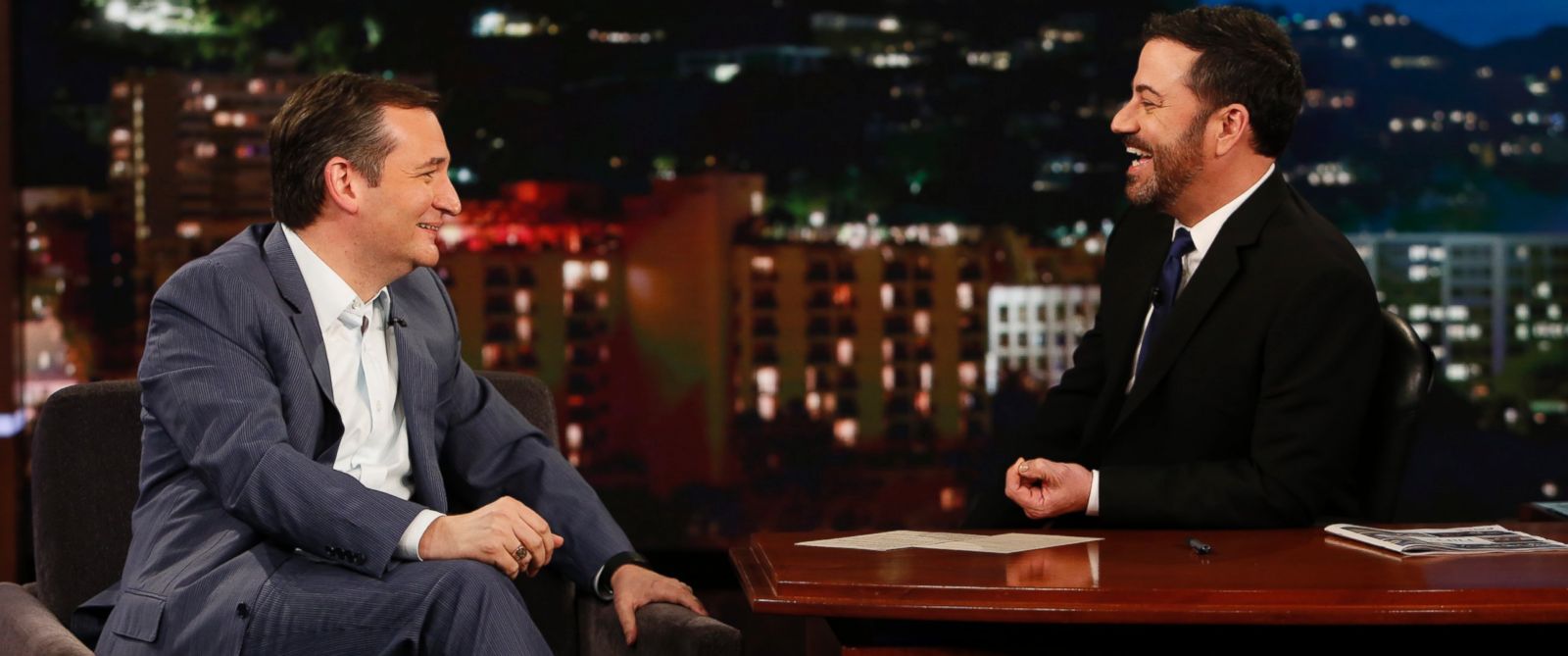 Ted Cruz made his debut on "Jimmy Kimmel Live!" Wednesday night, and needless to say, fellow GOP presidential hopeful Donald Trump received a not-so-honorable mention: Cruz joked about running Trump over with a car.
Before Cruz sat down with Kimmel, a segment with April Fool's Day prank ideas was aired. One of the ideas involved putting a picture of Trump in front of the backup camera of someone's car so a person would mistakenly think they were about to hit Trump when they reversed.
Cruz later brought up the prank when Kimmel asked the Texas senator who he liked least: Trump or President Barack Obama.
"Look, I dislike Obama's policies more, but Donald is a unique individual," Cruz said.
"I will say, I was watching the early part of the show, and if I were in my car getting ready to reverse and saw Donald in the backup camera, I'm not confident which pedal I'd push," Cruz said, jokingly.
Kimmel joked that Cruz's campaign strategy was waiting around until his Republican colleagues found someone they liked less than Cruz. Kimmel noted that some of his former foes like Senator Lindsey Graham have come around to supporting him because they dislike Trump more.
"There you go," Cruz said. "It is a powerful strategy and compared to Donald I am the quiet shy soft spoken one."
Cruz spoke with Kimmel about various personal topics, including his teenage dream of being a Hollywood actor, and his favorite cereal. FYI, it's Mueslix.
When Kimmel told Cruz that he didn't seem like someone who would have wanted to be an actor, Cruz joked, "I seem like a lawyer-politician? I just play one on TV."
Cruz also talked about the concerts he attended as a teenager, including once seeing a police officer "holding a roach clip, smoking a joint" at a Pink Floyd concert.
Cruz teased Kimmel about the host's salt and pepper beard after Kimmel noted that he is older than the 45-year-old Cruz.
"The salt and pepper beard, a distinguished look," Cruz told Kimmel.
Kimmel responded, "You're not going to put me on the Muslim watch list are you?"
Cruz joked, "It's already done, actually."
Cruz did drop the funny demeanor for a bit, and acknowledge his controversial statement to empower law enforcement to patrol Muslim neighborhoods. Kimmel pressed Cruz on the issue.
"We need law enforcement to work cooperatively with the community to prevent radicalization and to stop terror attacks before they occur," Cruz said.
When Kimmel said they'd have to agree to disagree on Cruz's stance, Cruz offered one more joke.
"I'll cross you off the list for homeland security," Cruz said.
Trump reverses statement on women and abortion after outcry. Donald Trump scrambled to clarify his position on abortion Wednesday after he said women who undergo the procedure should face "some form of punishment" should the practice be outlawed. Several hours later -- after widespread condemnation from Trump's presidential rivals and even leading anti-abortion groups -- he walked back his remarks, releasing a statement in which he said that women who obtain abortions are victims and that doctors who perform the service are the ones who should be punished.
"If Congress were to pass legislation making abortion illegal and the federal courts upheld this legislation, or any state were permitted to ban abortion under state and federal law, the doctor or any other person performing this illegal act upon a woman would be held legally responsible, not the woman," Trump said. "The woman is a victim in this case as is the life in her womb. My position has not changed -- like Ronald Reagan, I am pro-life with exceptions."
The controversy also comes less than a week before Wisconsin Republicans vote in the state's primary, a contest both Trump and his rivals have portrayed as pivotal in the road to the GOP presidential nomination.
Trump's initial comments on Wednesday came after a lengthy exchange with MSNBC host Chris Matthews, who pressured the Republican to give a yes or no answer to the question, "should abortion be punished."
"There has to be some form of punishment," Trump said during a televised town hall event.
"For the woman?" Matthews asked, to which Trump replied, "Yes."
Trump declined to specify how women should be punished if they underwent an illegal abortion.
The Republican front-runner also conceded that outlawing the practice would lead some women to seek out abortions illegally.
"Well, you go back to a position like they had where they would perhaps go to illegal places, but we have to ban it," Trump said during the town hall.
Trump had previously declined to answer the question about what penalties he would support for women who undergo abortions or doctors who perform them.
"I just don't want to talk about that right now," Trump said during a news conference January in Iowa. "Everybody knows my views and I think my views are very plain," Trump said.
Fire from anti-abortion groups
Throughout his campaign, Trump has faced questions about the authenticity of his position on abortion. He said he was "pro-choice in every respect" in a 1999 interview, though he said he hated the "concept of abortion."
His comments on Wednesday appeared to be the latest in Trump's persistent efforts to court the support of socially conservative voters. But his efforts backfired as three leading anti-abortion groups swiftly criticized Trump's comments.
March for Life released the toughest statement of the three groups, calling Trump's remarks "completely out of touch with the pro-life movement."
"Being pro-life means wanting what is best for the mother and the baby. Women who choose abortion often do so in desperation and then deeply regret such a decision. No pro-lifer would ever want to punish a woman who has chosen abortion. This is against the very nature of what we are about," the president of the group's education and defense fund, Jeanne Marcini, said in a statement.
The National Right to Life Committee noted in a statement that it has never supported penalties against women who undergo abortions.
The Susan B. Anthony List chalked up Trump's comments to his recent opposition to abortion rights and said punishments should only be dished out to "the abortionist."
"As a convert to the pro-life movement, Mr. Trump sees the reality of the horror of abortion -- the destruction of an innocent human life -- which is legal in our country up until the moment of birth," the group's president, Marjorie Dannenfelser, said in a statement.
Trump and his campaign increasingly have been under the microscope for their treatment of women.
Trump has faced constant criticism throughout his campaign for comments he has made about women's looks -- from Fox News anchor Megyn Kelly to his former GOP opponent Carly Fiorina -- and he has also taken flack in the last week for launching an attack against Sen. Ted Cruz's wife.
After a super PAC opposed to Trump and unaffiliated with Cruz's campaign posted an ad featuring a nude photo of Trump's wife, the Republican front-runner threatened to "spill the beans" about Cruz's wife and tweeted an unflattering photo of Cruz's wife alongside a picture of his own wife. The Texas senator held a campaign event in Wisconsin Wednesday morning, appearing alongside his wife and Fiorina in which he pitched himself to women voters.
The scrutiny over the Trump campaign's treatment of women continued this week after Trump campaign manager Corey Lewandowski was charged Tuesday with simple battery for grabbing a female reporter's arm after a news conference in Florida earlier this month.
And earlier Wednesday, 16 female conservatives called on Trump to fire Lewandowski.
Trump didn't mention the abortion controversy while speaking at a campaign event here on Wednesday, shortly after the comments were made public. But, regarding the charges against Lewandowski, Trump said, "Nobody's a bigger supporter of women than Donald Trump."
Standing out among Republicans
While Trump has maintained throughout his presidential campaign that he is steadfastly opposed to abortion, the Republican front-runner has also sought to distinguish himself from his GOP opponents on women's issues.
As his GOP rivals for the presidency joined Republicans in Congress in calling for the federal government to defund Planned Parenthood following allegations over the summer that the group illegally sold aborted fetal tissue, Trump has insisted that the organization provides essential services to "millions of women."
Trump has called for the group to cease its abortion services -- which are not funded by federal tax dollars -- to continue receiving federal funding.
Still, Trump's comments Wednesday also drew a swift rebuke from Planned Parenthood's advocacy arm, which called Trump's comments "flat-out dangerous."
"Women's lives are not disposable. There's nothing else to say, as Donald Trump's remarks today have said it all," Executive Vice President of Planned Parenthood Action Fund Dawn Laguens said in a statement.
Condemnation from rivals
The town hall comments were met with immediate criticism from presidential contenders on both sides of the aisle.
Democratic presidential front-runner Hillary Clinton retweeted an NBC News reporter, adding, "Just when you thought it couldn't get worse. Horrific and telling. -H."
Just when you thought it couldn't get worse. Horrific and telling. -H
Trump's Republican opponents quickly responded as well.
Ohio Gov. John Kasich told MSNBC, "Of course, women shouldn't be punished for having an abortion."
And Texas Sen. Ted Cruz said Trump's comment "demonstrated that he hasn't seriously thought through the issues, and he'll say anything just to get attention."
"On the important issue of the sanctity of life, what's far too often neglected is that being pro-life is not simply about the unborn child; it's also about the mother -- and creating a culture that respects her and embraces life," Cruz said. "Of course we shouldn't be talking about punishing women; we should affirm their dignity and the incredible gift they have to bring life into the world." CNN's Noah Gray contributed to this report.
Vermont Sen. Bernie Sanders tweeted, "Your Republican frontrunner, ladies and gentlemen. Shameful."
Your Republican frontrunner, ladies and gentlemen. Shameful.
Donald Trump's claim he evolved into 'pro-life' views, like Ronald Reagan.
"I'm pro-life, and I was originally pro-choice. I will say this, that as a developer and as a businessman I'm not sure I was ever even asked the question, 'Are you pro-life, pro-choice?' … I have evolved. I talk about evolving all the time. And by the way, you know who else evolved? Ronald Reagan evolved. Because Ronald Reagan signed one of the toughest abortion laws in favor of abortion in California that had been signed in many, many years. … He wasn't very conservative [passing the law as governor], but he was a pretty conservative president." — Donald Trump, CNN town hall, March 29, 2016
There is growing attention on Donald Trump's rhetoric on gender and women, which his critics view as misogynistic or often reduced to superficial comments about appearances (recent example: Trump's comments about Ted Cruz's wife). Ahead of the April 5 Wisconsin primary, Trump is facing more questions about his policy views on gender and women's issues — particularly, his views on abortion.
Trump often compares his self-described evolution from being a Democrat to Republican to Ronald Reagan, who was once a Democrat before becoming the Republican icon. And now, he suggests that his evolution from supporting abortion rights to vocally opposing it is like Reagan's, who once passed a law in favor of women's access to abortion.
Reagan did sign a law in 1967 that liberalized abortions — six years before the Supreme Court's decision on Roe v. Wade. But this was long before abortion was a national social policy matter, before there were such terms like "pro-choice" and "pro-life." The circumstances were a lot different then. Reagan did evolve on his abortion views, but it was less stark of a transition than Trump's. It's time for a history lesson for the Republican front-runner.
The Facts
In 1999, Trump publicly said he was a supporter of abortion rights as a matter of women's choice. In an interview on NBC's "Meet the Press," Trump was asked whether he would ban abortions, or at least "partial-birth" abortions. He said he would not, and that he is "pro-choice in every respect." (Note: This shows he was indeed asked the question, despite his statement to CNN that "as a businessman I'm not sure I was ever even asked the question.")
The U.S. has come a long way from hand-counted paper ballots and lever machines.
"I'm very pro-choice," Trump told NBC's "Meet the Press." "I hate the concept of abortion. … But still, I just believe in choice."
But now on the presidential campaign trail in 2016, Trump is a vocal opponent of women's rights to abortion — even to the point of saying that women who receive illegal abortions should be subject to "some sort of punishment." Trump explains that he hadn't given it much thought from a policy perspective when he was a businessman. And now that he is a presidential candidate, he says he is decidedly anti-abortion.
How similar is that to Ronald Reagan's evolution?
In June 1967, six months after becoming the Republican governor of California, Reagan signed a bill into law that he later would call "my worst decision as governor."
It was the California Therapeutic Abortion Act, which aimed to make California the third state in the nation to liberalize abortion laws. Having an abortion was a crime in every state, and doctors were performing thousands of illegal abortions in the state every year (and some women were going to Mexico to get illegal abortions).
There was no "pro-choice" or "pro-life" lobbying at the time. The battle lines were drawn along religious lines, according to Reagan biographer and former Washington Post reporter Lou Cannon. In 1967, the majority of Californians, including 67 percent of Catholics, had supported liberalizing abortion laws. (California at the time permitted abortions only to save the life of the mother.)
Catholic Democrats generally were anti-abortion, but liberal Democrats pushed for a permissive version of a law to provide women broad access to abortions. Conservatives who were not Catholics, generally Protestants, supported the proposed law, believing the government should stay out of "the boardroom and the bedroom," Cannon wrote in "Governor Reagan: His Rise to Power."
Yet Republican lawmakers wanted to stop a broad-ranging version of the bill from progressing, and pushed for a less permissive version. Some Republicans also believed that if Reagan didn't sign some sort of abortion bill into law in 1967, the issue would come back every year — or that the legislature would override his veto.
Reagan was torn. He had not given abortion much thought and had no strong opinion prior to taking office — it wasn't a leading social issue at the time — but he was faced with a decision that could set the tone for the rest of the country. Not helping with Reagan's indecision, his staff were split along religious lines on the issue and had no clear consensus on which direction the governor should go. For instance, his legal affairs secretary, Edwin Meese, urged Reagan to sign it.
"I did more studying and soul searching on this matter than on anything that was to face me as governor," Reagan later said in a radio address detailing his struggle contemplating the law.
"My answer as to what kind of abortion bill I could sign was one that recognized an abortion is the taking of a human life. … Therefore, an abortion is justified when done in self-defense. My belief is that a woman has the right to protect her own life and health against even her own unborn child. I believe also that just as she has the right to defend herself against rape, she should not be made to bear a child resulting from the violation of her person and therefore abortion is an act of self-defense.
I know there will be disagreements with this view, but I can find no evidence whatsoever that a fetus is not a living human being with human rights."
Reagan reluctantly signed a compromise bill, and said the measure did not fully satisfy him. California became the third and largest state to legalize abortions in cases of rape, incest or when the pregnancy "would gravely impair physical or mental health" of the mother.
Then, abortions increased exponentially, as doctors took a loose interpretation of the "mental health" provision. Annual abortions spiked, and Reagan regretted his decision once he saw how the law was being implemented. Even Democrats were surprised at how doctors interpreted this "mental health" exception.
"It's the only major thing that he ever did as governor or president, that I'm aware of or that I can recall, that he ever said he did the wrong thing," Cannon recalled to The Fact Checker. Reagan later ran for president on an antiabortion platform.
As readers can see, it clearly was a different point in history. By the time the Supreme Court considered Roe v. Wade in 1973, legalizing abortion nationally, almost half the states had followed the decisions of states like California to open up abortion laws with exceptions. Back then, even supporters of abortion rights were skeptical of Roe v. Wade decision or opposed it. Supreme Court Justice Ruth Bader Ginsburg, a liberal icon, has even criticized it for empowering the anti-abortion movement, and cutting off a gradual move among states to legalize abortion along with courts and state legislatures.
The Pinocchio Test
In a rare instance, the Republican front-runner is not glaringly incorrect. He accurately cites a controversial decision by Reagan that allowed abortion in California in cases of rape, incest and physical and health of the mother — one of the first states to do so. Reagan was torn on the decision; he believed the fetus was a "living human being with human rights," but was presented with evidence of thousands of women in his state already seeking abortions illegally. Reagan's view of allowing abortions in cases of rape, incest or life of the mother is actually consistent with what many people with "pro-life" views believe.
Reagan signing the law was not necessarily a reflection of his support for women's right to choice, as it was long before the terms "pro-choice" and "pro-life" existed. Rather, his decision resulted from a confluence of a grass-roots movement among women and doctors, political maneuvering from legislators in the State Assembly, and his own lack of direction on exactly how he stood on the matter. Looking back now, it is clear Reagan had "pro-life" tendencies, as we now use the term.
We take issue with the historical comparison Trump makes. His evolution is not analogous with Reagan's, when considering the historical context. Trump said he was "very pro-choice," and now he identifies as "pro-life." But he is identifying with such labels after the battle lines in the abortion debate long had been drawn. In contrast, Reagan's evolution took place when he deliberated whether to legalize abortions for specific circumstances that he believed was appropriate: rape, incest and physical and mental health of the mother. When the last provision was interpreted far beyond he had intended, he regretted his decision and became even more strongly anti-abortion.
Politicians obviously have the right to change their views on key issues. But Trump's suggestion that he has "evolved" just like Reagan suggests he does not really know the history of Reagan's decision-making on the law. Trump should drop the comparison; it's a gratuitous one that lacks historical context, and not analogous to his own evolution.
Two Pinocchios.
Donald Trump also Won't Rule Out Using Nuclear Weapons in Europe.
Donald Trump refused to rule out using nuclear weapons in Europe during a town hall in Wisconsin on Wednesday. The Republican presidential front-runner was asked about his recent contradictory statements about nuclear proliferation—in which he said he was concerned about the spread of nukes while also suggesting that more countries, including Japan, South Korea, and Saudi Arabia, should be allowed to acquire them.
MSNBC's Chris Matthews, the host of the town hall, tried to pin Trump down on what circumstances might compel President Trump to deploy the United States' nuclear arsenal.
"Look, nuclear should be off the table, but would there a time when it could be used? Possibly," Trump said.
Matthews asked Trump to tell the Middle East and Europe that he would never use nuclear weapons, but Trump continued to evade. Asked again if he'd use nuclear weapons in Europe, Trump held firm. "I am not—I am not taking cards off the table," Trump responded.
Poll: Cruz holds wide lead over Trump in Wisc. Ted Cruz holds a wide lead over Donald Trump in Wisconsin less than a week from the state's primary, and Bernie Sanders has a narrow edge over Hillary Clinton, a new Marquette University Law School poll shows.
Cruz, the Texas senator, tops the Republican field with 40% support, compared to Trump's 30% and Ohio Gov. John Kasich's 21%.
Sanders, meanwhile, has 49% backing to Clinton's 45% in the Democratic race.
The 2016 presidential campaign has descended on Wisconsin ahead of the state's April 5 contest. It's the only major primary before New York's two weeks later, and is seen as a gauge of momentum for the GOP establishment's anti-Trump efforts.
The poll also showed that Sanders beats all Republican candidates in head-to-head matchups in the Badger State. He topped Kasich, 46% to 44%, and crushed Cruz, 52% to 29%, and Trump, 54% to 35%.
Kasich easily bested Clinton head-to-head, with 48% support to her 39%. Clinton and Cruz tied with 44% apiece. And Clinton easily beat Trump, 47% to 37%.
Those numbers could offer ammunition to both Sanders and Kasich, who have argued that polls show them as their parties' most electable candidates. And they could help Cruz make the case that Trump would lose to Clinton -- though the results show weakness for him, too.
The survey was conducted March 24-28, before CNN's Republican town hall on Tuesday night in Milwaukee. The margin of error on the Republican side is plus or minus 5.8 percentage points; with the Democrats, it's 6.3 points.
De Blasio blasts Trump, Cruz for anti-Muslim rhetoric, playing into ISIS' hands.
Donald Trump and Ted Cruz are "playing into ISIS's hands" with their anti-Muslim rhetoric, Mayor de Blasio charged Monday.
The two GOP presidential contenders are "confirming ISIS's propaganda" when they push proposals like barring Muslim immigrants from the country and surveilling Muslim neighborhoods, de Blasio said at a press conference on anti-terror efforts.
Trump's Whoa v. Wade ruling: If abortions are banned, there needs to be 'some form of punishment' for women who still have them.Some of New York's Superdelegates say they'll back Hillary Clinton even if Bernie Sanders wins the state.Ted Cruz blames accusations that he cheats on his wife on Donald Trump. Trump proclaims innocence.Chris Christie skipped a New Jersey police officer's funeral to campaign for Donald Trump.
New York Daily News front pages on the presidential election
"This is the most troubling point. ISIS is trying to tell the Muslim world that America won't accept Muslim people. And here are two men running for president of the United States literally playing into ISIS's hands — as if they're working from an ISIS script," de Blasio said. "Setting up an atmosphere of segregation and negativity. So that's what we have to combat."
De Blasio and his police commissioner Bill Bratton have been in a feud with Cruz, the Texas senator, since he attacked them after the Brussels bombings last week for disbanding the NYPD demographics unit.
Republican presidential candidates, Donald Trump and Sen. Ted Cruz on March 10, 2016. De Blasio says the two candidates are "confirming ISIS's propaganda."
Republican presidential candidates, Donald Trump and Sen. Ted Cruz on March 10, 2016. De Blasio says the two candidates are "confirming ISIS's propaganda."
Hizzoner said alienating Muslims would create the same problems that have left Europe facing a greater threat from home-grown terrorism than New York.
"People come here from all over the world, every background, every faith, with the goal of being here and being part of this culture and achieving the opportunities that are available only here," the mayor said.
Metro could shut down entire rail lines to do extended maintenance, board chair says. Metro's top officials warned Wednesday that the transit system is in such need of repair that they might shut down entire rail lines for as long as six months for maintenance, potentially snarling thousands of daily commutes and worsening congestion in the already traffic-clogged region.
Board Chairman Jack Evans and General Manager Paul J. Wiedefeld put rail riders on notice about possible extended closures at a high-level conference of local leaders.
The discussion also revealed strong resistance to what Evans said was a "dire" need for more than $1 billion a year in additional funding for Metro.
The officials' comments underlined the depth of Metro's problems, which are steadily becoming more apparent as Wiedefeld continues to probe the rail system's defects since taking over as the transit agency's chief executive in November.
Until now, Metro has typically done repair work at night or during short shutdowns over weekends.
Metro passengers react to the prospect of a six-month shutdown
Metro passengers at the McPherson Square station discuss how inconvenient it would be if their Metro line closes for six months for repairs. (Whitney Shefte/The Washington Post)
An exception was the unprecedented shutdown of the entire system on a regular workday March 16 for emergency track safety inspections. Wiedefeld ordered that closure in what now seems to have been an initial taste of more bitter medicine to follow.
"The system right now, in order to do the maintenance that needs to be done, cannot be done on three hours a night and on weekends. It just can't," said Evans, who also is a D.C. Council member (D-Ward 2).
"So in order to do repairs that are necessary, it may come to the point where we have to close the entire Blue Line for six months. People will go crazy. But there are going to be hard decisions that have to be made in order to get this fixed," Evans said.
Although he twice singled out the Blue Line as a candidate for closure, Evans said any of Metro's six lines could be shuttered in full or in part.
He said the Red Line was the least likely to be shut, because much repair work has already been done on it.
"That's up to Paul [Wiedefeld]. He's the operations guy. I'm just the board member," Evans said.
Wiedefeld confirmed that he was considering such lengthy closures, but said he has not made a decision yet. He said he expected to do so within a month to six weeks.
"I'm keeping all my options open," Wiedefeld said. "There are some bigger issues here in terms of power and track. . . . In the last few years, we've been trying to do this [maintenance] in a sort of piecemeal way, and basically we've alienated everyone."
The officials spoke to 100 government officials, business executives and transit experts at an invitation-only "summit" called to mark the 40th anniversary of Metro's opening by discussing how to restore it to its original "world-class" quality.
The prospect of lengthy shutdowns received a mixed response from the audience. Montgomery County Council member Marc Elrich (D-At Large) said closing an entire line for six months would be "a disaster." He suggested stopping service earlier in the evening to allow more time for maintenance.
But Fairfax County Supervisor Penny Gross (D-Mason) said she would support such measures if Metro considered them necessary to fix the troubled system.
In limited shutdowns such as have been used in the past, Gross said, "you can do the Band-Aids, but you can't do the surgery."
D.C. Mayor Muriel E. Bowser (D), who was reportedly very unhappy that she wasn't fully consulted about the March 16 shutdown, issued a cautiously worded statement warning that any extended shutdown would have serious impact.
"Shutting down Metro for one workday was an inconvenience; shutting it down for months at a time will have far-reaching consequences for riders and the entire region," spokesman Michael Czin said.
"The plan must be clearly laid out, allow for rider and jurisdictional input, and provide them adequate alternative modes of transportation."
Harriet Tregoning, who represents the federal government on the Metro board, praised Evans and Wiedefeld for being candid about the system's condition.
"I've been telling Metro for a long time, 'Quit telling us what you think we want to hear, and tell us what needs to happen' . . . and then let's see what the options are," said Tregoning, a principal deputy assistant secretary at the U.S. Department of Housing and Urban Development.
Tregoning said the impact on the federal workforce, which relies heavily on Metro to go to and from work, could be reduced by various means such as increasing the use of telecommuting and adding express buses.
Riders outside the McPherson Square station Wednesday evening described an extended shutdown as "insane," "extremely inconvenient," and "kind of terrible."
"I don't know how I would get to work," said Meredith Westerlund, 25, who lives in Northwest Washington and uses the Orange and Silver lines to commute to a nonprofit organization in Arlington. "I would hope they would put buses in place that follow similar lines."
Chris Williams, 48, said he might stop using Metro for commuting if it shut down for a long period.
"If I started driving in, I don't know if I'd ever go back to riding Metro," said Williams, who lives in Herndon and commutes to work in a government agency downtown.
Instead of an extended closure, he said, "I would recommend the obvious thing, that they shut down on weekends."
But several people said that they would support a closure if it were necessary for the sake of safety.
"It would be majorly disruptive, but it's better than constant delays and me wondering if there's going to be a spark or fire," Sophie Perry, 23, who works in consulting, said.
An extended shutdown for maintenance would be a first for Metro, but other transit systems have taken such steps as the nation's transit infrastructure has deteriorated, partly because of lack of investment.
Chicago shut down a 10-mile stretch of rail line for five months in 2013 to rebuild it and end chronic delays. The Maryland Transit Administration plans to shut down part of the Baltimore subway system, from July 23 to Aug. 12, to replace major rail components.
Wiedefeld's predecessor as general manager, Richard Sarles, ruled out extended closures for maintenance purposes, on the grounds that they would be too disruptive.
Wednesday's forum — "Metrorail at 40: Restoring a World Class System" — took place in an elegant room at the Mayflower Hotel. The Metropolitan Washington Council of Governments (COG) and the Greater Washington Board of Trade organized it to launch what they hope will be a year-long effort to increase support for Metro among local governments, business leaders and other parties.
Evans, who was elected Metro's board chairman in January, used the all-morning forum as an occasion to sound what he presented as an urgent alarm about the need for dramatically increased funding.
Late Wednesday afternoon, he said he regretted that public attention was instead focused on the possibility of closures.
"Getting the funding and support for the system is the critical point I was trying to make," Evans said.
Earlier, he told the forum that the District, Maryland and Virginia should create a dedicated funding source, such as a regionwide sales tax, to provide an additional $1 billion a year to Metro for capital investments such as maintenance.
He also said the federal government needed to provide $300 million a year in additional money for operations.
"If we don't have that, we're never going to get to be a world-class system," Evans said.
He also said that the three local jurisdictions would have to increase their contributions next year to cover increased labor costs that he said were sure to result from negotiations beginning Friday over new union contracts.
But several influential local officials expressed skepticism about Evans's pleas. In particular, Maryland Transportation Secretary Pete K. Rahn said Metro needed to improve its performance on safety, financial management and other matters before local jurisdictions would contribute more.
"Until the house is in order, it's going to be difficult to get additional funding for anything," Rahn said.
Fairfax Board of Supervisors Chairman Sharon Bulova (D) also expressed apprehension.
"I don't agree that increased cost for operations [next year] is a given, and I don't think that's a good way to start a discussion regarding financing," said Bulova, whose county is a major contributor to Metro's budget.
"I'm not sure he [Evans] fully appreciates how much comes out of local jurisdictions," Bulova said.
Evans conceded that he faced opposition.
"Listening to the comments, I'm not sure that a lot of people are on board yet. I think today's meeting was an informational session to really alert people of the dire circumstances," Evans said.
COG Chairman Roger Berliner, who in January was the first to propose the forum, said it was necessary to work harder to overcome elected officials' resistance to more funding for Metro.
"We're going to have to change that equation," said Berliner, who also is a Montgomery County Council member (D-Potomac-Bethesda). "We can't afford to wait."
Aaron Davis contributed to this report.