Denied everything that is natural and important to them, these nine elephants have been kept isolated from other elephants for years. Will you help them?
Nosey, an elephant forced to give rides at fairs, hobbles in pain from years of arthritis and neglect.
Special Care for Suzy, our Oldest Elephant
Life hasn't been kind to Suzy. Probably snatched from the wild and separated from her herd and family as a calf, Suzy spent the next six plus decades in captivity, brutalised at the hands of human beings, suffering endlessly as a circus elephant.
Rescued one year ago this month, Suzy's life is very different now. But her advanced age and special needs require very special care. Not only is Suzy the oldest of the rescued elephants at the Elephant Conservation and Care Centre, she's also completely blind. At 65 years old and weighing little more than 2,400 kilos, this amazing elephant's miniature frame is home to a large, and endlessly loveable personality.
She's so tiny, it's hard to spot her amidst the towering figures of the other elephants in the Herd of Hope. Slowly but surely navigating her way through the herd and across the topography of the Elephant Conservation and Care Centre, with the tip of her trunk running close to the ground and guiding her, she ambles along with the herd, stopping occasionally to check that her keeper is nearby. Her size, and the relative ease with which she finds her way around the rescue facility is deceptive- not only is Suzy the oldest of the rescued elephants at the centre, she's also completely blind. At 65 years old and weighing little more than 2,400 kilos, this amazing elephant's miniature frame is home to a large, and endlessly loveable personality.
Life hasn't been kind to Suzy. Probably snatched from the wild and separated from her herd and family as a calf, Suzy spent the next 65 years in captivity brutalised at the hands of human beings, suffering endlessly to satisfy the cruel greed of man. At the launch of our Circus Elephant Campaign, when we first found out about Suzy, she had already spent nearly 60 years in the circus, performing and living in dismal conditions of neglect. Her picture was splashed across posters, and she performed painful tricks in unnatural, uncomfortable positions for an ignorant audience, her pain and misery hidden behind the decorations that adorned her weak body.
Suzy needed to be retired from the circus before her aging body gave in to the seemingly endless torture inflicted upon her. Wildlife SOS brought this little elephant to our rescue facility in Mathura in January this year, accompanied by a team of vets and keepers, that couldn't help but fall in love with their wonderful pachyderm travelling companion.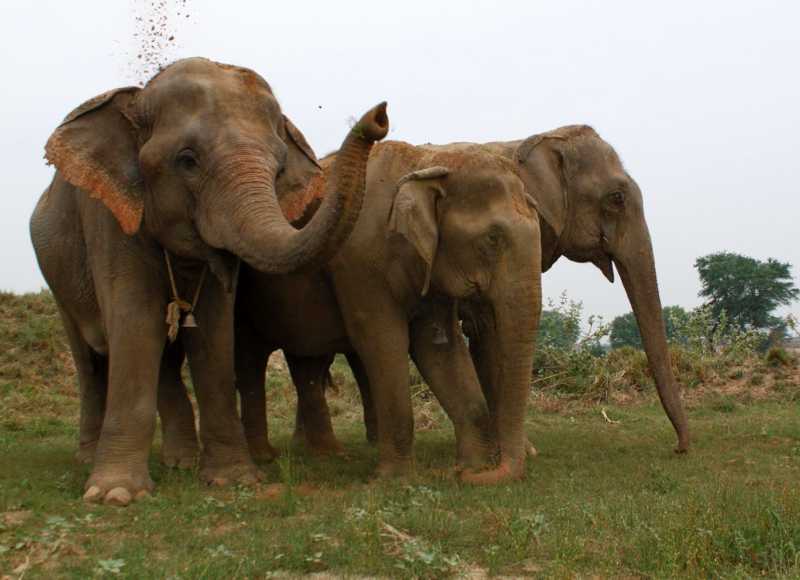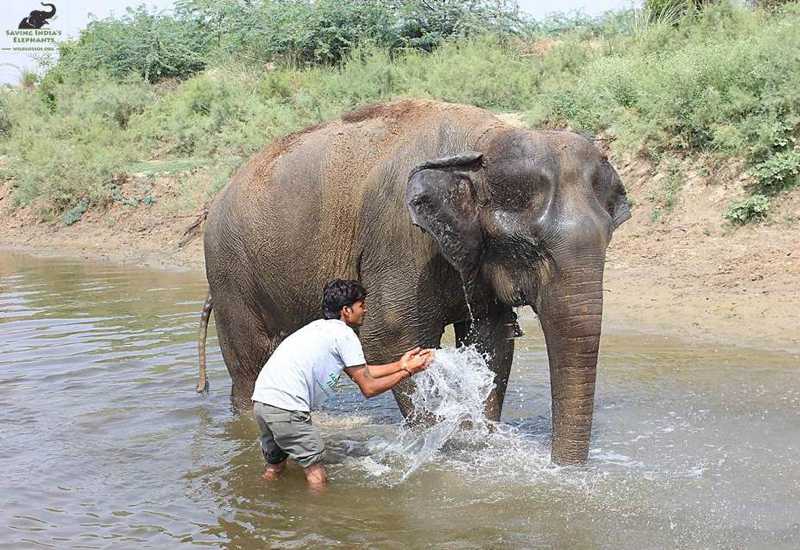 At ECCC, Suzy blossomed a personality unlike any elephant we've seen, with quirks and characteristics so uniquely her own, we can spend hours on end with her- marvelling at the tenacity and strength she displays despite her advanced age. Suzy never fails to inspire.
She was the first to welcome Asha and Lakhi when they arrived at the centre, warmly welcoming them into their new home and into her herd- a calm and reassuring source of comfort to rescued elephants coming front devastating conditions of abuse.
But age, and the infirmities that accompany it, have been catching up with Suzy for a while now. Her body is weakening, as her arthritic limbs grow progressively worse, and her complete lack of an entire set of teeth has made it impossible for her to chew the fodder and fruit that are fed to the other elephants.
We're determined to make old age easy on Suzy though, and she's given copious amounts of love and special treatment at ECCC. The keepers prepare Suzy's meals separately, mashing everything into an easily digestible pulp, and ensure she is never left unattended on walks. Suzy walks slower and for shorter distances than the other elephants, and takes comfort in her keeper's presence, constantly reaching out her trunk to touch him and reassure herself, knowing that we'd never leave her alone. In the river, Suzy gets a kind hand guiding her across, and coaxing her comfortingly when she seems the least bit apprehensive, even splashing her with the cool river water when she feels too tired to bathe herself.
Suzy's veterinary care too keeps pace with her age, and the vets prescribe a special set of nutritional supplements and medication to keep her comfortable and healthy, as well as painkillers to ease the ache of her arthritis.
With winter settling in, Suzy's fragile body is kept warm and snug in a specially designed elephant blanket, while her enclosure, where she spends the nights is provided with a shed whose covered walls keep the chilly winds at bay. When the sun comes up on warmer days, Suzy gets a relaxing bath followed by an invigorating massage with warm sesame oil, infused with clove and garlic.
While we wish that Suzy could have come to our notice earlier, and we could have given her many more years of a free and happy life, we take some comfort in knowing that at least now, she is getting the care and love she deserves and remains the pioneer and precedent for the rescue of circus elephants in India- having been at our centre for the arrival of six more circus elephants, including the youngest elephant at ECCC- Peanut!
Suzy will forever be an important part of the ECCC family, and our staff will continue to dote on her and help her make the most of her free life. You can play a special role in Suzy's care by sponsoring her HERE.
Mother Elephants Protects Calf From Tourists.
Incredible video showing how a mother elephant stops her calf from going any closer to spectating tourists. Almost as if she is saying "Don't talk to strangers".
Taken on the H3 near Malelane in the Kruger National Park in South Africa.
Video by: Marc
Send in your wildlife video here, and earn money: http://www.latestsightings.com/conten...
To get to see sightings like this on your own, BOOK A SAFARI:
http://www.latestsightings.com/holidays
Snapchat: LatestSightings
Twitter & Instagram: @LatestKruger
For live wildlife sightings in the Kruger National Park: http://www.latestsightings.com/
And like our Facebook page for great sightings and photos: https://www.facebook.com/latestsighti...
Subscribe to us on YouTube: http://www.youtube.com/LatestSightings
Amakhala elephants making the best of a hot day!
Bush lodge Ranger Duayne with a few Italian guests thought it would be fun to share how amazing these creatures really are!! Enjoy!
Captured on the banks of the Hoanib River in Namibia, these gentle giants scrape out a living in a habitat that seemingly offers nothing. During the wet season they prefer green shoots and buds, but in the dry season desert elephants will eat camelthorn , mopane and Ana trees and seedpods.
Myanmar's Unemployed Elephants
Elephants Swimming and Mating in Water
Take a look at this amazing sighting of Elephants Swimming and Mating in Water. Taken by Charne van der Merwe and Juan van Staden.
Farmers Plan to avoid Elephants Entry in Agriculture Land.
Sri Lanka wild elephants in Eco national park.

Nosey's Voice presents Tweet Storm for Nosey featuring Nosey's Rangers.
This is going to be a TWO day Event, with Two different tweet sheets . For #Nosey :)
Join us on February 3rd for part one, and February 4th for part two to help Nosey's Rangers voices be heard by sharing their video using their voices. Nosey the elephant is long over due for retirement.
The most recent photos of her show how life on the road is taking a toll on her.
Please share the event, invite everyone
Its time #NoseysVoice is heard
Please join us in Nosey's Voice, small but humble group of people who want to help Nosey:
https://www.facebook.com/groups/NoseysVoice/
GREAT NEWS! Nosey Will NOT Be Involved in This Years Araba Shriners Circus! As of Tuesday 26th January 2016, the Araba Shriners have announced that they will NOT be including Nosey in their fundraising cirus event this year ~ which means more rest for Nosey!
We've confirmed this decision with the Shriners Potentate, Kenneth Herald and the circus chair, Ken Wellborn who expressed that they do not want to receive any publicity over this decision.
The Lee County Civic Center (where the Araba Shriners circus takes place), have also confirmed that Nosey will NOT be involved in this years event.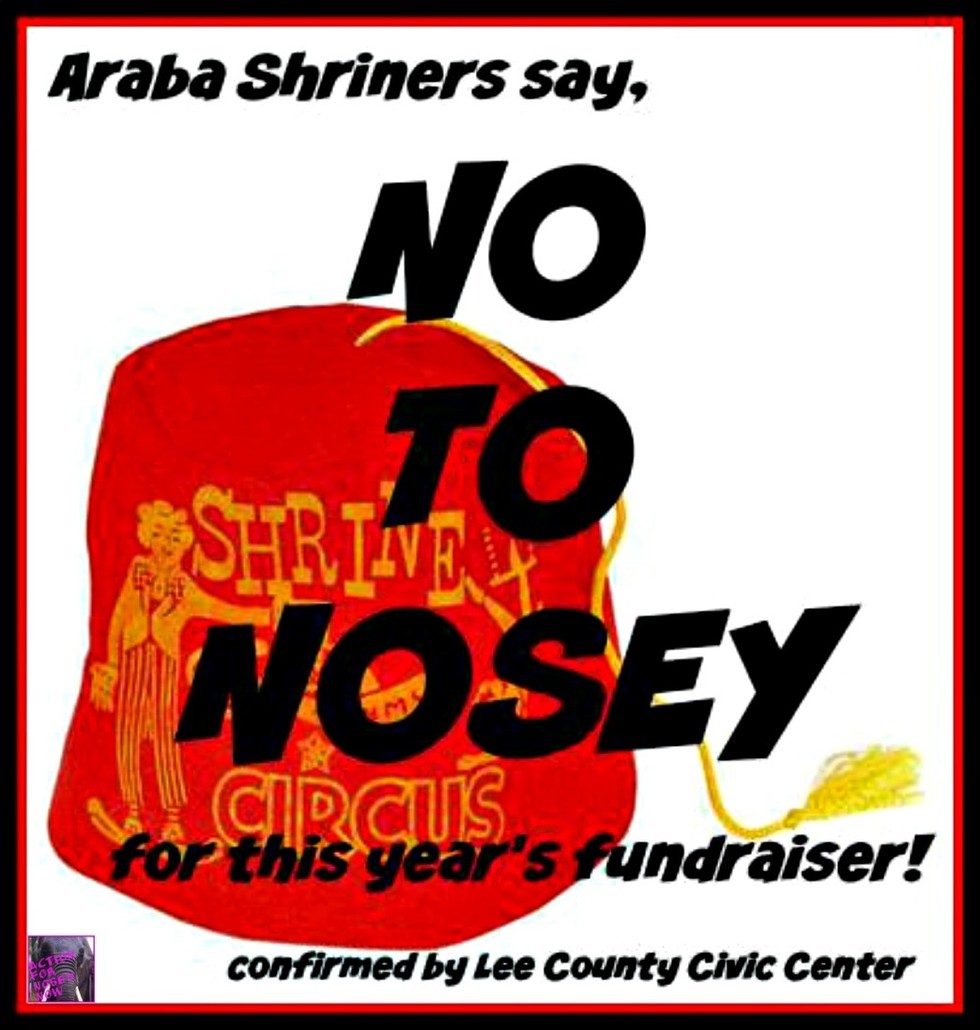 Another Venue Confirms they Will NOT Host Nosey!

We have more good news for Nosey!!! As of this morning, Marcus Baldwin, the Defuniak Springs May Day festival committee chairman, has decided to NOT allow Nosey to participate in their event for 2016!
You may recall that last year, advocates tried their very best to explain the situation to the county commissioner and event sponsors, but to no avail.
Since then, it has come to light, that one of the main reasons Nosey was allowed to perform there last year is because Hugo Liebel simply renamed Nosey "Peanut" for the day and the sponsors believed him.
The photo below is from the local paper (Defuniak Herald) on May 9th 2015. The info in the article, under the photo refers to Nosey as "Peanut" .
Even in the face of lies, we are prevailing! Keep up the fight for Nosey! ~ Action for Nosey Now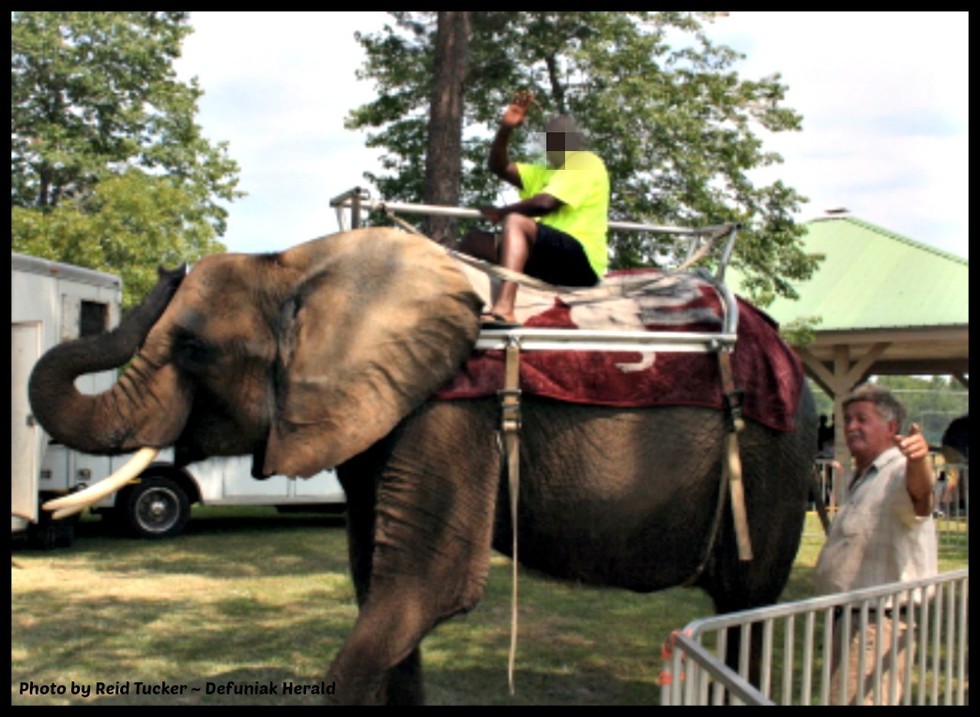 MAY DAY FESTIVAL 2015 -
PHOTO BY REID TUCKER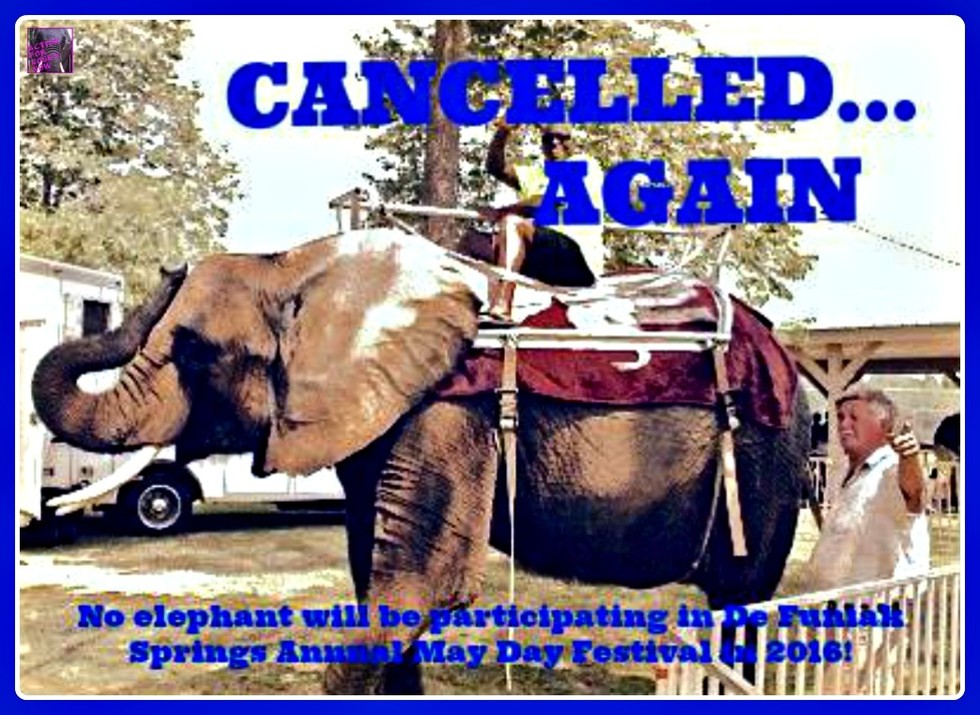 Nosey will NOT be at this years May day event!
Here's How Nosey Spent The Weekend! NEW Photos: A flea market is no place for an endangered animal who, by nature, is meant to wander 20 miles a day.
Nosey stood in an exceptionally small corral wedged between a drinks truck and the Liebel's pony ride.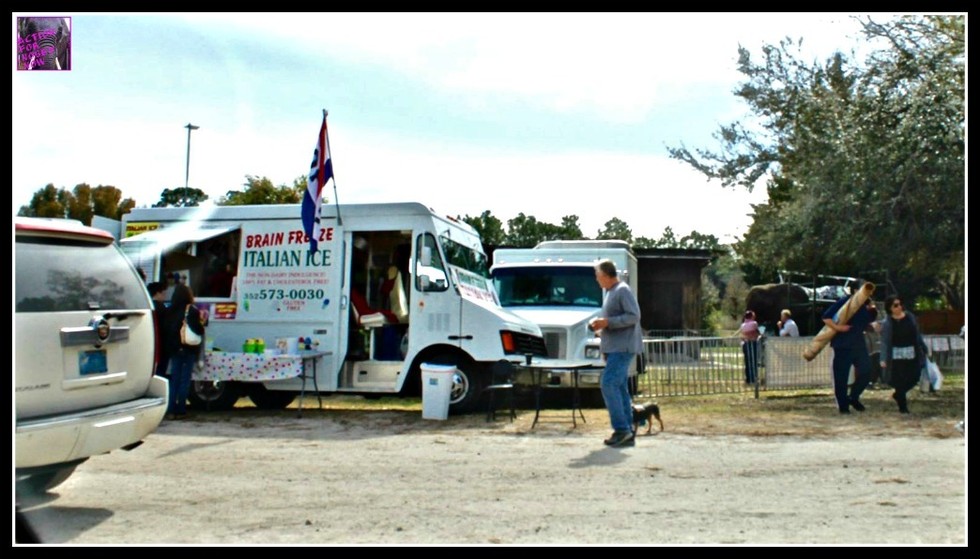 Florida Wildlife Commission was called because Nosey had no shade which is a requirement. However, by the time FWC arrived the Liebel's happened to be driving away. They assured the FWC officer that Nosey was under trees all day and that was that.
This is the second visit FWC have made to see Nosey within the last week. Earlier in the week, FWC went to the Liebel compound to inspect Nosey.
Below are some more photos that were also taken over the weekend (Photos by Amy L. Waz )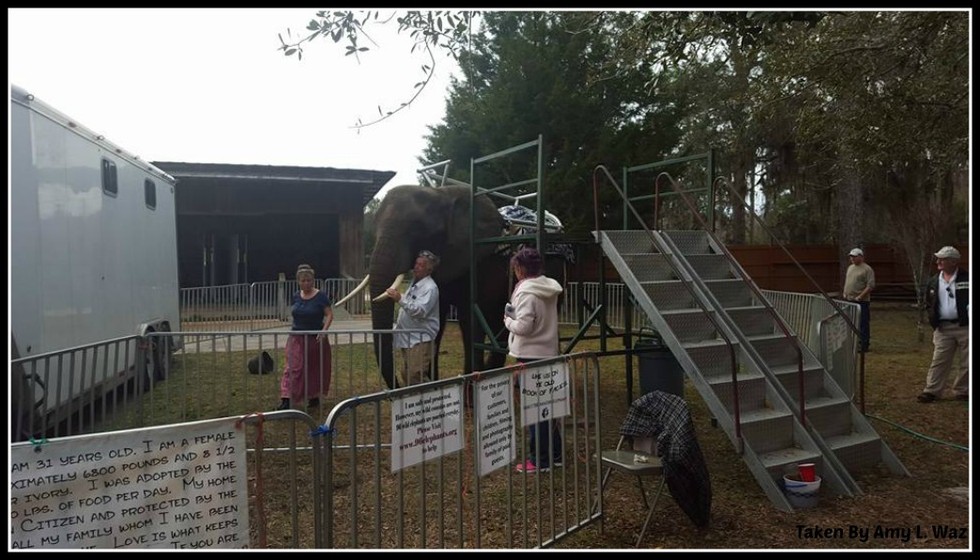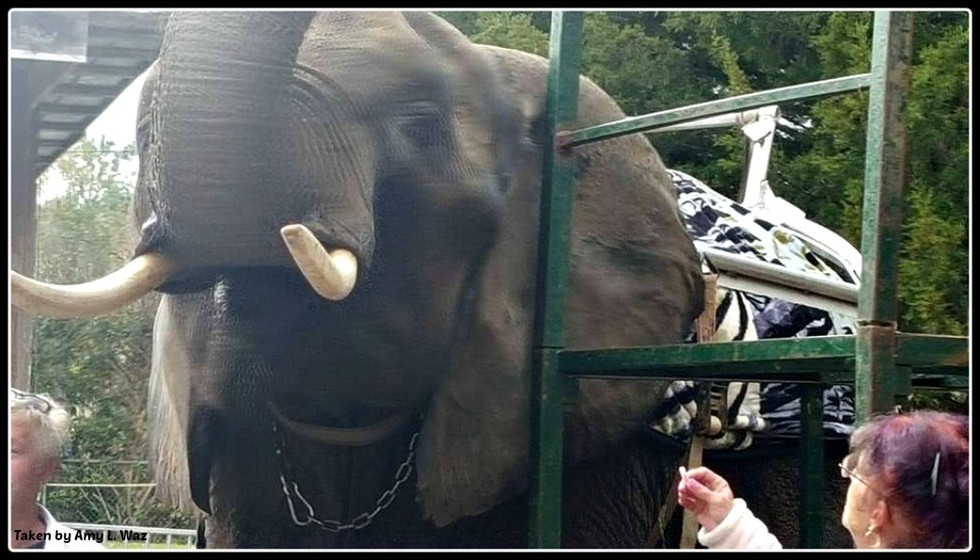 Nosey at Howard's Flea Market, taken yesterday, Sunday 31st January 2016.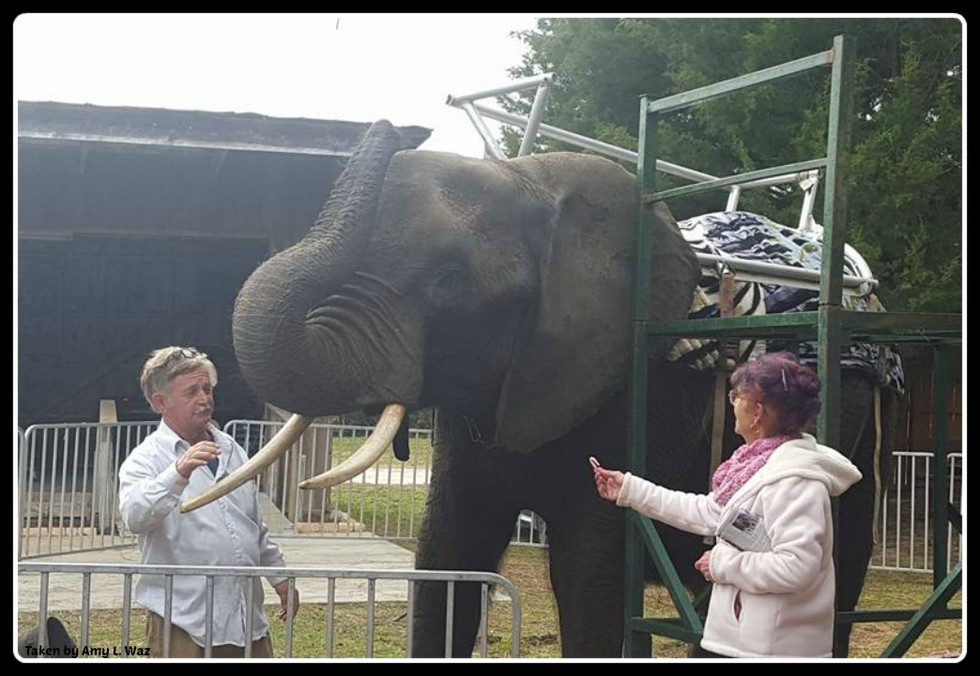 Nosey at Howard's Flea Market, taken yesterday, Sunday 31st January 2016.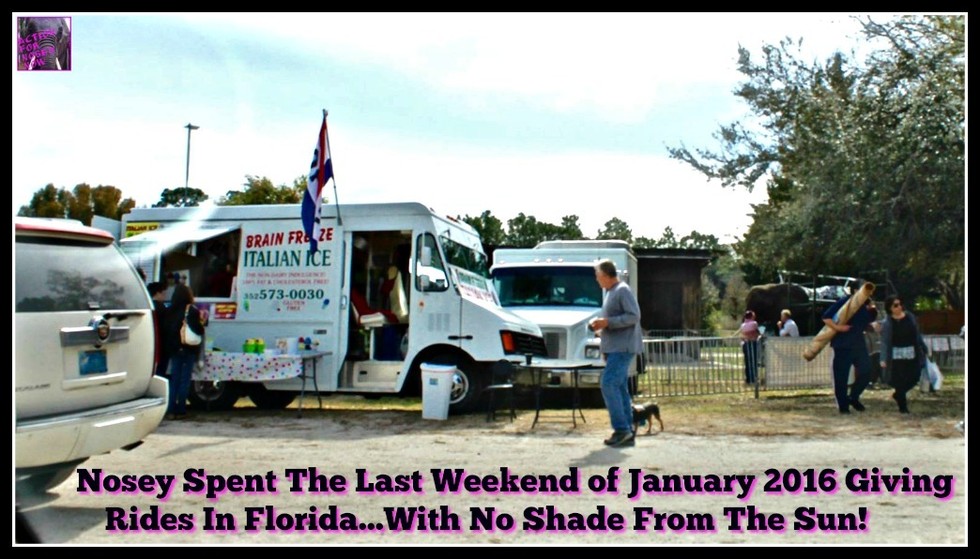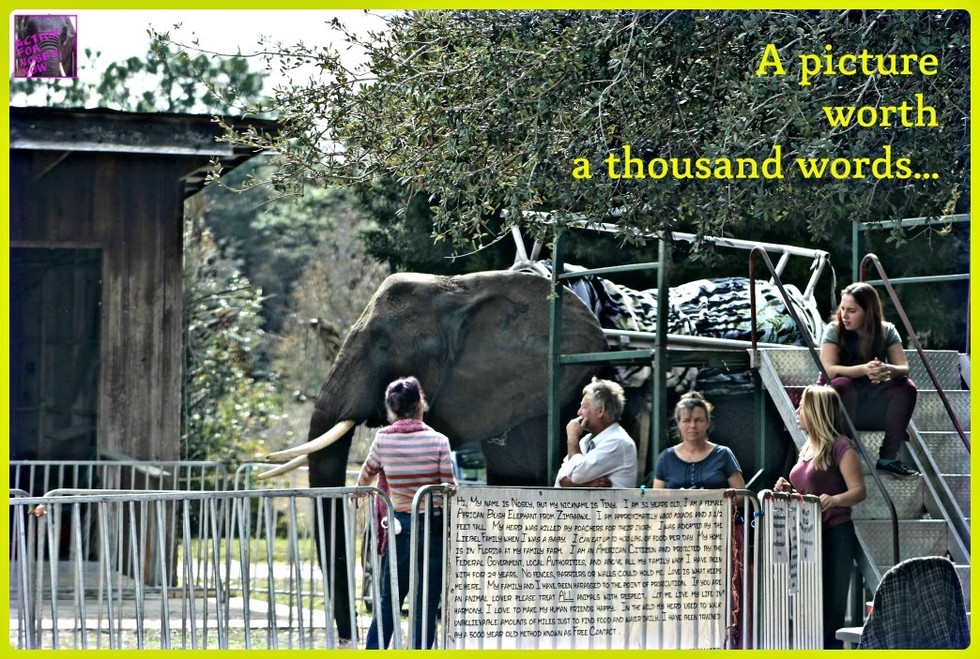 The Action for Nosey Now team would also like to say Thank You to each of the Nosey advocates who spent time over the weekend at Howard's Flea Market educating the public about Nosey and the fact that she's being exploited for people's entertainment.
We really appreciate you taking Action for Nosey...
Protesting for Nosey at Howards Flea Market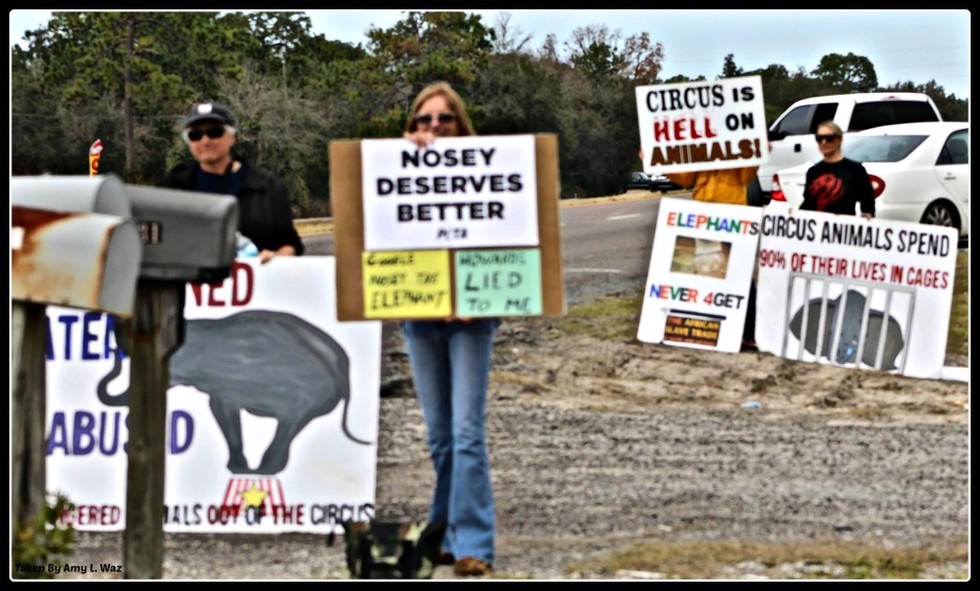 Photos by Amy L. Waz
Not that anyone worth anything in life goes to it, but regardless, please help protest the Howards (they do not even use the correct grammar in their own brand name) Flea market. They censor posts and they lie. They block people that do not agree with them using Elephants as a way to attract people to its flea market. They are corrupt.
Detection Dogs Stop Ivory Traffickers.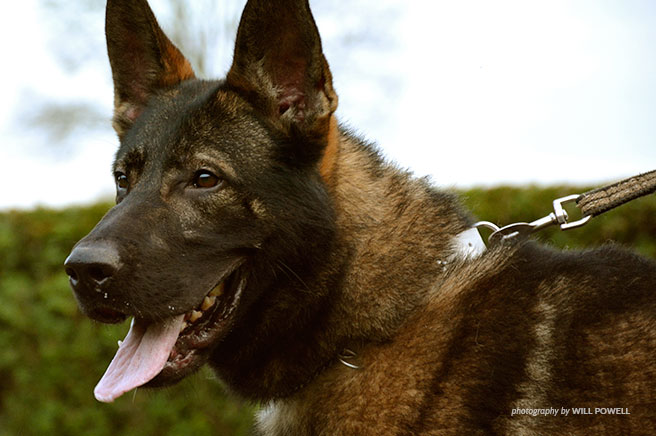 Trained by AWF and operated by Kenya Wildlife Service, dogs detect ivory hidden in luggage on four separate occasions in one week.
Ivory detection dogs deployed at Kenya's Jomo Kenyatta International Airport led authorities to ivory hidden in luggage on four separate occasions last week. Trained by the African Wildlife Foundation (AWF) and part of Kenya Wildlife Service's (KWS's) Canine Detection Unit, the dogs and their handlers found smuggled ivory in the luggage of four passengers, all traveling to China. Three of the arrested were en route to Guangzhou, where the Chinese government destroyed six tons of confiscated ivory last year. At least two of the travelers were transiting through Kenya from Ghana and Mozambique.
"Four ivory busts in one week is ridiculous," said Dr. Philip Muruthi, vice president of species protection for the African Wildlife Foundation. "This should put all travelers attempting to smuggle wildlife products from Africa on alert. We are working toward zero tolerance for wildlife trafficking."
Most of the seized ivory had already been fashioned into necklaces, bangles, rings and other ornaments, and in some cases had been stuffed into empty cigarette boxes. An impala skin was also seized.
Last July, seven KWS rangers and six rangers from Tanzania's Wildlife Division graduated from AWF's Conservation Canine Programme following two months of intensive training. They worked alongside specially trained dogs to detect ivory hidden in luggage, shipping containers and vehicles. The Kenyan canine teams were deployed to airports in Nairobi and Mombasa, and it was one of these units that detected the ivory in last week's busts.
"These busts are the clearest demonstration that the detection dogs are effective in finding smuggled ivory," said Will Powell, African Wildlife Foundation's Conservation Canine Director. "It's a testament to how well trained these dogs and their handlers are that they were able to detect such small amounts of ivory tucked away in luggage."
In Tanzania, a detection dog team has been deployed to the port in Dar es Salaam, one of the primary exit points for illicit ivory, and a team has already been deployed to Julius Nyerere International Airport.
Much of the illegal ivory smuggled from Africa ends up in China and Hong Kong, two of the largest ivory markets in the world. Earlier this week Hong Kong's Chief Executive Leung Chun-ying pledged to ban ivory trade in the special administrative region. Last September, during a state visit to the United States, Chinese President Xi Jinping also vowed to ban ivory trade in his country during a joint address with U.S. President Barack Obama. The commitments come as some elephant populations in Africa decline sharply due to poaching, which is fueled by the demand for ivory in Asia and other regions.
Tell your Senators: Fight illegal wildlife trafficking. Pass the END Wildlife Trafficking Act.
Wildlife trafficking threatens the survival of elephants, rhinos, lions and other majestic African species – but new legislation introduced in the U.S. Senate could cripple this multi-billion dollar industry. In December 2015, Senators Chris Coons (D-Del.) and Jeff Flake (R-Ariz.) introduced a bipartisan bill called the END Wildlife Trafficking Act to develop country-specific strategies to combat poaching and trafficking. We need your help to get it passed right away.
Asian elephant Chai, 37, found dead Saturday morning and a Tweet Storm for Nosey featuring Nosey's Rangers is set for Wednesday (February 3rd) this week. Plus, a 2-year-old elephant dies at Ringling Bros. conservation center.
The zoo says Chai appeared peaceful and there was no outward sign she was in pain or suffering at the time of her death
Chai came to Oklahoma City last May from the Woodland Park Zoo in Seattle with Bamboo an 48-year-old Asian elephant. Chai had regular health checkups while at the zoo
Chai was found by zookeepers in the elephant yard about 7:30 a.m. The zoo's veterinary staff have not determined a cause of death but will perform a necropsy. The results are expected early next week.
Here is the zoo's response to my question about if this death is related to last year's elephant death:
Click Here To view it!
Chai is the second elephant to die at the Zoo in the last six months. Malee, a 4-year-old Asian elephant, died last October.
Last, 2-year-old elephant dies at Ringling Bros. conservation center. Preliminary results show Mike died of elephant endotheliotropic herpesvirus.
The youngest elephant at Ringling Bros & Barnum Bailey Center for Elephant Conservation in Polk City died on Monday, officials said.
A 2-year-old Asian elephant named Mike, who was born at the center, died from the elephant endotheliotropic herpesvirus, according to a release.
Final necropsy results are pending, but officials said preliminary results along with blood tests indicated that EEHV was the cause of death.
"No one knows why the virus manifests this way in some elephants, since most elephants harbor the virus and never become ill," said Dr. Ashley Settles, Ringling Bros. director of veterinary care, in a release. "Mike only began to show the slightest of symptoms on Saturday and was eating and drinking well as late as Sunday afternoon, but the illness progressed very rapidly. As soon as symptoms began we started treating him, but by Monday morning there was nothing more anyone could do to prevent his passing."
Mike was born at the conservation on June 27, 2013, to Angelica and Romeo, who were also both born at the center. The center has had 26 births of endangered Asian elephants since its founding in 1995, according to officials, adding that Mike was the first elephant at the center to die of EEHV.
What's Ringling Really Up to at Its 'Conservation Center'?
Ringling Bros. and Barnum & Bailey Circus has vowed to eliminate its elephant acts by May 2016, at which point it plans to hold all the elephants at its Center for Elephant Conservation (CEC) in Florida. While relief from the stress and physical demands of life on the road will be a positive change, life at the CEC is no fairytale ending for elephants.
An in-depth PETA analysis—complete with photos and video links—of the living conditions for elephants at the CEC found that the animals spend most of their lives in chains. According to the sworn testimony of Gary Jacobson, general manager of the CEC, elephants at the facility are routinely chained on concrete floors for up to 24 hours a day. During a court-ordered inspection of the CEC, an independent elephant-care specialist observed that elephants spent so much time chained that they had worn grooves into the concrete.
Elephants at the CEC still live in fear of being hit with bullhooks—heavy batons with a sharp steel hook on one end (picture a fireplace poker)—and shocked with electric prods, also called "hot shots." Despite mounting condemnation of these barbaric weapons, Ringling has staunchly defended their use.
"Training techniques … include a lot of man power, brute force, electricity, and a savage disposition. Raising a baby elephant at Ringling['s CEC] is like raising a kid in jail."—Former Ringling employee Samuel Haddock
Records show that the elephants at the CEC have a long history of rampant tuberculosis—an airborne and potentially fatal disease that is highly transmissible to humans, even without direct contact. As of June 2014, at least nine elephants at the CEC were under quarantine orders, including two who had been pulled from performing with the circus and sent to the CEC after testing positive for tuberculosis.
A prior PETA report documents that in 2011, 29 elephants with Ringling—including 25 at the CEC—tested positive for tuberculosis on diagnostic blood tests. At least eight of those elephants have since died, including Jewell, who was transferred to the Little Rock Zoo in, according to Florida's State Veterinarian, violation of Florida's animal-quarantine laws.
Calves separated from the mothers and chained to barren concrete in a barn at the Center for Elephant Conservation..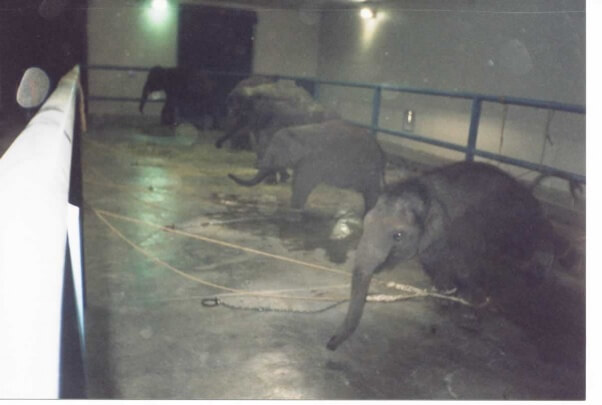 Elephant calf coerced into an unnatural posture using bullhooks and ropes at the Center for Elephant Conservation.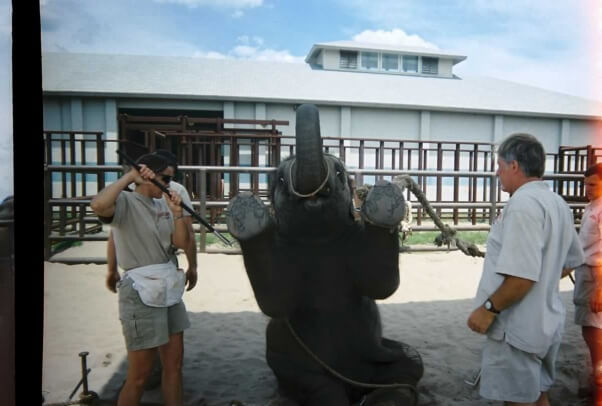 Elephant with cracked nail at Center for Elephant Conservation.
Elephant with cracked nail.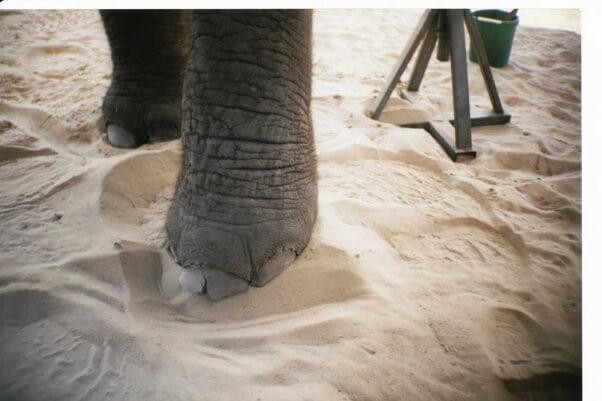 Chained baby elephant at the Center for Elephant Conservation.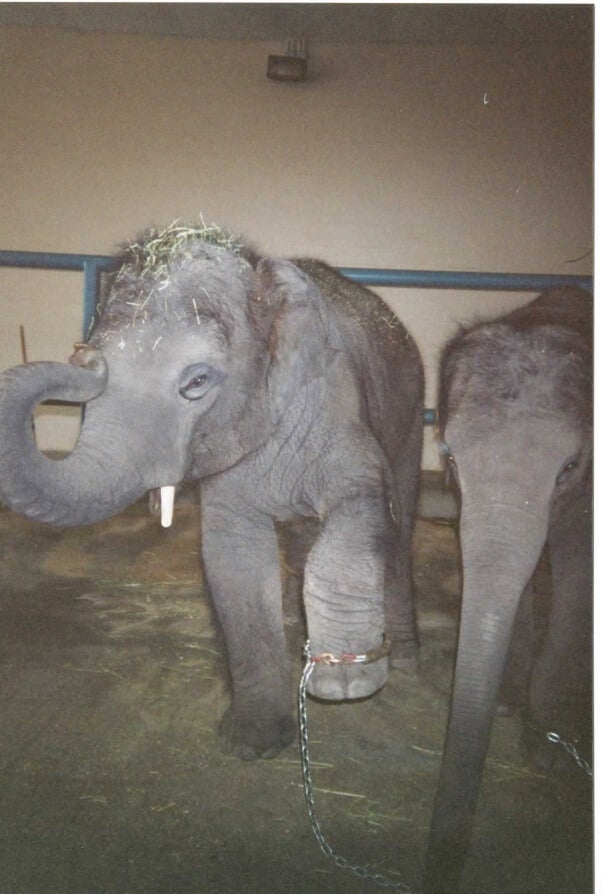 Trainer with electric prod (circled).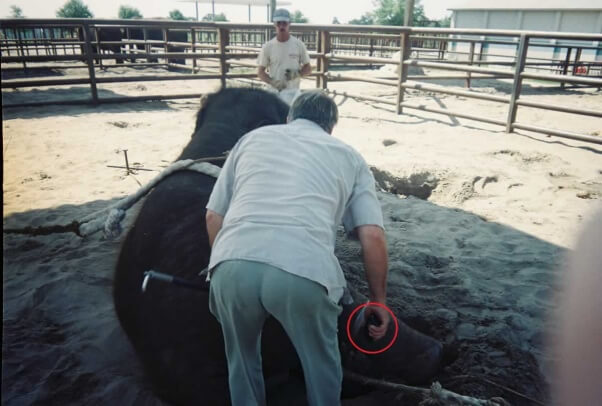 Trainer with electric prod (circled).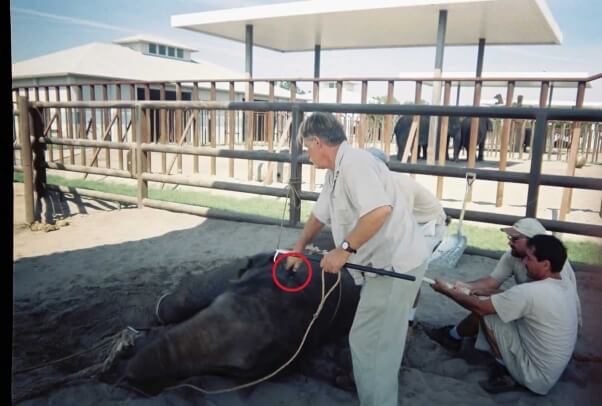 In the wild, elephants are active for 18 hours per day, foraging, socializing, taking dust baths, and exploring home ranges that span hundreds of miles. At the CEC, females are left in unnaturally small social groups, while males are kept isolated and behind bars. Without adequate space to move, elephants are prone to arthritis and foot diseases—both of which can be life-threatening. Despite the word "conservation" in the CEC's name, no elephant already in Ringling's hands or born in the future will ever step foot into the wild or ease the plight of endangered wild populations.
This Is What Happens Before The Elephant Ride.
It's called crushing — a practice inflicted on wild elephants to make them carry tourists on their back.
Warning: Disturbing content below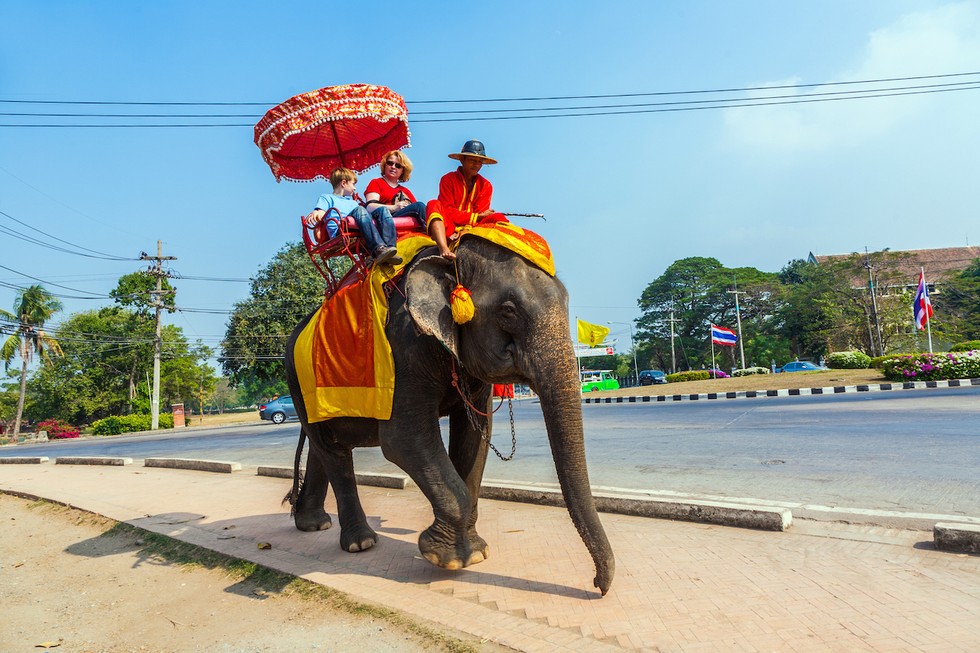 It's a way of deliberately breaking the spirits of animals so humans can use them. Crushing involves tying up and literally beating an elephant into submission.
"Tourists may think activities like riding an elephant do no harm," Dr. Jan Schmidt-Burbach, senior wildlife and veterinary adviser at World Animal Protection, told The Dodo in a May 2015 feature on this kind of cruel tourism. "But the brutal truth is that breaking these animals' spirits to the point that they allow humans to interact with them involves cruelty at every turn."
While it's unclear exactly how many elephants endure this torment each year, it's believed that one of the main threats to elephant populations in Asian habitats is the illegal capture and "training" of young elephants.
The "training crush" often involves taking young elephants away from their mothers and then caging, starving and beating them. Crushing also involves making the constricted elephant stay awake for days.
The practice feeds the tourist industry's demand for tame elephants, as well as other forms of captivity, like circuses and entertainment. (And, by the way, "training" captive elephants in the U.S., which can involve hitting elephants with painful bull hooks and tying them up with ropes, isn't any less cruel or debasing.)
While capturing wild elephants is supposed to be illegal, this law is often hard to enforce, and once an elephant has been forced into submission, the laws shift — the elephant is seen in the eyes of the law as a captive animal, no longer wild, and any protections no longer apply.
And once broken, their spirits can never fully be repaired.
Panicked Mother Elephant Has No Idea Help Is On The Way. It only takes a few seconds to see that love between a mother and child transcends species.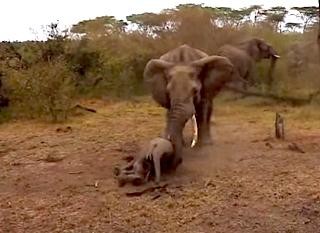 When people in Kenya noticed a baby elephant with a poacher's snare around his ankle in October, they reported that the calf needed help.
The Olare Motoragi Conservancy dispatched rescuers to locate the calf — and they found him being protected by a herd of 23 elephants, including his deeply devoted mother.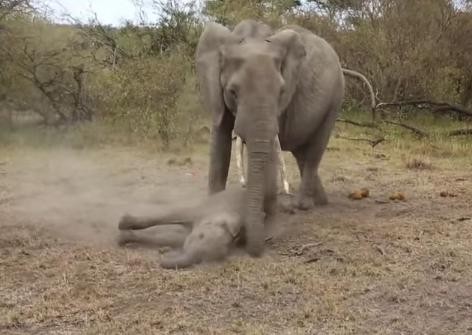 The rescue would be complicated, so rescuers called on the David Sheldrick Wildlife Trust (DSWT), which sent a veterinarian via Sky Vet, a program in partnership with the Kenya Wildlife Service (KWS) that flies expert veterinarians to help African wildlife in peril. A vet got on a plane that same day to relieve the baby elephant.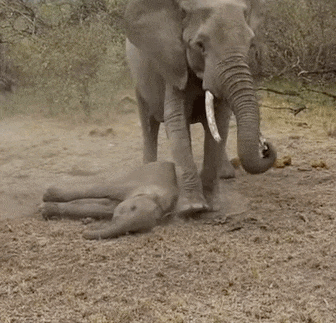 "Given that the mother was very protective of her calf, it was decided that both mother and calf should be darted," a representative for DSWT told The Dodo.
After the vet darted the calf, a few heartbreaking moments, caught on camera, began — the mother, fearing the worst, desperately tried to revive her sleeping calf.
Rescuers darted the loyal mother to keep her calm while they treated her baby.
"The baby is not in any danger and is simply succumbing to the anesthetic. Her actions are demonstrative of her protective behavior but the calf is not in danger at this moment," the DSWT said.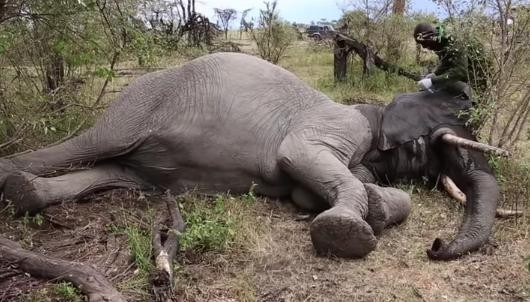 Sometimes, if a baby elephant becomes injured by a snare, he can't keep up with the herd and is lost in the wilderness — so it was of the utmost importance that rescuers remove the snare quickly, before the herd moved on.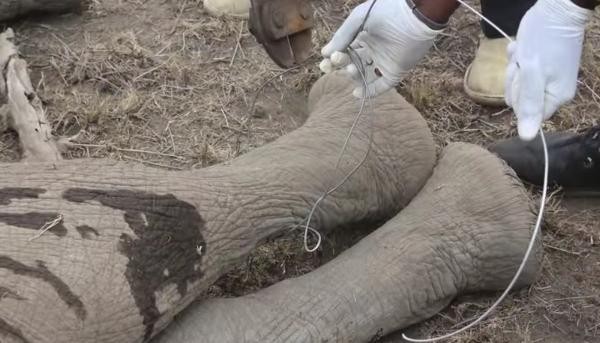 Rescuers cut the snare from the calf's leg with a wire cutter, and both mother and baby soon woke up and happily rejoined their herd.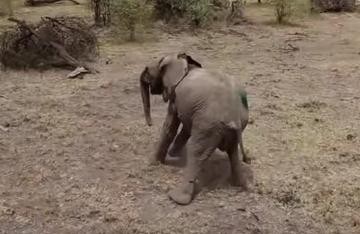 "Though AK47s and cyanide poison might be the most recently reported weapons of choice for elephant poachers, snares cause much suffering and a terrible and painful death," according to DSWT. "They are indiscriminate and much easier to obtain than firearms."
Anti-poaching teams in the area have confiscated more than 135,000 snares that have been laid by bush-meat poachers and ivory poachers to date.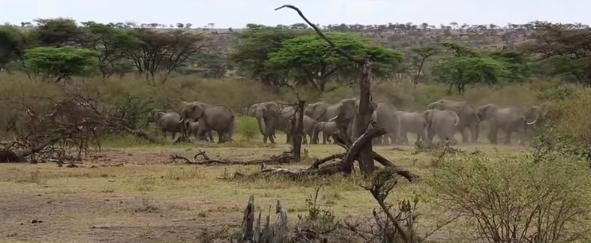 Confused Baby Elephant Chases After Man Who Just Sold Her Away. This baby elephant is not a "thing" — but, like so many others like her, that's how she's treated.
"She has just been sold and is heartbroken to have to leave her master," writes Wild Films India, in the video's description on YouTube. "As the master drives away on his motorcycle after having sold her at Asia's largest animal fair, she chases after him, and semi-growls semi-cries to be taken back."
Although it's unclear what fate awaits the elephant, or how she came to be captive, her desperation speaks volumes. Indeed, this tragic scene, reportedly filmed at India's Sonepur Mela festival, offers a fleeting glimpse at the sadness of animals illegally bought and sold as mere commodities.
Animal Recovery Mission (ARM), a U.S.-based rescue organization, recently got an inside look at how living beings are treated at the annual festival, writing on The Dodo:
The animals are forced to stand, restrained in their excrements and filth, for days or until sold or traded out of their possession. Elephants with obvious and apparent ailments are given no sympathy, care or attention, they are simply for show and profit.
Click here to read ARM's exposé on the Sonepur Mela festival in full, and to sign your name to a petition calling for the abuses there to end.
PETITION AGAINST ELEPHANT ABUSE IN THAILAND.
BY: http://www.facebook.com/?sk=messages&tid=1178687927815#!/group.php?gid=290471190020
TARGET: International Union for Conservation of Nature
We've got 102,449 supporters, help us get to 110,000
Elephants are a very important part of Thai history and culture. However, these sensitive and intelligent animals face huge amounts of danger and suffering due to human activity. Please sign this petition to demand that the International Union for Conservation of Nature work to ensure greater protection for elephants in Thailand.
Killed for ivory by poachers, forced into cruel and restrictive labour, and threatened by poorly managed destruction of their natural habitats, elephants are in desperate need of greater protection. Many studies have been completed, discussions had, and solutions proposed since 1991, but there has been no firm action, and the situation for elephants continues to deteroriate.
Elephants are listed as Protected Animals under the Conservation Act 1992. Informal reports suggest the numbers of elephants have since depleted further, especially adult males.
The Thai Animal Guardian Association has studied the situation thoroughly and concluded that: 1) The Government and relevant NGOs should form a National Committee with full authority to collaborate with any other appropriate agency or institution. 2) Practical measures should be drawn up and delivered on a national scale.
Please sign the petition and demand that the International Union for the Conservation of Nature take action to protect elephants from suffering at the hands of humans. Click here To Help!
Ranger Killed In Line of Duty.
Seb leaves behind his wife, Jeaninne and eight children ages 2 to 16.