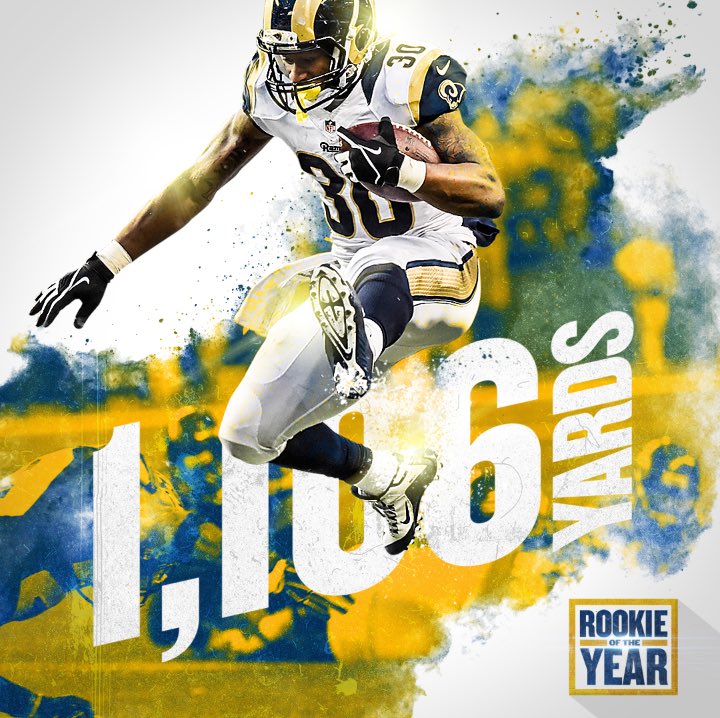 Offensive Rookie Of The Year came down to the wire, but one lucky rookie won this outstanding award during the NFL Honors show Saturday. The NFL got a look at some very impressive rookie's this past year, but one rookie took the spotlight when he got his first career start at running back.
Los Angeles Rams running back Todd Gurley was named Offensive Rookie Of The Year as he received 27 votes. However it was not a landslide victory for the running back. Tampa Bay Buccaneers quarterback Jameis Winston received 17 votes, Oakland Raiders wide receiver Amari Cooper would get 4 votes. On the bottom of the votes, but still having an impressive rookie year, both Tyler Lockett and David Johnson would both receive one vote.
With Jameis Winston taking the NFL by storm for the first couple of weeks, it only took one game for Gurley to regain attention the star running back deserved. Gurley welcomed the NFL with his first start in Week 4 with an outstanding record-breaking performance. It included 19 carries for 146 yards, which would only be the start of another record-breaking season. Gurley would total 766 yards and eight touchdowns in seven games and finish the season with 1,106 yards. He would join the likes of Eric Dickerson and Jerome Bettis as the only Rams rookie's to rush for over 1,000 yards in their first year.
Also a key factor to mention is, that Gurley would only play in 13 regular season games. Imagine if Gurley was able to start in all 16 games. Would the Offensive Player Of The Year push the Rams into the playoffs? Besides receiving yet another reward to his resume, Gurley also participated in his first Pro Bowl along with fellow Rams Aaron Donald and Johnny Hekker.
Gurley would play a valuable role in the Pro Bowl, as he would also record his first Pro Bowl Touchdown! What a year for a player who is coming over an ACL Injury. Welcome to the NFL Todd Gurley!
Todd Gurley Hopes To Take Kobe Byrant's Spot in LA.
The city of Los Angeles is known for its top athletes. One of the city's great athletes and five-time NBA champion, Kobe Bryant, is set to retire after this NBA season. Thankfully as one top athletes leaves, the city will be gaining another.
According to Los Angeles Rams running back, Todd Gurley, he hopes to take Kobe's place in LA after he retires. Gurley made an appearance on SportsCenter on Friday and said the following about Bryant and the city of Los Angeles:
It shouldnt take long for the city of Los Angeles to embrace the Rams running back. Gurley, an NFL rookie of the year candidate, took the NFL by storm last season finishing the year third in the league in rushing despite only playing 12 games. It was because of this that Gurley entered the conversation of NFL's best running back along with Adrian Peterson.
The Rams will have their stadium built where the Lakers used to play in Inglewood. During the three-year process of getting the stadium built, the Rams will play in their old stadium at Los Angeles Memorial Coliseum.
While Gurley still has a ways to go before he enters Kobe Bryant status, he does make a good candidate to replace Bryant as Los Angeles' most popular athlete. If he can stay healthy and continue to do what he did his rookie year, it is certainly possible.
If anything, the city of Los Angeles will gain an Eric Dickerson type running back and player that the city loved as he helped the Rams win in the late 1970's. If Gurley wins and can lead the Rams to the postseason, it's only a matter of time before the city starts to fall in love.