After a two-decade wait, the U.S. Department of Agriculture (USDA) has released a proposed rule to improve standards for the handling, care, and housing of captive marine mammals, mainly at aquariums and marine parks.
This is an important animal welfare step, at a time when the nation is questioning more than ever if cetaceans, like orcas, should be put on display at all in captive environments at for-profit ventures.
But we need your help to make sure these updated standards of care become a reality for captive whales and dolphins. Please contact the USDA today and urge them to finalize this rule.
It's important that the USDA knows that you, the public, want these standards updated, and you want it done now. The captive whales and dolphins living in these facilities have waited too long, please act now.
Orca Calves Are Born, But Will They Survive?
In the past 12 months, there have been nine new calves born to the endangered population of orcas living off the coast of Oregon and Washington. While this is wonderful news, the sad reality is that many of these calves will struggle to survive. Many in this population are at risk of starvation due to the fact that their primary food source, Chinook salmon, are also endangered. More fish are needed to sustain the current population and these adorable new additions. They will continue to struggle until the limited supply of wild Chinook salmon recovers. In addition, preliminary findings from new research at the University of Washington report that first-time Southern Resident orca moms experience high rates of miscarriages, stillbirths, or lose their first-born shortly after birth. After examining their milk, researchers found that the milk given to their first born is extremely high in development-disrupting toxins, than when compared to subsequent births. That's why we are focused on helping the southern resident orcas in two ways: reducing toxins in the orca's habitat and food, and restoring Chinook salmon habitat so that more fish can spawn, thrive, and play their part in the complex ocean food web.
The only killer whale known to be put back into the wild after human intervention was spotted with her first baby last week (2013).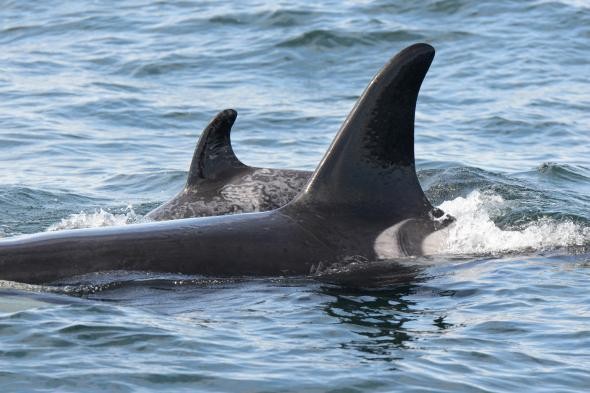 In 2002, a young killer whale named Springer was reintroduced to her pod in northern Vancouver Island (map), Canada, after she was found orphaned in Puget Sound (map), about 300 miles (480 kilometers) south of her home.
No one knew if the move would hurt the whale or her chances for reintegrating back into the pod and one day becoming a healthy mother. (See National Geographic's whale pictures.)
"Her calf was healthy and active and energetic," said Ellis, who estimates that the baby killer whale is about seven feet (two meters) long. (See baby-animal pictures.)
"What she's doing in terms of having this baby is ensuring the continuity of her maternal lineage into the future," added Paul Spong, director of the research station OrcaLab off northern Vancouver Island. Spong helped facilitate Springer's reintroduction, which involved U.S. and Canadian government agencies, the Vancouver Aquarium, the Namgis First Nation, nonprofit groups, and individuals.
"It's a confirmation of everything that the [orca-research] community believed about the possibility of her coming back and resuming a normal life."
Springer, nicknamed "Little Orca Annie" by the press, made big news when she was found hanging around the waters off Seattle in January 2002. The Seattle Times described the lone whale as having "bad skin, worms in her stool and bad breath."
Not only was her health poor, but so were her social skills, noted John Ford, head of the Cetacean Research Program with Fisheries and Oceans Canada, who was involved in Springer's reintroduction.
"She was very lonely—these are very social animals—and so she started interacting with bits of driftwood and boats and became quite fixated on them."
Based on her distinct vocalizations, whale researchers were able to identify her as a member of the A4 pod of Northern Resident killer whalesin northern British Columbia.
Killer whales are socially complex animals that travel in pods of closely related individuals. Each pod has its own "dialect." (Also see "Rare Breed of Killer Whale May Be New Species.")
"We were then able to make a match with photographs to this little tiny whale that had lost its mother back in 2001," said Ford.
Little Orca Annie was identified as whale A73, whose mother A45 had not returned with her baby to Johnstone Strait the previous summer and was presumed dead.
The young whale's "future prospects didn't look great, so there was a decision in June [2002] to intervene," said Ford.
After being nursed back to health inside an ocean enclosure at a government research station in Manchester, Washington, Springer was transported in July 2002 via a high-speed catamaran back to her native waters, where she spent a day in a floating net pen before being released back to her pod.
When marine biologists first released Springer, she raced over to a floating piece of driftwood and started to rub against it, rather than joining her relatives that were vocalizing nearby.
"We were very concerned at that point," said Ford, who recalled she continued to fixate on boats upon release as well.
However, over the next few weeks, Springer became more integrated with her clan and eventually began to travel with her nearest blood relatives in the A4 pod, a great aunt and the aunt's offspring—the equivalent to her second cousins.
"Successfully mating and having a calf in the population means that she's fully accepted and part of the social dynamics of the population," said Ford.
"It gives us hope that if such an event happens in the future, provided that all the right bits are in place—that is, knowing who the animal is and what group it comes from—that these kinds of efforts can be successful."
Giant Whales Washed Up On a Germanb Beach.
Why Whales and Dolphins Deserve to be Wild and Free

.
Whales and dolphins are some of the most dynamic creatures on the planet. Not only are their brains more developed than a human's, but they are also amazingly emotional beings. Knowing all we do about these complex creatures, keeping them in enclosures the size of a fish bowl, devoid of stimulation or even companionship is incredibly cruel.
Orca Rubbing on Rocks Fox Island, Alaska

.
The orcas decided they wanted another trip to Fox Island. This time, a female, followed by the bull, swam under us on the island's dock.