Joe Scarborough says that t

his month is going to be like no other month in recent American history.

Good morning everyone! Happy Monday to you! And Happy New Year!

Joining today's show are

Mark Halperin, John Heilemann, Richard Haass, Eugene Robinson, David Ignatius, Bill Neely, Ayman Mohyeldin, Robert Costa, Chuck Todd, Rep. Adam Kinzinger, Fmr. Gov. Mike Huckabee, Sara Eisen, Seema Iyer and more...There are three to four Grateful Dead references including one said by
Mike Huckabee
...
Rex Murphy: Should it be Trump v. Clinton in 2016, it will be great fun.
Given that Hillary Clinton's quest for the presidency is founded upon the juvenile assertion that it's "a woman's turn," it is not surprising that she has begun to brandish her feminist credentials. In one of her Twitter proclamations this week, she wholeheartedly endorsed the current dogma that in cases of (alleged) sexual assault, "every survivor of sexual assault deserves to be heard, believed and supported."
Normally, reverberating feminist truisms would deserve neither ink nor air, but American politics is no longer normal. Donald Trump is its ringmaster now. Brash, egotistic and determined to play by no rules but his own, Trump has bulldozed the conventional understanding of how politics is to be played, what may be said and how to deal with opponents.
Any well-mannered candidate, say a Mitt Romney or a John McCain, would never have the gall to point out that Clinton's words do not accord with her past practices. Or to bring up the seamy conduct of her famous mate, Bill Clinton, from his sexual escapades in Arkansas to the White House, from Jennifer Flowers to Juanita Broderick to Paula Jones and Monica Lewinsky. So familiar was this pattern, to Hillary and to those who supported her and Bill, that their campaigns had a whole team to deal with the big dog's meanderings from the marital couch.
But Donald Trump does not have any good manners. He may not have any manners at all. He goes, as many have written already, where angels fear to tread and where no man — at least no Republican — has gone before. Hillary Clinton's pious genuflection to the current mores on sexual assault was duly noted, and then Trump decided to take particular notice.
He responded with one of his own Twitter proclamations, warning Clinton that if she "thinks she can unleash her husband, with his terrible record of women abuse, while playing the women's card on me, she's wrong!" Picking up on Clinton's own words, he made it very clear that if that is what she wants to argue in 2016, he will have questions, and very personal ones, for her. Questions such as: how do Clinton's past responses when it was her own husband who was on the wrong side of allegations of improper sexual conduct match up with her current feminist principles?
I should think to Clinton's current dismay, that her current rhetoric does not match her previous contortions. Paula Jones was dismissed, callously, as "trailer trash." Trailer parks figure highly in the Clintonian mind. For after the Jennifer Flowers eruption, the always-sophisticated James Carville tried to wave her charges off with the now famous gem: "Drag a $100 bill through a trailer camp and there's no telling what you will find."
When the explosive story of Monica Lewinsky's relations with Bill Clinton broke, there was a veritable full-cycle spin machine in the White House, led, as the late Christopher Hitchens revealed, by the Clinton consigliere, Sidney Blumenthal. Blumenthal sent out information about "Monica Lewinsky's past, her weight problems and what an aide said was her nickname — 'the Stalker'." And Hillary herself came down on the poor intern as "a narcissistic loony toon." Once the truth came out, did Hillary ever retract or apologize — in the spirit of feminist solidarity for a young woman, dazed by prestige and at the furthest end of a "power imbalance." Nope. She was expendable.
So how will this play out? Are Clinton's feminist credentials about to get a real test? Will her campaign theme — it's a woman's turn — harmonize with her past words and actions about her husband's activities?
Well, should the contest of 2016 feature Clinton against Trump, of this I am certain: it will be a fight, and a real one. If Bill Clinton, as has been signalled already, enters the campaign, his conduct, together with Hillary's artful defences of it, and the dismissal of the myriad of women who over the years have brought forth their stories, will be "old news" no more. For every time Hillary plays the woman card, Trump will ace it with the Bill card.
Trump has the reckless audacity to play the political game on the same hard terms as the Clintons have always played it. And that's as hard and vicious as it may be played. Put it this way: should it be Trump v. Clinton in 2016, it will be great fun, because the Clintons will finally be up against someone as shameless and ambitious as they are.
Donald Trump TV AD Campaign AD Commercial 2016:
Bernie Sanders: 'We've got more important things to worry about in this country than Bill Clinton's sex life'.
First it was Hillary Clinton's "damn emails" that Bernie Sanders said Americans were sick and tired of hearing about. Now it's Bill Clinton's sex life.
"We have more things to worry about than Bill Clinton's sexual life," Sanders said on ABC's "This Week" Sunday.
The Vermont senator and Democratic presidential hopeful repeated the line on CNN's "State of the Union" Sunday.
"I think we've got more important things to worry about in this country than Bill Clinton's sex life," he said.
Sanders was asked about Republican frontrunner Donald Trump's suggestion that the former president's sexual past is fair game — and will dog Democratic frontrunner Hillary Clinton in her bid for the White House.
"I think Donald Trump might want to concern himself with the fact that he is dead wrong when he says that we should not raise the minimum wage," Sanders said on ABC. "He's dead wrong when he says we should give huge tax breaks to billionaires like himself. And he's dead wrong when he thinks that climate change is a hoax when virtually the entire scientific community says that it's the great environmental crisis that we face. Maybe Trump should worry about those issues rather than Bill Clinton's sex life."
Bill Clinton's sexual relationship with Monica Lewinsky, a 22-year-old White House intern, led to his impeachment in 1998 and subsequent trial for perjury and obstruction of justice.
Last week, Trump threatened to rehash Bill Clinton's infamous sexual indiscretion after Hillary Clinton announced that her husband would be joining her on the campaign trail.
"Hillary Clinton has announced that she is letting her husband out to campaign," Trump wrote on Twitter, "but HE'S DEMONSTRATED A PENCHANT FOR SEXISM, so inappropriate!"
Meanwhile, Sanders doubled down on his recent assertion that the brash real estate mogul is a "pathological liar."
"I do not get engaged in personal attacks, but Trump really is over the edge," Sanders said on ABC. "Time after time, this guy just comes up with things off the top of his head that are lies. And somebody has got to say that."
Sanders, who is openly courting Trump's working-class supporters, said they share similar goals.
"Working-class Republicans are also seeing their wages going down — they're seeing almost all new income and wealth going to the top 1 percent," he said on CNN. "They can't afford to send their kids to college. They're seeing their jobs going to China. And I think they want a president who has the courage to stand up to the billionaire class, to raise the minimum wage, to make public colleges and universities tuition-free and, by the way, to address a corrupt campaign finance system, where millionaires and billionaires and corporations are now spending unlimited sums of money to buy elections.
"That's a pretty across-the-board sentiment," Sanders said. "The American people want change. And I believe that I'm a vehicle of change, being prepared to stand up to the wealthy and the powerful and create an economy that works for all Americans."
What you need to know as the 2016 primary sprint begins. The battle for the White House that has entertained, outraged and baffled Americans for the past year is about to get real.
With the Iowa caucuses and New Hampshire primary quickly approaching, a presidential race that has largely unfolded on television screens, debate stages, packed rallies and a slew of polls is now shifting into a serious test of political endurance.
"There is a very good possibility that the Republican primary will be decided by the end of March," Sen. Ted Cruz said during a New Year's Eve conference call, putting supporters of his fast-rising campaign on notice for a "90-day sprint to get the job done."
Heading into the first contests of the 2016 campaign season, Cruz tops GOP polls in Iowa, billionaire Donald Trump is on top in New Hampshire and nationally, and Democrat Hillary Clinton hopes to quell a stronger-than-expected challenge in both states from Sen. Bernie Sanders.
But with many voters only now seriously sizing up the race for the first time, polls are sure to shift and only the results in the early voting states themselves will answer some of the burning questions that have built up over the past year:
Will Trump's convention-busting campaign really change the way presidential nominations are won? The reality show star made a name by firing people, but how will he react if voters decide to show him the door? Can Cruz expand his base from evangelicals and tea party conservatives to convince Republicans he has a real shot against Clinton? And will the GOP establishment coalesce behind a single candidate to take on Trump? Florida Sen. Marco Rubio, New Jersey Gov. Chris Christie, ex-Florida Gov. Jeb Bush and Ohio Gov. John Kasich are all vying for what may be a single ticket to later primaries.
And Clinton faces a nervous run-in to Iowa and New Hampshire because any early losses to Sanders could awaken the ghosts of 2008 when voters blocked her "inevitable" candidacy.
Here is a guide to the state of play in the early states and the lowdown on which candidacies are thriving and which could fade before the later sweep of Southern and larger states that could decide the nomination.
Iowa
Iowa looks like Cruz country, 27 days before caucus-goers traipse through a chilly night to churches, sports clubs and school gyms to select a nominee. He has consolidated two crucial blocs of the state's GOP coalition -- evangelical and tea party voters, and victory in Iowa would leave the well-financed Cruz strongly positioned for the Southern state delegate harvest to come.
Ted Cruz takes in nearly $20 million in fourth quarter
Once a long shot, Cruz has prospered from tight self-discipline on the stump, an authentic conservative message and a reputation for throwing wrenches in the works in Washington that antagonize party elites but delight the restive grass roots.
"He had a very narrow window -- now he has got one of the best shots to win it," said Republican strategist Ford O'Connell.
In the Des Moines Register/Bloomberg Politics poll in early December, Cruz led Trump by 10 points, with one-time Iowa front-runner Ben Carson a further 8 points back in third.
Fiorina: Cruz says 'whatever' to get elected
But voters are still making up their minds amid a torrent of attack ads and candidate bus tours, town hall meetings and rallies.
"I like Carly (Fiorina), I like Rubio, I don't like some of things Trump says, but I like some of things he says that need to be said," said Iowa voter Marge Delzell, 75, of Sioux City.
"We were originally for Carson, but I don't know that he can beat Hillary," she said, underlining the desire of many voters for a slayer of the likely Democratic nominee.
The Hawkeye State is also a big test for Trump.
At first blush, the billionaire real estate mogul's brand of secular, rude, nasty politics seems a poor fit for a state where conservatives pride civility, faith and ideological purity. But his experience inside business and outside politics is connecting with Republicans who despair at their party's leadership. Some 39% of GOP voters in the Register poll said they were looking for a government outsider who has handled complex issues and managed teams.
It's been easy to forget during his long reign atop the polls, but Iowa will be the first election in which Trump has ever stood. So the caucuses will help answer a fundamental 2016 question: Will his band of angry followers who disdain the political system actually show up and vote? And how will Trump respond if he loses? Would defeat undercut the rationale of his campaign -- that he is a perpetual winner -- and melt his White House hopes before he leaves the snows of Iowa for the snows of New Hampshire?
Amid reports that he has begun intensively building a traditional get-out-the-vote operation in Iowa and elsewhere, Trump seems to understand the stakes in the early voting states and claims he will start spending $2 million per week.
"Don't sit back and say, 'Oh, Trump is going to do well.' The more we can win by, you know, the more power we have in a sense, because it is like a mandate. But you have got to go out and vote," he told supporters in South Carolina last week.
Rubio, who is trying to prove he can win over conservatives, last week shipped in South Carolina Rep. Trey Gowdy, a hero to the right after his October interrogation of Clinton over Benghazi. The senator's work on immigration has cost him some support with the right, and Gowdy's backing is designed to give him a character witness for Rubio's own patriotic, aspirational, promise to renew the American Dream.
"It's ... OK to be hopeful as you are delivering the message of conservativism. You don't have to be angry, and you don't have to be upset; you can be hopeful," Gowdy said at a town hall meeting in Newton, Iowa.
As evangelical voters go for Cruz and Carson, Iowa could be where we say goodbye to long-shots such as 2012 caucuses winner Rick Santorum and 2008 victor Mike Huckabee, who were unable to build support there this time around.
Among Democrats in Iowa, Clinton is leading, atop a humming state political network she built after learning the lessons of a third-place finish in 2008. Troubles here could raise questions about her campaign and whether she can connect with the Democratic Party's liberal wing. Her team is taking nothing for granted since she trails Sanders in the next contest in New Hampshire. However, victory in Iowa, twinned with a likely rout of Sanders in South Carolina, could all but guarantee her the nomination.
"The stakes are very high for her here. She has got to win. If she does, fine. If she doesn't, then it becomes a much different game in New Hampshire," said David Yepsen, a veteran journalist who covered the caucuses for the Des Moines Register for more than three decades. "It's really Sanders' only hope to get something going is to upend her here."
New Hampshire
The February 9 New Hampshire primary could spread carnage through the ranks of moderate and establishment Republicans.
But there's definitely hope for at least one of the slumbering big beasts of the GOP to make a mark. That's because Granite State voters have an independent streak and often pride themselves in anointing an alternative to the winner in Iowa and are more fixated on economic and national security issues than the social themes that dominate the caucuses.
In theory, that could boost candidates who can appeal to a more centrist audience such as Bush, Christie, Kasich and those who can straddle both conservative and moderate camps such as Rubio.
But Trump, a huge, disruptive force, has trashed assumptions in New Hampshire and the proliferation of candidates battling for the same audience in the bloated Republican field has also made it so far impossible for one to emerge as the true alternative to the real estate mogul and to catch him in the polls.
"I don't like Trump. I wish he wasn't the front-runner, I hope somebody, anybody else would knock him out," said Republican voter Peter Smiglis from Windham, New Hampshire. Smiglis sees Bush as too weak and thinks Rubio and Christie have waffled on illegal immigration, the issue that has fired up the conservative base.
A Boston Herald Franklin Pierce University poll in mid-December showed Trump leading at 26% and reveals the demolition derby unfolding in his wake with Rubio and Cruz at 12%, Christie at 11%, Bush at 10% and Kasich 2 points back.
Bush is fighting for his life, living out of a suitcase in the state, relocating most of his campaign staff to New Hampshire and unleashing a newly aggressive stump persona and multimillion dollar ad barrage against Trump and his rivals for the establishment lane. For Christie, showing signs of life, and Kasich, New Hampshire also represents a make-or-break moment. Rubio could be on the skids, meanwhile, if he bombs in Iowa and can't make a mark in New Hampshire.
Trump, though, would do well to take nothing for granted. Granite State voters are notorious for making up their minds late.
"I'll decide probably when I walk into the voting booth," said voter Heidi Milbrand, at a recent Christie event in New London.
State GOP official Ray Tweedie, meanwhile, says voters are "drilling into the weeds" on issues to separate the candidates and predicts a traumatic Tuesday, February 9, for a number of top contenders. "I think there will be a massive winnowing down of the field come Wednesday morning," he said.
Democrats also face a difficult choice. New Hampshire lies next to the home patch of Sanders in Vermont, and its mainly white, liberal and more elderly Democrats mirror the Vermont Senator's coalition.
But the state also made both Bill and Hillary Clinton comeback kids in 1992 and 2008, and the former first couple maintain a deep political network there.
Sanders has consistently led Clinton, but should she mount a come-from-behind win, the obituaries will be rolled out for his 2016 campaign.
New Hampshire GOP lawmaker heckles Hillary Clinton over Bill Clinton's sex scandals
South Carolina
South Carolina has often been the tie-breaker, settling the fight between Iowa and New Hampshire. Republican voters in the Palmetto State have backed the eventual nominee in every primary race since 1980, with the exception of 2012 when Newt Gingrich won.
"There is a sense here that people want to get that reputation back," said David Woodard, a political science professor at Clemson University, of the February 20 primary.
The most recent Winthrop University poll shows Trump out front, with 24% and Ted Cruz with 16% and Carson coming in third with 14% support about likely GOP voters. But there is also some good news for Rubio, at 11%, and Bush, with 9% support, compared with his roughly 3 or 4% backing nationally.
And Rubio's endorsement from Gowdy, who represents voter rich Greenville in the Upstate, could be significant. But Gingrich's 2012 win, which came after consecutive losses, demonstrated how debate performances and an anti-elite message can resonate with voters.
Culturally, Cruz, a Texan who wears black ostrich cowboy boots and quotes the Bible with ease, might be the best fit in South Carolina, where nearly 60% of likely GOP voters described themselves as "evangelical" or "born again" in a recent Winthrop poll.
Rick Vasso, 61, originally favored Carson but now thinks he lacks the leadership qualities needed of a president. He has narrowed his choice down to a candidate he initially thought was too conservative to win the nomination, but he has since seen rise steadily in the polls.
"If the primary were tomorrow, I would vote for Ted Cruz," Vasso, of Greenville, said. "He has a good chance to beat Hillary Clinton." But Rubio wouldn't be a bad second choice, Vasso said, though he prefers Cruz's stance on illegal immigration.
"They would be a great one-two punch," Vasso said. "If one wins, then the other is on the ticket as the vice presidential pick, that could set up the party for 16 years."
As for the Democrats, the test of Clinton's Southern firewall begins here.
Roughly half of the voters in the February 27 primary will be African-American, and Clinton has outpaced Sanders by wide margins among that demographic -- a recent Fox News poll shows her with 80% backing among African-Americans to Sanders' 11%. A strong showing by Sanders could upend Clinton's strategy, and set up a tougher fight in the Southern primaries to come.
Nevada and beyond
Coming out of South Carolina, where 50 delegates are at stake, the remaining candidates face a test of organization in Nevada and a test of their conservative credentials in a slew of mostly Southern states on March 1 when nearly 600 delegates will be up for grabs. The significance of the GOP Nevada caucuses -- the first in the West contest -- on February 23 depends greatly on results of the other previous contests. As with other caucus contests, polling has been patchy.
The latest CNN/ORC poll for Nevada in October had Trump on 38% with a double figure lead over Carson before his nationwide poll slump. If there is any candidate who might have an edge in Nevada, it's Rubio.
The Florida senator lived in Las Vegas until middle school and has been heavily courting Mormons -- as a child, Rubio and his family belonged to the Church of Jesus Christ of Latter-day Saints for about three years before returning to Catholicism.
Cruz is also fighting for the support of Mormons, who could make up a quarter of the GOP electorate. Nevada, where 30 proportionally allocated delegates at stake, could offer the morale boost of a victory for Rubio or another win for Cruz. Clinton, who won Nevada in 2008, is heavily favored in the February 20 Democratic caucuses thanks to her popularity among Latino voters.
Still, there is no bigger day than "Super Duper Tuesday," when 13 states will hold contests, the most for a single day. Clinton is betting that a sweep of Southern states Alabama, Arkansas, Georgia, Tennessee, Texas, and Virginia will propel her to the nomination. Sanders will likely win his home state and do well in Massachusetts and states with similar demographics.
On the GOP side, Cruz has a similar strategy to Clinton's, betting that evangelical voters in states such as Georgia and Arkansas will give him a boost.
"What happens in SEC primary is dependent on what happens in February, is it a big day, sure, a lot of delegates at stake, they are proportional states," said Justin Putnam, who runs the blog FrontloadingHQ. "It's a sequential process, and we will see who is viable and left standing."
While contests in deep red states will dominate, states such as Virginia, Vermont and Massachusetts also hold contests. The winner of those states could lay claim to the establishment title, arguing that wins there prove electability in the general election.
But because of the fact that many states award their delegates on a proportional, even the SEC primary may not crown a nominee. So though a candidate such as Cruz looks strong, he may still not clinch the nomination.
"If it's Cruz wins, Cruz wins, Cruz wins, that's a big momentum. It will look and sound powerful, despite the delegate numbers, Cruz is clearly making it his strategy to win in the South, and it's smart from a perception standpoint," said Angie Maxwell, an assistant professor at the University of Arkansas who writes about politics in the South.
"In terms of delegate counts, it doesn't do as much as it would have done had they been winner take all primaries, but the headlines could be a game-changer." said Maxwell.
Protest in Tehran after Saudis execute Shiite cleric Nimr al-Nimr, 46 others.
Saudi Arabia said Saturday it had executed 47 people in a single day, including a dissident Shiite cleric, Nimr al-Nimr, who had repeatedly spoken out against the government and the Saudi royal family.
Nimr had been convicted of inciting sectarian strife, sedition and other charges following his 2012 arrest.
Iran, Saudi Arabia's regional rival, summoned the Saudi ambassador in Tehran to condemn the execution, the state-run IRNA news agency reported. The Shiite-majority nation issued a statement deploring the execution and warning that Saudi Arabia would pay a heavy price for its policies.
U.S. issues cautious response to executions
"The execution of a personality such as Sheikh Nimr who had no means other than speech to pursue his political and religious objectives only shows the depth of imprudence and irresponsibility," Press TV cited Foreign Ministry spokesman Hossein Jaberi as saying.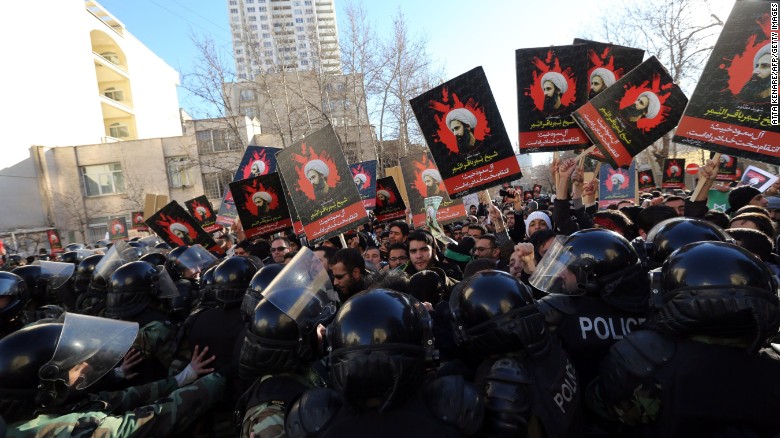 Smoke billows from the windows of the burning Saudi Embassy on January 2. A CNN producer in Tehran said some protesters made it inside the building, setting fire and ransacking some records.
That prompted a rebuttal from Saudi Arabia, which "has summoned the Iranian ambassador to the Kingdom today and handed him a strong-worded protest note on the aggressive Iranian statements issued in response to the Islamic rulings carried out on terrorists in the Kingdom," state-run SPA news agency reported.
"During the meeting (in Riyadh), the (Foreign) Ministry expressed the Kingdom's denunciation and categorical rejection to such aggressive statements, which it considers a flagrant violation into the Kingdom's internal affairs," SPA said.
Loud and angry demonstrations broke out late Saturday at the Saudi Embassy in Tehran. Video showed at least one person tossing homemade firebombs at the embassy.
A CNN producer in Tehran said some protesters even made it in the building, set fire inside and ransacked some records. There were several arrests, police officers at the embassy told CNN.
There was some damage near the back of the embassy building, witnesses and a police officer said.
None of the Saudi diplomatic staff was in the embassy at the time.
When the CNN producer got to the scene, smoke was still coming from the building. As of 3 a.m. Sunday, the protest was waning and only a few hundred people and police officers in riot gear remained.
U.S.: Saudis should respect human rights, dissenters
Human rights group Amnesty International had called the charges against Nimr vague and pronounced his death sentence "appalling." The group said the case against him was part of a systematic effort by the majority Sunni government to crush dissent among the nation's Shiite Muslim minority.
The U.S. State Department said through a spokesman that it was calling again on Saudi Arabia to respect human rights and permit peaceful dissent.
"We are particularly concerned that the execution of (al-Nimr) risks exacerbating sectarian tensions at a time when they urgently need to be reduced," John Kirby said.
European Union High Representative for Foreign Affairs Federica Mogherini also issued a statement reacting to the executions, saying Nimr's case in particular raised "serious concerns regarding freedom of expression and the respect of basic civil and political rights."
"This case has also the potential of enflaming further the sectarian tensions that already bring so much damage to the entire region, with dangerous consequences," Mogherini said in the statement.
Shiite militant group Hezbollah condemned the execution, saying on the website of Hezbollah-run Al-Manar television that it was calling on the international community to blacklist Saudi Arabia "in the international record of criminality" for killing Nimr. It called his sentence corrupt and said Nimr was assassinated.
A spokesman for U.N. Secretary-General Ban Ki-moon said he was "deeply dismayed" by the executions and called again for an end to the death penalty. He called on leaders in the region to prevent an escalation of sectarian tensions.
However, Saudi ally Bahrain -- a majority-Shiite nation led by a Sunni King that has struggled with dissent of its own -- issued a statement supporting the executions.
"Saudi Arabia's efforts to confront whoever seeks to undermine the Nation's security and stability and wreak havoc on Earth through misguided ideology and actions that are rejected by Religion and the Islamic Shari'a are widely appreciated," said Prime Minister Sheikh Khalifa Bin Salman Al-Khalifa.
A prominent pro-ISIS channel on Telegram called for attacks on Saudi embassies, police and scholars, according to the SITE monitoring group. Telegram is an encrypted messaging service known to be used by the group's militants to communicate in secret.
Saudi: Convicted terrorists killed
Saudi officials said that the 47 executions were carried out at 12 sites after convictions for terror acts.
The condemned believed in extremist ideology and were members of terror groups, the ministry said in a statement.
Some were convicted of plotting and carrying out attacks against civilians going back as far at an attack on the U.S. Consulate in Jeddah in 2004.
Nimr, the imam of a mosque in a majority Shiite area of eastern Saudi Arabia, was an outspoken supporter of anti-government protests that broke out in 2011 -- part of the "Arab Spring" uprisings that swept across northern Africa and the Middle East.
Shiite Muslims in Saudi Arabia have long complained of discrimination at the hands of the nation's Sunni majority. Iran's rise as a regional power in the Middle East has exacerbated those tensions, resulting in what human rights advocates say is a systematic crackdown on minority Shiites in the kingdom.
In 2011, Nimr told the BBC that he favored protest over violence, "the roar of the word against authorities rather than weapons."
"The weapon of the word is stronger than bullets, because authorities will profit from a battle of weapons," he told the British broadcaster.
He was arrested in 2012 following what Saudi authorities described as a car chase in which he rammed a vehicle used by security forces and resisted arrest. His family and other critics have disputed the government's account.
Authorities shot Nimr in the leg during the arrest, and his family said that he had been denied proper treatment for his wounds during his imprisonment, much of which Amnesty said was spent in solitary confinement.
Lashings, beheadings: Saudi's 'cherished' justice system
A Saudi court convicted Nimr in 2014 after what Amnesty International described as a "deeply flawed" trial marked by numerous irregularities.
"Eyewitnesses, whose testimonies were the only evidence used against him, were not brought to court to testify. This violates the country's own laws," Amnesty's Said Boumedouha said in an October statement.
"The Sheikh was denied the most basic means to prepare for his defense and was not represented by legal counsel for some of the proceedings because the authorities did not inform his lawyer of some dates of the hearings," Boumedouha said.
Nimr's nephew Ali al-Nimr, who was convicted of crimes including belonging to a terror cell and attacking police, was not among those executed, according to the Interior Ministry.
Ali al-Nimr was arrested in 2012 and accused of taking part in protests against the government.
Human rights advocates, including the United Nations Office of the High Commissioner for Human Rights, have called for his conviction to be overturned, as well. His supporters say Ali al-Nimr was a juvenile when he was arrested and was tortured into confessing to crimes.
CNN's Shirzad Bozorgmehr, Richard Roth and Steve Almasy contributed to this report.
FBI Monitoring Armed Standoff in Oregon National Wildlife Refuge.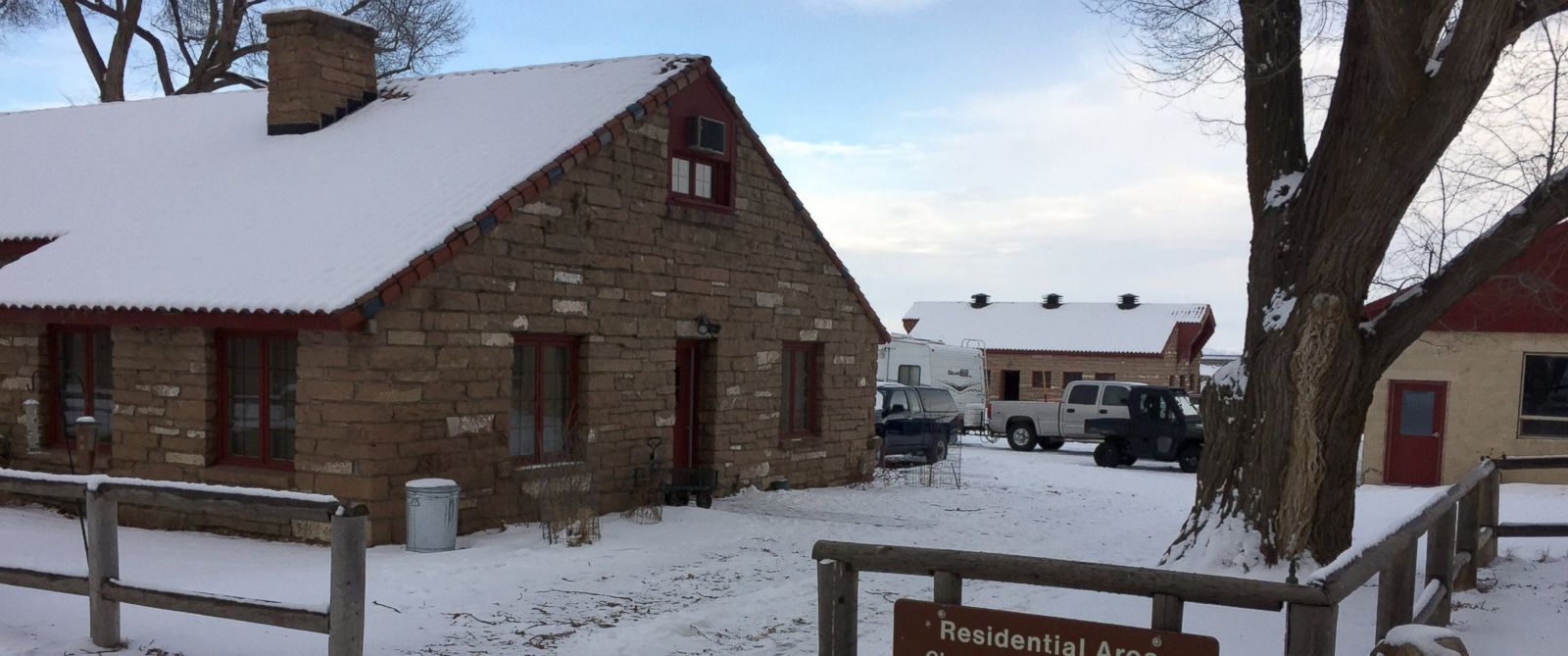 The FBI has taken the lead in monitoring an armed standoff in Oregon where a group of militia members, along with some members of the family of Nevada rancher Cliven Bundy, are occupying a building on federal land at a national wildlife refuge.
The FBI is "working with the Harney County Sheriff's Office, Oregon State Police and other local and state law enforcement agencies to bring a peaceful resolution to the situation," the agency said in a statement.
The militia members who occupied the wildlife refuge buildings set up a roadblock, and two armed members had manned a guard tower that is usually used to spot wildfires. But there was no sign of law enforcement in the area, and local police said they had no intention of going to the scene, not even to keep watch on the militia.
The Rally and Occupation
The protest began Saturday as a rally in support of Harney County ranchers Dwight Hammond Jr. and Steven Hammond, who are to report to prison today for committing arson. The Hammond brothers left eastern Oregon early Sunday to report to Terminal Island in San Pedro, California, to serve their prison sentences.
The two men were convicted of setting fires on lands managed by the U.S. Bureau of Land Management (BLM), "on which the Hammonds had grazing rights leased to them for their cattle operation," according to the U.S. Attorney's Office.
"We all know the devastating effects that are caused by wildfires," Acting U.S. Attorney Billy Williams said. "Fires intentionally and illegally set on public lands, even those in a remote area, threaten property and residents and endanger firefighters called to battle the blaze."
After the rally for the Hammonds on Saturday, militia, along with sons of Cliven Bundy -- who was involved in a standoff with the government over grazing rights in Nevada in 2014 -- initiated the occupation of the headquarters of the Malheur National Wildlife Refuge.
Bundy's son Ammon claims the federally owned wildlife refuge in rural, eastern Oregon belongs to the people, and that they are "making a hard stand against ... overreach."
He said the government's "taking of people's land and resources" is leaving people in poverty, adding that the wildlife refuge "has been a tool in doing that."
Ryan Bundy and another of Ammon Bundy's brothers are also among the occupiers, according to The Associated Press.
Who Is Cliven Bundy and Why Is He So Controversial?
Ammon Bundy called the earlier rally successful, but said of the Wildlife Refuge standoff, "If we do not make a hard stand, we will be in a position where we won't be able to as a people."
He also asked for militia members to come help him.
Ammon Bundy says the group's actions are not aggressive and there is no damage or criminal activity.
He said the group's goal is to help local workers, including ranchers, miners and hunters, benefit from the land. The group wants to assert that the federal government does not have right to own or control land inside the state, Ammon Bundy said.
"We're prepared to be out here for as long as we need to be," he said in an eight-minute long Facebook video posted early Sunday morning.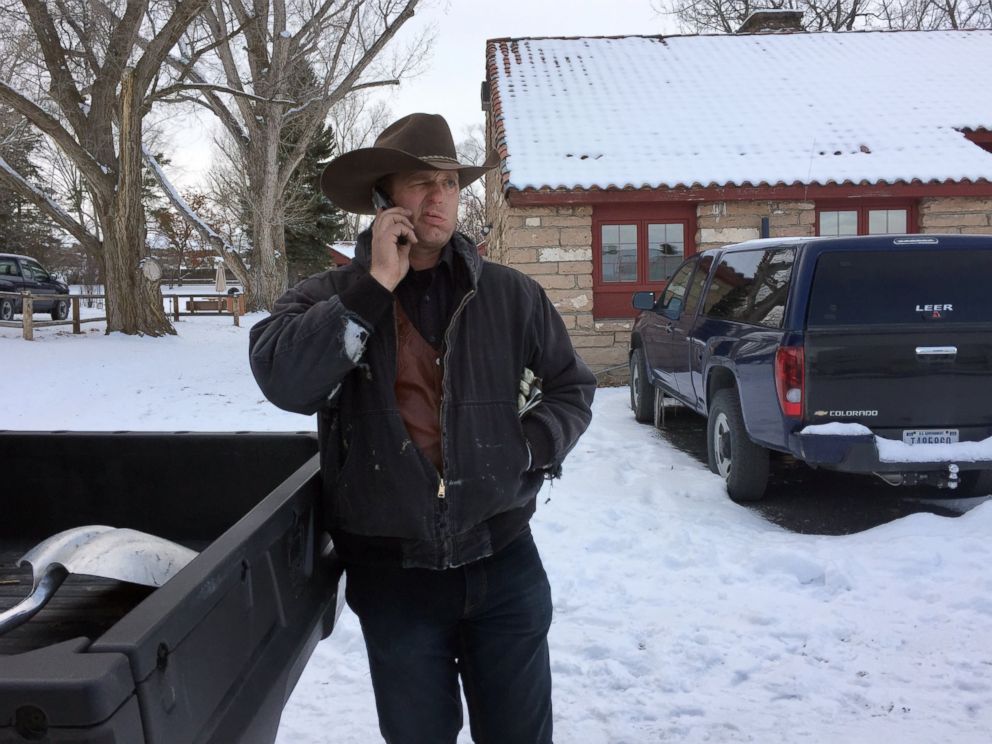 PHOTO: Ryan Bundy talks on the phone at the Malheur National Wildlife Refuge near Burns, Ore., Sunday, Jan. 3, 2016.AP Photo/Rebecca Boone
The group does not have plans to occupy any other federal buildings, Ammon Bundy said Sunday.
The refuge is federal property managed by the U.S. Fish and Wildlife Service and was closed for the holiday weekend.
A U.S. Fish and Wildlife Service spokesperson told ABC News: "The Fish and Wildlife Service and The Bureau of Land Management have received reports that an unknown number of individuals have broken into the Malheur National Wildlife Refuge facility near Burns, Oregon. While the situation is ongoing, the main concern is employee safety and we can confirm that no federal staff were in the building at the time of the initial incident. We will continue to monitor the situation for additional developments."
The refuge headquarters was empty at the time of the seizure, Harney County, Oregon, Sheriff Dave Ward said in a statement.
"These men came to Harney County claiming to be part of militia groups supporting local ranchers, when in reality these men had alternative motives to attempt to over throw the county and federal government in hopes to spark a movement across the United States," Ward said.
"We are currently working jointly with several organizations to make sure the citizens of Harney County are safe and this issue is resolved as quickly and peaceful as possible," he said, adding that no other areas in Harney County are in "immediate danger."
"We ask that people stay away from the refuge for their safety," Ward said. "We also ask that if anyone sees any of these individuals in the area to please contact law enforcement and do not confront the individuals themselves."
Harney County School District No. 3 schools will be closed this week, Superintendent Dr. Marilyn L. McBride told ABC News.
"Ensuring staff and student safety is our greatest concern," McBride said.
Beth Anne Steele, a spokeswoman for the FBI in Portland, told ABC News the FBI is aware of the situation but is not making any further comments.
The Cliven Bundy Incident
Cliven Bundy, the patriarch of a large Mormon family with more than 50 grandchildren, came into the spotlight in April 2014, when the federal government started impounding his 900 head of cattle, following a 20-year battle over cattle-grazing on federal land.
The government said Bundy owed $1.1 million in unpaid grazing fees and penalties for continuing to let his cattle roam free on land near Bunkerville, Nevada, 80 miles northeast of Las Vegas, even after the government established the area as a protected habitat for the endangered desert tortoise in 1993 and slashed Bundy's cattle allotment.
The situation escalated the week of April 5, 2014, as hundreds of supporters from around the country rallied on Bundy's property to protest the federal cattle round-up. The dispute reignited debate over Bureau of Land Management practices, especially in Nevada where federal agencies control 85 percent of the land.
The confrontation turned ominous as armed militia gathered on his cattle and melon farm, aiming semi-automatic weapons at armed BLM officials from a bridge overpass. Some protesters were tasered by authorities and others arrested and later released, including one of Bundy's 14 adult children.
On April 12, 2014, the BLM ended the stand-off, returned Bundy's confiscated cattle and left the land citing safety concerns.
What to Know About the Militia Movement
The occupation is essentially "the spill over from the Bundy stand-off" in Nevada, according to Heidi Beirich, Director of the Intelligence Project at the Southern Poverty Law Center.
"What we're really seeing is a continuation of what started in April 2014, of militia folks and anti-government folks deciding that they're not going to accept federal authorities over federal lands," Beirich told ABC News Sunday.
"At the Bundy ranch, the federal government stood down. They had absolute cause to take Bundy's cattle. The Bundys were able -- at the point of a gun -- to drive the federal government and its representatives ... off the land," she said.
"Bundy is still a free man. He hasn't paid his money, and it's emboldened the entire movement to basically think, 'We don't have to follow the rules,'" Beirich said, explaining that that is what's happening now in Oregon.
The Bundy incident in 2014, as well as another incident in Oregon last year, "enlivened" the militias, she said, because they made them feel successful.
"They made the federal government back down from enforcing the law," she said. "And that has emboldened all these people, giving life to the movement."
Get real-time updates as this story unfolds. To start, just "star" this story in ABC News' phone app. Download ABC News for iPhone here or ABC News for Android here.
The Associated Press contributed to this report.
Regardless of it all happening on this first weekday in 2016, please stay in touch.