Joining us for today's show, we have: Nicolle Wallace, Harold Ford Jr., Mark Halperin, Robert Costa, Rep. Will Hurd, Jeff Greenfield, Matt Lewis, Gov. Chris Christie, Jeb Bush, Paul Finebaum, Speaker Paul Ryan, Sara Eisen, Gov. John Kasich, Mike Huckabee.
But most of all, I woke up to this sad news about how David Bowie died of cancer aged 69. Singer David Bowie has died at the age of 69 from cancer.
Tributes have been paid from around the world to the "extraordinary artist" whose last album was released days ago.
His son, film director Duncan Jones, confirmed the news and a statement was issued on his social media accounts.
"David Bowie died peacefully today surrounded by his family after a courageous 18-month battle with cancer," it said, asking for privacy for the family.
Follow the "David Bowie" tag in the BBC News app on your mobile device
His son, who directed Bafta-winning film Moon, wrote on Twitter: "Very sorry and sad to say it's true. I'll be offline for a while. Love to all."
Bowie's hits include Let's Dance, Changes, Space Oddity, Starman, Modern Love, Heroes, Under Pressure, Rebel Rebel and Life on Mars.
He was also well known for creating his flamboyant alter ego Ziggy Stardust.
The singer, who had been living in New York in recent years, only released his latest album Blackstar on his birthday on Friday.
The album, which includes just seven songs, has been well received by critics and was intended as a "parting gift" to the world, according to long-time friend and producer Tony Visconti.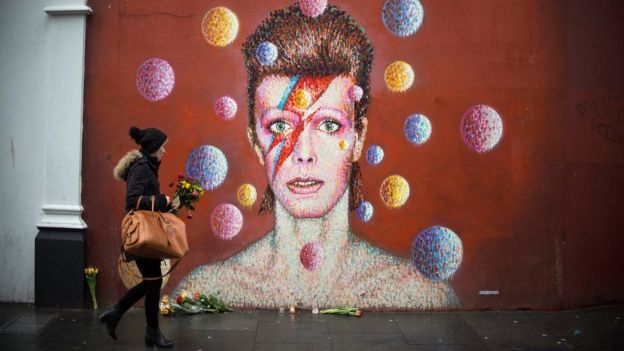 Visconti wrote on Facebook: "His death was no different from his life - a work of art.
"He made Blackstar for us, his parting gift.
"I knew for a year this was the way it would be. I wasn't, however, prepared for it. He was an extraordinary man, full of love and life. He will always be with us."
The Rolling Stones paid tribute to "an extraordinary artist" and a "true original".
Friend and collaborator Iggy Pop wrote on Twitter: "David's friendship was the light of my life. I never met such a brilliant person. He was the best there is."
Madonna said she was "devastated" and that Bowie had "changed her life". She wrote on Twitter: "Talented . Unique. Genius. Game Changer. The Man who Fell to Earth. Your Spirit Lives on Forever!"
Rapper Kanye West said: "David Bowie was one of my most important inspirations, so fearless, so creative, he gave us magic for a lifetime."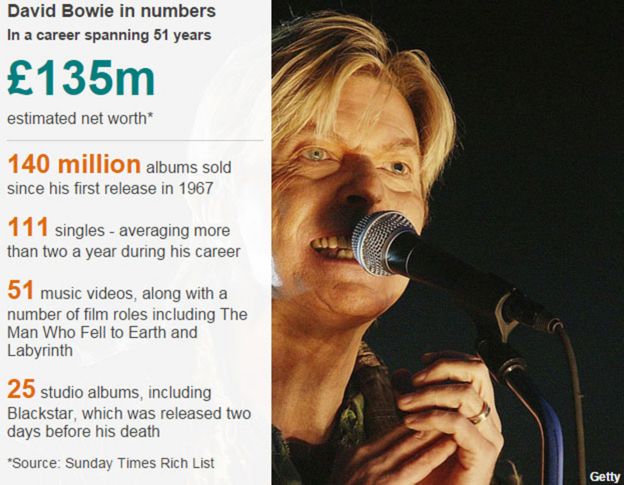 Comedian and actor Ricky Gervais, who convinced Bowie to star as himself and ridicule Gervais in an episode of 2006 sitcom Extras, simply wrote: "I just lost a hero. RIP David Bowie."
Scottish musician Midge Ure, who helped organised the Live Aid concert in 1985 - at which Bowie performed - told ITV's Good Morning Britain: "He wasn't just a brilliant songwriter and an amazing creator, he excelled at everything.
"He gave us the point to run towards, we are all still trying to run towards that, everyone."
Will Gompertz, BBC Arts editor
David Bowie was the Picasso of pop. He was an innovative, visionary, restless artist: the ultimate ever-changing postmodernist.
Along with the Beatles, Stones and Elvis Presley, Bowie defined what pop music could and should be. He brought art to the pop party, infusing his music and performances with the avant-garde ideas of Merce Cunningham, John Cage and Andy Warhol.
He turned pop in a new direction in 1972 with the introduction of his alter ego Ziggy Stardust. Glam rock was the starting point, but Ziggy was much more than an eyeliner-wearing maverick: he was a truly theatrical character that at once harked backed to pre-War European theatre while anticipating 1980s androgyny and today's discussions around a transgender spectrum.
He was a great singer, songwriter, performer, actor, producer and collaborator. But beyond all that, at the very heart of the matter, David Bowie was quite simply - quite extraordinarily - cool.
Chris Hadfield, the former commander of the International Space Station who recorded a video of a version of Space Oddity during his final mission, said his "brilliance inspired us all".
Prime Minister David Cameron said: "I grew up listening to and watching the pop genius David Bowie. He was a master of re-invention, who kept getting it right. A huge loss."
Labour leader Jeremy Corbyn told the BBC Radio 4 Today programme that Bowie was a "great musician, great entertainer", saying he felt "very, very sad" about his death.
"Life On Mars comes flowing back into my mind," he said. "Wonderful song, wonderful guy."
The Vatican's chief spokesman on cult
ural matters, Cardinal Gianfranco Ravasi, tweeted lyrics to Space Oddity in tribute to Bowie while Archbishop of Canterbury Justin Welby said he was "very very saddened to hear of his death".
David Bowie performing at Hillsiders youth club, Biggin Hill, May 1963.Image copyright2016: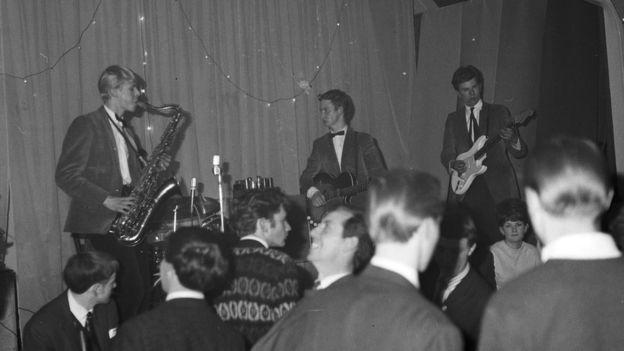 Bowie was born David Jones in Brixton, south London, on 8 January in 1947. He changed his name in 1966 after The Monkees' Davy Jones achieved stardom.
His career spanned six decades.
He was in several bands before he signed with Mercury Records, which released his album Space Oddity in 1969, with the title track becoming his first UK number one
His breakthrough came with 1972's The Rise and Fall of Ziggy Stardust and the Spiders From Mars.
Mark Savage, BBC Music reporter
Today's news is all the more shocking because David Bowie had recently emerged from suspended animation - revitalised and reinvigorated.
His two last albums, The Next Day and Blackstar, ranked with his best, the former celebrating his past, the latter casting forward to the future. The fact he won't be there is heartbreaking.
But then Bowie's entire career has been a vanishing act. The son of a waitress and a nightclub owner, David Jones became David Bowie, who became Ziggy Stardust, who became Aladdin Sane, who became the Thin White Duke. All of them were fictitious. All of them became iconic.
In the 1970s, he was restless, flitting between musical styles and personas, producing Lou Reed and The Stooges, and taking up painting in Berlin. His every move sparked impersonators and inspired musical sub-genres. He was the first post-modern pop star.
He struggled to remain relevant in the 1980s and 90s, but continued to push boundaries with the industrial rock of Outside and the drum and bass influenced Earthling. An enforced hiatus, prompted by an emergency angioplasty, took him out of the spotlight for most of the 2000s before that celebrated, unexpected comeback on his 66th birthday.
That late period of creativity may now be reassessed as the work of a musician who knew his time was running out. But it remains a fitting legacy for a man who subverted and reinvented pop time and time again.
Bowie also carved out a successful acting career, including his role as an alien seeking help for his dying planet in Nicolas Roeg's The Man Who Fell to Earth in 1976.
He did a three-month stint as The Elephant Man on Broadway in the 1980s, with other roles that decade including Labyrinth, Cat People, The Last Temptation of Christ and The Hunger.
The late 1980s were dominated by Bowie's involvement with his new band, a postmodernist heavy metal outfit, Tin Machine.
The 1990s saw David Bowie flirting with drum-and-bass on the Earthling album, while his 2002 album Heathen saw a long-awaited return to form for the singer.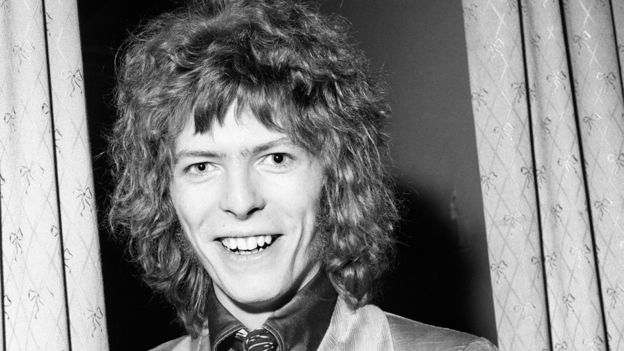 Bowie changed his name in 1966
He had headlined Glastonbury in 2000 - his first appearance there since 1971.
Festival founder Michael Eavis told the BBC: "He's one of the three greatest in the world, ever - Frank Sinatra, Elvis Presley and David Bowie. There's no one else even close."
Bowie's last live performance was at a New York charity concert in 2006.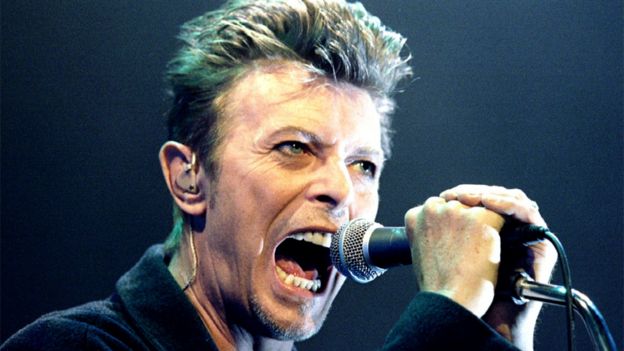 But after a decade without a studio album he released The Next Day in 2013, surprising fans who thought he had retired. It became his first UK number one for 20 years.
He co-wrote Lazarus, a musical featuring his songs and inspired by his role in The Man Who Fell to Earth, which opened in New York last month.
And a truncated version of Blackstar, the title track of his new album, appears as the theme music for the TV show The Last Panthers.
A retrospective of Bowie's life, originally staged at London's Victoria & Albert Museum, is being shown at the Groninger Museum in the Netherlands, which was opening its door specially on Monday to allow fans to remember the star.
In Political News and in the latest Polls, it is Neck-And-Neck in 2016 Races in Iowa and in New Hampshire.
Three weeks until the first presidential nominating contest, Donald Trump and Ted Cruz are running neck and neck in Iowa, while Hillary Clinton and Bernie Sanders are also locked in a tight race in the Hawkeye State.
What's more, Clinton and Sanders are within the margin of error in New Hampshire, while Trump has built a 16-point lead in the same state.
Those are the results of two brand-new NBC News/Wall Street Journal/Marist polls - the first NBC/WSJ/Marist early-state surveys of 2016, which for the first time measure likely voters.
In Iowa, which holds its caucuses on Feb. 1, Ted Cruz leads Donald Trump by four points among likely caucus-goers, 28 percent to 24 percent - within the poll's margin of error of plus-minus 4.6 percentage points. They're followed by Marco Rubio at 13 percent and Ben Carson at 11 percent. No other Republican candidate gets more than 5 percent of the vote.
Yet among the larger universe of potential Iowa caucus-goers, Trump actually leads Cruz by two points, 26 percent to 24 percent, suggesting that a larger turnout could benefit Trump in the state. (Back in October's NBC/WSJ/Marist poll, Trump was at 24 percent among potential caucus-goers, Carson at 19 percent, and Cruz and Rubio at just 6 percent.)
On the Democratic side, frontrunner Hillary Clinton holds just a three-point lead among likely voters over Bernie Sanders, 48 percent to 45 percent, while Martin O'Malley gets 5 percent.
But among potential Democratic caucus-goers, Clinton's advantage grows to six points, 49 percent to 43 percent. (In October, Clinton's lead here was 11 points, 47 percent to 36 percent.)
New Hampshire: Four Establishment GOP candidates split up almost 45 percent of vote
In New Hampshire, which holds its presidential primaries on Feb. 9, Trump gets support from 30 percent of likely Republican primary voters.
He's followed by Marco Rubio at 14 percent, Chris Christie at 12 percent, Ted Cruz at 10 percent, and John Kasich and Jeb Bush tied at 9 percent each.
That means that the four Republicans vying in the establishment lane of the GOP contest - Rubio, Christie, Kasich and Bush - are dividing up 44 percent of the total vote, according to the NBC/WSJ/Marist poll.
The GOP numbers are essentially unchanged among the larger pool of potential Republican voters in New Hampshire.
In the Democratic race, Sanders is ahead of Clinton by four points among likely primary voters, 50 percent to 46 percent, which is within the margin of error of plus-minus 4.8 percentage points. O'Malley is at 1 percent.
Among the larger universe of potential Democratic primary voters, Sanders' lead increases to six points, 50 percent to 44 percent. In October, the Vermont senator held a nine-point lead over Clinton.
Sanders outperforms Clinton in general-election matchups
The NBC/WSJ/Marist polls also show that Sanders outperforms Clinton in hypothetical general-election matchups in these two presidential battleground states - something other surveys have found, too.
In Iowa:
Clinton leads Trump by eight points among registered voters (48 percent to 40 percent), but Sanders is ahead of him by 13 (51 percent to 38 percent);

Cruz tops Clinton by four points (47 percent to 43 percent), but Sanders beats him by five (47 percent to 42 percent);

And up Rubio is up by five points over Clinton (47 percent to 42 percent), while he's tied with Sanders (44 percent to 44 percent).
In New Hampshire:
Clinton is ahead of Trump by just one point (45 percent to 44 percent), but Sanders tops him by 19 points (56 percent to 37 percent);

Cruz beats Clinton by four points (48 percent to 44 percent), but Sanders leads him by another 19 points (55 percent to 36 percent);

And Rubio bests Clinton by 12 points (52 percent to 40 percent), while Sanders leads him by nine points (50 percent to 41 percent).
The primary reason why Sanders tests better in these general-election matchups is due to his stronger performance with independent voters.
The NBC/WSJ/Marist polls were conducted Jan. 2-7. In Iowa, the poll measured 2,821 registered voters (+/- 1.8), 1,094 potential GOP caucus-goers (+/- 3.0%), 456 likely GOP caucus-goers (+/- 4.6%), 977 potential Democratic caucus-goers (+/- 3.1%) and 422 likely Dem caucus-goers (+/- 4.8%)
In New Hampshire, the poll measured 1,888 registered voters (+/- 2.3%), 887 potential GOP primary voters (+/- 3.3%), 569 likely GOP primary voters (+/- 4.1%), 690 potential Dem primary voters (+/- 3.7%) and 425 likely Dem primary voters (+/- 4.8%).
Hillary Clinton holds a three-point edge over Senator Bernie Sanders in Iowa, a tightening of the race with roughly three weeks until voting begins, according to a new set of surveys of likely voters from NBC/The Wall Street Journal/Marist.
In the Republican contest, Senator Ted Cruz of Texas has 28 percent of support and Donald J. Trump has 24 percent in Iowa, but Mr. Trump maintains a commanding 16-point lead over Senator Marco Rubio of Florida, his closest competitor, in New Hampshire, the surveys show.
Mr. Rubio is in third place in Iowa at 13 percent, with Ben Carson at 11 percent. The other candidates are at 5 percent or less in the state.
In Iowa, Mrs. Clinton has 48 percent of support and Mr. Sanders has 45 percent as the competition between the two has become more contentious. Martin O'Malley, the third Democratic presidential candidate, has 5 percent in Iowa, meaning he will most likely qualify for the next presidential debate.
But in New Hampshire, the survey also found Mr. Sanders at 50 percent, to 46 percent for Mrs. Clinton.
That margin is smaller than a recent Fox News survey, in which Mr. Sanders led Mrs. Clinton by 13 points. An NBC survey last month showed Mr. Sanders ahead by nine points in New Hampshire.
Gov. Chris Christie of New Jersey, who is hoping for a strong showing in New Hampshire to vault him into contention for the nomination, has 12 percent in the state; Mr. Cruz has 10 percent; and Jeb Bush and Gov. John Kasich of Ohio each had 9 percent.
Mr. Rubio is in third place in Iowa at 13 percent, with Ben Carson at 11 percent. The other candidates are at 5 percent or less in the state.
The surveys also found Mr. Sanders, buoyed by the support of independent voters, outperforms Mrs. Clinton in hypothetical general-election matchups in both states among registered voters.
In New Hampshire, Mr. Sanders, who is from neighboring Vermont, beats all three, while in Iowa he tops Mr. Trump and Mr. Cruz and is tied with Mr. Rubio.
The surveys were conducted from Jan. 2 through Jan. 7. In Iowa, the survey of 456 likely Republican caucusgoers has a margin of sampling error of plus or minus 5 percentage points; the survey of 422 likely Democratic caucusgoers also has a margin of sampling error of plus or minus 5 percentage points.
In New Hampshire, the poll of 569 likely Republican primary voters has a margin of sampling error of plus or minus 4 percentage points. Of 425 likely Democratic primary voters, the margin of sampling error is 5 percentage points.
GOP poll: Cruz leads in Iowa, Trump in N.H. Less than a month before actual voting, Ted Cruz narrowly leads Donald Trump in Iowa while Trump continues to set the pace in New Hampshire, according to a new poll.
The NBC News/Wall Street Journal/Marist poll gives Cruz 28% in Iowa to Trump's 24%, with Marco Rubio in third at 13% and Ben Carson in fourth at 11%.
No other Republican gets more than 5% in the caucuses in Iowa, which opens the GOP nomination process on Feb. 1.
In New Hampshire, which holds a GOP primary Feb. 9, Trump comes in at 30%, well ahead of Rubio at 14%.
Chris Christie -- who has made New Hampshire pretty much a make-or-break state for his campaign -- is third at 12% in the new poll, followed by Cruz (10%). John Kasich and Jeb Bush are tied for fifth in the Granite State at 9% each, according to the NBC News/Wall Street Journal/Marist poll.
"That means that the four Republicans vying in the establishment lane of the GOP contest -- Rubio, Christie, Kasich and Bush -- are dividing up 44% of the total vote," the poll said.
Philadelphia Police, FBI Investigate New Threat Against Law Enforcement After Ambush, Shooting of Officer. Tensions ran high in the Philadelphia Police Department Sunday in the wake of an attempted assassination of an officer by a man allegedly claiming he did it "in the name of Islam" after an anonymous tip to officers on Saturday said the threat against police in the city is ongoing.
According to a police report obtained by NBC10, an anonymous tipster told officers that, "the threat to police is not over" and that the man who shot Officer Jesse Hartnett is "part of a group that consists of three others," adding that the alleged shooter "is not the most radical of the four." The report obtained Sunday goes on to say the tipster told police to "be careful."
Law enforcement officials confirmed Sunday afternoon that police did indeed receive a tip that Edward Archer, the man accused of approaching Hartnett's patrol car at 60th and Spruce streets Thursday night and opening fire on him at point-blank range, was working among a small group of radical men. Authorities said the tip came from a woman who approached an officer on the street.
Police said they are taking the tip seriously and investigating, and that on Sunday, they were issuing memos to all law-enforcement agencies to warn them to stay vigilant as the investigation continues. They also posted on Facebook that the FBI is investigating the tip as well.
Muslim Community Condemns Police Shooting Suspect
Philadelphia Police officers are riding with a partner in patrol vehicles as a precaution.
The tipster claimed Archer attended two Philadelphia mosques. An administrator at one of the mosques told NBC10 he did not know the suspect. While the mosque is open to the public, members say any claim that Archer was possibly radicalized while attending is not true because they preach against extremism.
"It's very easy to point the finger and blame or to just throw an accusation around," the administrator said. "It's a different story altogether when you actually come in and listen to our sermons and listen to our lessons."
Hartnett, 33, a five-year veteran, remained hospitalized on Sunday with three gunshot wounds to his arm. Doctors were working to repair nerve damage caused by the bullets.
Investigators over the weekend said that so far, they had not found anything linking Archer, 30, to the Islamic State militant group, though Archer, according to police, pledged allegiance to the group, commonly known as ISIS.
Police also said that recent trips Archer took to Egypt and Saudi Arabia have not been determined to be linked to any terrorist activity.
Archer was charged over the weekend with attempted murder, aggravated assault, assault on police, illegal gun possession and related offenses. After he was shot, Hartnett managed to get out of his patrol car and return fire at Archer, wounding him in the buttocks.
Officials said the gun Archer used was a stolen police weapon.
Officers across the city on Sunday said they were uneasy in light of the unprovoked attack on Hartnett and the new information given to officers in the same West Philadelphia neighborhood where the shooting happened.
Police continued to investigate the anonymous tip on Sunday and said they planned to re-interview the tipster.
Mexico begins proceedings to extradite 'El Chapo' to the US. Mexico formally began the process of extraditing captured drug lord Joaquin "El Chapo" Guzman to the United States Sunday, starting what could be a lengthy road full of legal appeals and maneuvering.
The Associated Press reported that on Sunday, Interpol agents notified Guzman that he is wanted in the U.S. Guzman, who was recaptured Friday, is being held at the maximum-security Altiplano prison -- six months after he escaped through a tunnel out of the same lockup.
The office of Mexico's attorney general said in a statement that the agents served Guzman with two arrest warrants. Guzman's defense now has three days to present arguments against extradition and 20 days to present supporting evidence, beyond the plethora of other appeals they have already started filing. Guzman's attorney Juan Pablo Badillo has said the defense has already filed six motions to challenge extradition requests.
Mexican officials had previously said they were willing to extradite Guzman, but cautioned that the extradition process might take a while.
According to the Attorney General's office, the U.S. filed extradition requests June 25, while Guzman was in custody, and another Sep. 3, after he escaped. The Mexican government determined they were valid within the extradition treaty between the two countries and sent them to a panel of federal judges, who gave orders for detention on July 29 and Sept. 8.
Now that he has been recaptured, Mexico has to start processing the extradition requests anew, according to the law.
On Saturday, a Mexican federal law enforcement official said the quickest Guzman could be extradited would be six months, but even that is not likely because lawyers will file appeals. He said that the appeals are usually turned down, but each one means a judge has to schedule a hearing.
"That can take weeks or months, and that delays the extradition," he said on condition of anonymity because he was not authorized to comment. "We've had cases that take six years."
Badillo has said that his client shouldn't be extradited to the U.S. because "our country must respect national sovereignty, the sovereignty of its institutions to impart justice."
Mexico's willingness to extradite Guzman is a sharp turnaround from the last time he was captured in 2014, when then-Attorney General Jesus Murillo Karam said the extradition would happen only after he finished his sentence in Mexico in "300 or 400 years."
But the legendary drug lord's July 2015 escape embarrassed President Enrique Pena Nieto's government.
Guzman was re-apprehended Friday after a shootout between gunmen and Mexican marines at the home in Los Mochis, a seaside city in Guzman's home state of Sinaloa. Five suspects were killed and six others arrested. One marine was injured.
Mexican authorities say actor Sean Penn's contacts with Guzman helped them track the fugitive down -- even if he slipped away from an initial raid on the hideout where the Hollywood actor apparently met him for an interview.
Penn wrote of elaborate security precautions, but also said that as he flew to Mexico on Oct 2 for the meeting, "I see no spying eyes, but I assume they are there."
A Mexican federal law enforcement official, speaking on condition of anonymity because he was not permitted to comment on the issue, told the Associated Press the Penn interview led authorities to Guzman in the area of Tamazula, a rural part of Durango state.
They raided Guzman's remote hideout a few days after the interview and narrowly missed re-capturing him.
Describing the capture, Attorney General Arely Gomez said that investigators had been aided in locating Guzman by documented contacts between his attorneys and "actors and producers" she said were interested in making a film about him, though she did not name them.
In the interview, Guzman defends his work at the head of the world's biggest drug trafficking organization, one blamed for thousands of killings. When asked if he is to blame for high addiction rates, he responds: "No, that is false, because the day I don't exist, it's not going to decrease in any way at all. Drug trafficking? That's false."
Penn wrote that Guzman was interested in having a movie filmed on his life and wanted Mexican actress Kate del Castillo, who had portrayed a drug trafficker in a television series, involved in the project.
"He was interested in seeing the story of his life told on film, but would entrust its telling only to Kate," wrote Penn, who appears in a photo posted with the interview shaking hands with Guzman.
The Associated Press contributed to this report.
Trump threatens to continue Clinton attacks over past allegations. Donald Trump has no qualms about attacking Hillary Clinton over past allegations of Bill Clinton's behavior.
"Well, I don't want to say it's a threat. But it is a threat," he told NBC's Chuck Todd on "Meet the Press" in an interview aired Sunday.
He added "it's fine" if his own personal history -- including his divorces -- is scrutinized during the presidential race.
The Republican front-runner has blasted the former president, calling him "an abuser" and highlighting allegations from Juanita Broaddrick saying Clinton had raped her, as Trump pushes back on the campaign trail against Democratic rival Hillary Clinton casting him as sexist.
Trump repeated his criticism, saying Hillary Clinton is "married to an abuser. A woman claimed rape, and all sorts of things. I mean, horrible things."
And he said he doesn't mind attention on his own history -- including two divorces.
"You know what? I wasn't the President of the United States. And I wasn't dealing in the Oval Office, all right? A big difference. I wasn't the president," Trump said. "And my first wife thinks I'm great. And my second wife ... I have a great marriage. I mean, I have a great marriage. So I mean, it's fine."
The 2016 race, Obama's legacy, congressional gridlock — get the most important political news delivered to your inbox. By subscribing, you agree to our privacy policy.
Trump said even if he doesn't mind the scrutiny, the Clintons have avoided confrontation with him, taking pains to avoid responding.
"I'm not saying don't bring anything up with me," Trump said. "But when she says that, I had to bring it up. And by the way, they've become very unresponsive since then."
Hillary Clinton was asked about Trump's criticism on CBS' "Face the Nation" Sunday.
"If he wants to engage in personal attacks from the past, that's his prerogative. You know -- so be it," Clinton said. "I'm going to draw distinctions between where I stand and where he stands when it comes to equal pay for women, raising the minimum wage ... protecting a woman's right to make the most personal health care decisions."
Pressed further, Clinton said of her husband's sex allegations: "It's been fair game going back to the Republicans for some years. They can do it again if they want to ... Didn't work before. It won't work again."
David Bowie: 10 of the best
| | |
| --- | --- |
| | www­.theguardian­.com - When David Bowie hit No 5 in 1969, he must have thought he'd finally made it, but his inability to follow Space Oddity with another song that captured the nation's imagination would see him drift b... |
Most agonizing postseason losses in NFL history
| | |
| --- | --- |
| | www­.si­.com - Losing any game is heartbreaking, but losing in the playoffs is far tougher. Losing in the Super Bowl? Well, that's the absolute worst. A postseason loss can hurt that much more when it comes in ag... |
Rodgers, Packers rout Redskins in NFC wild-card
| | |
| --- | --- |
| | www­.si­.com - LANDOVER, Md. – There was certainly nothing about the start that portended the finish. For the first quarter-plus of Sunday's NFC wild-card round playoff game at FedEx Field, the Green Bay Packers ... |
Regardless of it all, Please Stay in Touch This week!