White House gives nod to Biden 2016 run.
Obama believes putting Biden on the 2008 ticket was the smartest decision he's made in politics
The White House acknowledged that Vice President Joe Biden is still weighing a possible run for the top job and had President Obama's support for a bid, amid continued controversy surrounding Democratic front-runner Hillary Clinton.
Press Secretary Josh Earnest said at the White House briefing Monday that President Obama believes putting Joe Biden on the ticket in 2008 was the smartest decision he's made in politics.
"I think that should give you some sense of the president's view of Vice President Biden's aptitude for the top job," said Earnest.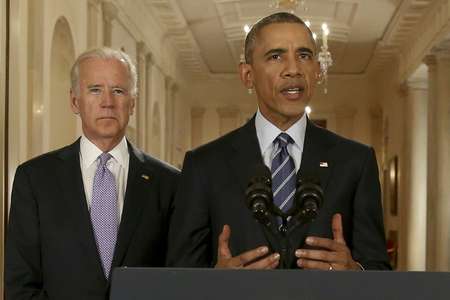 According to CNN, Biden was expected to meet at the vice president's residence with Bob Bauer, an expert in campaign finance. Biden and his team have started to reach out to supporters in early voting states, and believe they could potentially raise $25 to $30 million over the next six months.
Earnest did not rule out the possibility that Obama would ultimately choose between his vice president and his former secretary of state.
"I wouldn't rule out an endorsement," he said.
Biden has previously said he would make a decision on entering the 2016 race by the end of the summer.
"I would assume that that means he's got another month or so to think about this and announce a decision," said Josh Earnest.
Several close aides have jumped from the White House to Clinton's campaign in recent months. But her struggles to explain why she used a private email server to conduct state business has raised questions about her status as presumptive nominee, and Democrats have long been concerned about the prospect of a half-hearted primary race leading to Clinton's nomination.
"Hillary Clinton has coffee with local residents at the Jones Street Java House during a campaign visit April 14, 2015 in Le Claire, Iowa"
Speculation about Biden's plans were fueled by reports over the weekend that he had met privately with Senator Elizabeth Warren, an influential voice in the Democratic Party's left wing.
Murdoch weighs in
Meanwhile, Rupert Murdoch suggested on Twitter that Michael Bloomberg should run in the 2016 elections, saying that the seriousness of Donald Trump's bid meant that it was "time for [the] next billionaire candidate."
There's an ominous precedent lurking over Hillary Clinton's email scandal. Hillary Clinton likes to point out that she is not the first senior national security official to conduct official business on a home computer system.
She's right about that, but the precedent should not give the Democratic presidential front-runner much comfort.
Former CIA director John Deutch was also found to have stored classified documents — including top-secret intelligence — on computers in his homes in Bethesda and Belmont, Mass., leading to an investigation by the CIA inspector general and a criminal investigation by the Justice Department.
Deutch was stripped of his security clearance and ended up reaching a plea agreement admitting to his crimes — but was saved by a last-minute pardon from none other than . . . President Bill Clinton.
The parallels between the Deutch and Clinton cases suggest that come January 2017, instead of planning her presidential transition, Clinton may find herself lobbying for a last-minute pardon of her own.
On Feb. 18, 2000, the CIA inspector general issued a scathing report in which he found that throughout his tenure as director, Deutch had processed "large volumes of highly classified information" on unprotected home computers.
After the computers were seized, he wrote, "a technical exploitation team, consisting of personnel expert in data recovery, retrieved the data from Deutch's unclassified magnetic media and computers" and found "classified information . . . related to covert action, Top Secret communications intelligence and the National Reconnaissance Program budget."
Among the classified documents found on Deutch's hard drive and memory cards were multiple memorandums to the president and vice president that "contained information at the Top Secret/Codeword level." The specific information was redacted in the inspector general's public report, but Newsweek reported that it included documents related to Iraq and a 1996 terrorist bombing in Saudi Arabia that killed 19 U.S. troops.
In one case, the data recovery team discovered that "[t]he files on [a memory] card with the unclassified sticker had been erased; however, the contract network engineer was able to recover data by the use of a commercially available software utility." He found top-secret information on it.
Another parallel with Clinton: The inspector general found that Deutch had used the same unclassified computers to process both classified information and conduct personal business, which made the "classified information residing on Deutch's computers . . . vulnerable to possible electronic access and exploitation."
The inspector general blasted Deutch for his failure to follow an "elementary practice . . . to separately process classified and unclassified information," adding that "[b]ecause Deutch's computers configured for unclassified use had connections to the Internet, all classified information on those computers was at risk of compromise."
The same could be said of Clinton. Indeed, we know that Chinese hackers successfully penetrated the private e-mail accounts of "many" senior Obama White House officials. If investigators find that Clinton's private server containing top-secret intelligence was penetrated by foreign intelligence service, she is going to be in serious trouble.
But here is one important difference: While Deutch expressed regret for putting classified information at risk, Clinton is making public jokes about it — joking about wiping her server "with a cloth" and signing up for a Snapchat account because "those messages disappear all by themselves."
U.S. Democratic presidential candidate Hillary Clinton is joined onstage by her husband former President Bill Clinton after she delivered her
I'm sure the folks at the FBI investigating her e-mail setup found that funny.
The inspector general's report also includes a note for caution for anyone in the bureaucracy who is thinking of protecting Clinton from proper scrutiny. In the Deutch case, the inspector general took CIA officials to task for failing to properly investigate "Deutch's continued suitability for access to classified information" and criticized the agency for its failure to submit "a crimes report to the Department of Justice."
His classified report (which was later made public in unclassified form) spurred action. CIA director George Tenet stripped Deutch of his security clearances. And the Justice Department, which initially declined to launch a criminal investigation, finally did so.
The Post reported that on Jan. 19, 2001, Deutch reached a plea bargain agreement admitting guilt, "but too late to file it in court that day." President Clinton intervened, pardoning Deutch a day later in his final hours in office. Since the pardon obviated the plea agreement, the document was never filed or made public.
When Deutch was stripped of his security clearance, he admitted that "in hindsight it is clear that I should have insisted that I be provided the means of accomplishing [my] work in a manner fully consistent with all the security rules. No one, including the Director, is exempt from compliance with these rules."
He's right. No one, including the secretary of state, is exempt from compliance with those rules either — as Hillary Clinton may soon find out.
This article was from The Washington Post and was legally licensed through the NewsCred publisher network.
Read the original article on The Washington Post. Copyright 2015. Follow The Washington Post on Twitter.
Poll: Biden fares better than Clinton against Trump in swing states. Donald Trump has said he thinks he'll face Vice President Biden, not Hillary Clinton, in the general election (suffice it to say, he's also pretty sure he'll capture the GOP nomination).
According to a new Quinnipiac Swing State Poll, that might not work out so well for him.
The poll finds Biden — who is still mulling whether to challenge Clinton for the Democratic nomination — leading Trump in Florida (45% to 42%), Ohio (48% to 38%) and Pennsylvania (48% to 40%).
Clinton, the current Democratic front-runner, trails Trump in Florida (43% to 41%), but leads by smaller margins in the other two states.
The former secretary of State still maintains solid leads against Biden and other Democratic challengers in each of those states among Democratic voters, however.
Meanwhile, Trump has consistently led GOP polls but often scores poorly on favorability ratings, a potentially ominous sign for his chances of actually winning the nomination.
The Quinnipiac poll finds in Florida, for instance, that while Trump leads two home-state candidates in the GOP race (Trump is at 21%, while former governor Jeb Bush is at 17% and Sen. Marco Rubio is at 11%), his numbers don't look as good on closer examination. The billionaire real estate developer has a 36% favorability rating, well below Bush at 53% and Rubio at 52%.
"The first Republican debate mattered," Peter A. Brown, the poll's assistant director said. "Gov. Jeb Bush got middling debate grades and slips in the GOP horse race. Yet he does very well when voters rate the leading Republican candidates on personal characteristics."
Bush assails Trump on immigration. In Texas, calls fence plan costly and unrealistic.
On his own visit to the Mexican border Monday, Republican presidential candidate Jeb Bush denounced Donald Trump's immigration plan as unrealistic and expensive. And he did it mostly in Spanish.
The former Florida governor told reporters Trump should read his book, ''Immigration Wars,'' if he wants to learn how to deal with illegal immigration. Earlier, he met privately with local, state, and federal officials in this city along the Rio Grande across from Reynosa, Mexico.
Trump has proposed building a massive border fence and kicking out the estimated 11 million people who are in the United States illegally before allowing the ''good ones'' and ''talented'' ones back in.
That plan is ''not based in reality,'' Bush said, arguing it will require a ''much better strategy than building a fence'' to deal with the complexity of America's broken system.
''If he's interested in a comprehensive approach, he might want to read my book,'' Bush said.
Trump took his 2016 Republican campaign to the Mexican border in July to highlight what he considers a broken border-security system. Appearing on ''Fox & Friends'' earlier Monday, he said of Bush, ''I think it's great that he's going to the border because I think he'll now find out that it is not an act of love.''
That was a jab at Bush's comment before he joined the race that people come to the United States out of love for their families and the wish to give them a better life.
''I was down on the border,'' Trump said. ''It's rough, tough stuff. This is not love.''
Bush told reporters at the Palenque Grill restaurant that Trump's immigration plan would cost billions of dollars, violate civil liberties, and ''create friction'' with Mexico, America's third-largest trading partner.
He said border security extends beyond the land border with Mexico, noting that at least 40 percent of the illegal immigrants came to the United States with valid visas. The federal government should vastly improve how it tracks the entry and exit of millions of foreign visitors, he said.
Bush also said most of those illegally crossing the US-Mexico border are Hondurans, Guatemalans, and Salvadorans.
Reporters peppered Bush with questions about his use of the term ''anchor babies'' to describe children born in the United States to parents who are in the country illegally. Some find the term offensive.
Bush said he was referring to alleged fraud by families seeking to have their children born in the states to guarantee citizenship. He said stricter enforcement of immigration laws would help resolve the problem and he repeated his opposition to any move to deny citizenship to those born in America.
He said it was ''ludicrous'' to think he was being derogatory toward immigrants given his own family's Hispanic heritage.
''I'm proud to be married to a Mexican-American woman, and I have children who are Hispanic,'' he said in Spanish as the crowd applauded.
In a separate development, Republican presidential candidate Ted Cruz is urging the nation's pastors to mobilize their congregations in a push to defund Planned Parenthood.
In an e-mail sent to 100,000 evangelical pastors over the weekend, the Texas senator cites what he calls ''Planned Parenthood's barbaric practices of harvesting the body parts of innocent babies and selling them to the highest bidder.''
Planned Parenthood says many women donate their aborted fetuses and the money it collects from researchers only covers costs.
In his e-mail and an online video, Cruz asks the pastors to join a Tuesday afternoon conference call about a defunding fight he plans to lead in the coming weeks.
The stock market drop...by the numbers.
Stock markets around the world recorded dramatic declines. It's ugly. But before you panic, let's put this in perspective. This is hardly the worst day ever for stocks. This pullback also comes after six years of stellar stock market gains. CNNMoney breaks down what's going on... and just how bad it is compared to past drops.
1. Worst point drop for stocks since October 2008. The Dow shed over 1,000 points in early trading. That's never happened before. America hasn't had a point drop near that since October 2008, when the financial crisis was in full effect and people were worried about more banks like Lehman Brothers collapsing. The Dow ended the day down 588 points -- the worst one-day loss since August 2011.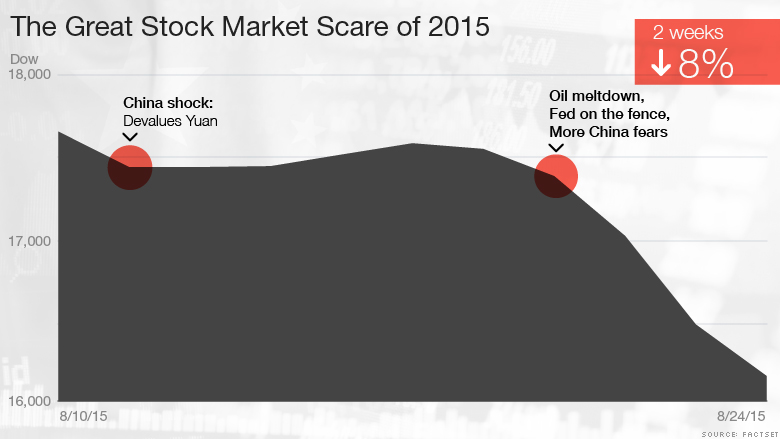 2. Today is not that bad compared to "Black Monday" in 1987. Yes, there's a lot of panic today, but the Dow tumbled a whopping 22.6% on October 19, 1987. Today the Dow was only down about 6.6% at its worst point. If this were a true "Black Monday" like what happened in 1987, the Dow would have fallen 3,700 points.
3. Stocks have gained 200% since financial crisis. Stocks don't just go up. We all know that, but it's been easy to forget it in recent years. Stocks have been rising -- a bull market -- since early March 2009. The S&P 500 has gained about 220% in the past six years. The plunge in the past few days has whipped out a mere 11% of those gains.
4. Yes, the stock market just had a correction. Investors like to throw around a lot of terms -- corrections, bear markets, crashes. The technical definition of a correction is a 10% drop from a recent peak. At the moment, the Dow, S&P 500 and Nasdaq indexes -- America's "Big 3" -- are all in correction mode. They peaked in the spring and have lost over 10% since then. A lot of experts say America was overdue for a correction. They are natural -- kind of like needing to tap the breaks on a bike or car sometimes.
Related: China's economy is in trouble. How bad is it?
5. Oil below $40 is scaring investors. Yes, American drivers love cheap gas at the pump, but investors get nervous when oil prices fall too low. On Friday, they dropped below $40 for the first time since the Great Recession. Energy is still a substantial part of the U.S. economy and stock market. When oil prices slide this much, it means a lot of companies aren't making money anymore. That hurts U.S. companies and many countries that depend heavily on profits from selling oil.
6. China has a problem: Its economy isn't growing at 7%. The current panic in the stock market began last week when China did a surprise devaluation of its currency. Everyone knew China's economy was slowing down, but the devaluation was a red flag that China's government is very worried and the slowdown could be far worse that we realized. Given that it's the world's second-largest economy, investors are fearful that a faltering China could pull much of the world down with it.
7. America is not in a "bear market." A bear market is when the stock market drops over 20%. That is a far worse scenario. So far, even with the losses today and last week, we aren't near that 20% drop yet. The Dow is down about 13%.
8. China crashed, not the U.S. A lot of people like to talk about a stock market "crash." There's not a technical definition for a crash, but people use the term when there is a massive drop, often over a series of days.
At the moment, it's fair to call China's major market selloff in recent weeks a "crash." China is down 40% from its peak. The U.S. market, however, is down just over 10%.
New York City Struggles To Keep Up With High Homeless Numbers.
Eight months after homelessness hit a record in New York City, you can still see the need of the city's most vulnerable in Tompkins Square Park.
"Good morning! Two pieces?" asks Mario Cornejo, as he places slices of frosted banana bread on paper towels for a long line of hungry people.
"It used to be just a small pot before," explains Cornejo, a volunteer with a New York group called Food for Life since 2008. "Now it's a big pot and bigger salad containers, more trays of cake."
With warmer weather, he says he's seen more homeless people lounging in the park and lining up for free meals.
More On Homelessness Around The U.S.
Kyra Brooks, 8, strokes her mother's head. After years in and out of various programs, McClellan finally received a permanent housing voucher for the apartment she and her three children live in now. That means she has to pay up to 30 percent of her income in rent, but there's no time limit, unlike in the rapid rehousing program.
"Some do live in shelters. Some live in the streets," he says. "We're going through difficult times."
Homelessness in New York reached an all-time high last December, when about 59,000 people were sleeping in shelters, according to the city's records. That number has dipped slightly in recent months, now at around 56,000.
Mary Brosnahan, who leads the Coalition for the Homeless, an advocacy group, says there are likely more homeless people living on the streets than the city's official count of about 3,000 from a street survey conducted in February.
"The numbers just keep going up and up and up," she says. "There are just many more homeless, single adults than we've ever seen before."
Many advocates like Brosnahan say homelessness is so high today in New York because of policies under former Mayor Michael Bloomberg, who cut a rent-subsidy program for homeless families after state funding dried up in 2011.
Judith Goldiner of The Legal Aid Society in New York City adds that the city's real estate market squeezes out many low-income families, making homelessness especially hard to solve.
"It's not enough anymore in New York City to give people some money to help them pay for the rent," she says. "You really have to help people find an apartment, because finding an apartment in New York City — even for people who are not homeless — is just an incredibly difficult process."
New York's current mayor, Bill de Blasio, has beefed up funding to help more families find permanent housing and pay for rent, as well as to improve shelter conditions and open new facilities. He recently announced a $22 million mental health program that includes more treatment for mentally ill people living on the streets.
"The goal is to improve outcomes for all the clients that we serve, and that's what we're pushing forward to do. I believe that our work will speak for itself," says Gilbert Taylor, New York's commissioner of homeless services.
Still, the city's 311 hotline has been receiving more complaints about homeless people since de Blasio took office in 2014. This summer, de Blasio has come under fire from New York Post editorials warning that "a surging vagrant population" in Tompkins Square Park could make the city "menacing and unlivable."
Christina Greer, a political science professor at Fordham University, says it's a problem of perception.
"When people think about homeless, especially homeless men, in the street, they think about someone who is outside when it's dark and susceptible to committing crimes," Greer says. "This is coded language that I think is being used to signal that this particular administration is not keeping the city safe."
The city's overall crime rate is down 5.6 percent compared to last year, according to the latest numbers from the New York Police Department. But almost half of voters in a recent poll by Quinnipiac University said that crime is a "very serious" problem and that quality of life has gotten worse in the city.
"If New Yorkers feel that the city is less safe, if they feel that homelessness and petty crimes and violent crimes all go hand in hand, then we're looking at a one-term mayor," Greer warns.
De Blasio still has a couple years as mayor to clamp down on homeless numbers before he's up for re-election.
But back in Tompkins Square Park, 35-year-old Ronald Davis is under a shorter timeline. He says he's been homeless in New York for about three years and has spent nights near the park, carrying around his clothes in a ripped blue backpack.
But Davis doesn't want to do it anymore. He says he recently checked into a transitional housing program.
"I can't sleep in the streets," he says. "That's tearing me up — the bugs, the filth, the sweat, cops messing with you. It's just too much."
Jon Stewart Gets Body Slammed by John Cena on 'WWE Monday Night Raw'.
Jon Stewart's decision to break bad has had some very painful consequences.
After his sneak chair attack on John Cena during Sunday's WWE SummerSlam, the former Daily Show host, and newest heel in wrestling, attempted to explain his mendaciousness on Monday Night Raw.
Cena, though, was having none of it and promptly gave the funny man the Attitude Adjustment, his signature slam. Ouch.
Regardless of it all happening today, please stay in touch.