Joining Morning Joe today are Carly Fiorina, James Carville, Mary Matalin, and J.J. Redick!
A Heated Exchange: We do know what the lead story will be all day today and we all must admit that Jorge Ramos was basically giving a lecture
. I also think (Donald) Trump handled it pretty well. It looked uncomfortable but at the same time, Ramos was basically spewing his comments out over other people and over when Trump was choosing another person to ask a question. To be honest with y'all, Donald Trump was being introduced by the new Iowa state campaign director that had just left Rick Perry's campaign to join Trump's campaign within 8 minutes which also honestly, is the real story here and yet, it won't even be brought up by anyone all day (although the panel at the top of the next hour has just mentioned it real quick (Robert Costa did now too)).
Plus, Trump did look better in the end because he did allow Ramos back into the room which is when the reporter got to go off on two occasions. It was indeed a speech issued by Ramos. He was NOT asking a question. That was my issue with the altercation. Casey Hunt did mention that Obama himself has had "clashes" with this Jorge Ramos (Ramos called Obama the "Deporter in Chief" at one press conference which was pretty well known to anyone that follows politics every day). And, even though Mika is saying that Ramos was not thrown out of the room, the fact is that Trump did nod to his security guy which in turn was the go ahead to oust him from the press conference. And, like Willie (Geist) just said about Ramos grandstanding in that room about Trump's immigration policy, he did say it was personal between them just last week. It sounded personal.
Trump, Carson top latest S.C. GOP poll.
In a Republican presidential field that includes former and current southern governors and South Carolina's senior U.S. senator, a new poll shows a billionaire real estate developer from New York with a commanding lead in the Palmetto State.
A Monmouth University poll out Tuesday finds Donald Trump leading among South Carolina Republicans with 30% support, followed by retired neurosurgeon Ben Carson at 15%. No other candidates register in double digits.
South Carolina Sen. Lindsey Graham, who has sparred repeatedly with Trump in recent weeks, is well behind at 4%.
Reacting on Twitter to the latest survey showing his strong standing in the 2016 race, Trump wasn't exactly magnanimous — not that you'd expect anything less.
Congrats
@

LindseyGrahamSC
. You just got 4 points in your home state of SC—far better than zero nationally. You're only 26 pts behind me.
Graham fired back at Trump Tuesday, including his latest attacks on Fox News' Megyn Kelly, saying on Fox News Radio that "If you think Megyn Kelly is a bimbo, you're an idiot."
He said of Trump's remarks: "If that's OK, you better accept the consequences of that being OK because we are going to lose!"
South Carolina's primary is scheduled for next February and is historically a critical battleground for candidates seeking the GOP nomination.
Donald Trump kicked TV's most influential Latino newsman out of a press conference. Donald Trump, derider of Mexican illegal immigrants, insulter of POWs and GOP front-runner, kicked journalist Jorge Ramos out of a press conference Tuesday evening.
The billionaire later allowed Ramos back into the press conference, where the two engaged in several lengthy exchanges that dominated the remainder of the event. But none of those exchanges provided the moment that will be repeated in endless loops on cable TV, shared on social media and discussed in Hispanic TV-watching households across the country.
The lasting image will be that of Ramos -- who serves as Univision's lead anchor and is effectively one of the (if not the) most powerful newsmen on Spanish-language TV -- being hustled out of the room after trying to ask Trump a question. Ramos, whose nightly newscast has been known to post ratings that top those of all three major English-language network news programs, has a history of holding presidential candidates very close to fire on issues he believes to be of deep concern to Latinos, such as immigration.
The problem at the press conference Trump held in Iowa late Tuesday began when Ramos stood just as Trump called on another reporter.
Ramos, who spoke without the aid of a microphone, could be heard insisting that he had a right to ask a question. Then, he can be heard making reference to the implausibility of deporting 11 million people -- a key feature of an immigration policy proposal Trump released earlier this month.
"Excuse me -- you weren't called...Sit down...Sit down...Go ahead," Trump said, pointing to another reporter.
Then, turning his attention back to Ramos, Trump said, "No you don't. You haven't been called. Go back to Univision."
An unidentified man dressed in a dark suit, apparently a member of the security staff, then physically removed Ramos from the press conference.
During the period that Ramos was out of the room, Trump described Ramos as "obviously a very emotional person" whom he does not know. When Ramos was allowed to return, the journalist questioned Trump about the contents of his immigration policy, and Trump's repeated use of the term "anchor baby." Trump defended the term's use and comments made during his announcement speech reiterating the unfounded claim that the Mexican government is engaged in a coordinated effort to send the dregs of its society to the United States.
After taking questions from other reporters in the room, Trump turned his attention back to Ramos. Trump then claimed that he enjoys tremendous support among Latinos.
"Do you know how many Latinos work for me? Do you know how many Hispanics are working for me? They love me," Trump said.
It was an evening filled with comments unlikely to endear Latino voters -- or other Americans aware that Trump's comments about Ramos' emotions amount to an almost-direct reference to an oft-repeated Latino stereotype. And the idea that Americans of any kind love the people who employ them, well, that's another matter entirely.
Trump's initial confrontation with Ramos also seems largely inconsistent with the candidate's reported detente with Spanish-language media. And it provides fresh fodder for those who claim that Trump's behavior and public comments will make the GOP's mission-critical efforts to attract a larger share of Latino voters more difficult.
In July, during his much-covered border visit, Trump cut off a reporter affiliated with the nation's second-highest rated Spanish language network, Telemundo, during the reporter's question about the language that Trump has used to describe those crossing the Mexican border.
Trump grew angry about the content of the question, describing it as an attempt to mischaracterize his statements. He told the reporter that he was "finished."
Now, Trump has engaged in a public tangle with one of the best-known names in Spanish-language news. During the 2012 election, Ramos's reach and influence prompted both President Obama and GOP nominee Mitt Romney to sit down for extended, multilingual interviews focused on the issue of immigration. Univision is also the nation's top-rated Spanish language network and an organization that cut business ties with Trump in June, canceling a multi-year broadcast deal with the Miss Universe pageant over Trump's presidential announcement speech claims that rapists and other criminals are streaming across the U.S.-Mexico border. Trump is a part owner of the pageant.
It is, of course, unlikely that Trump's response to Ramos will ding the Republican front-runner's standing with voters who have praised his plain-spoken, often confrontational public persona. That's precisely what some of them like about him.
Univision and Fusion anchor Jorge Ramos was escorted out of a press conference held by GOP presidential candidate Donald Trump in Dubuque, Iowa on Tuesday.
As Trump took the podium, Ramos stood up and asked Trump a question about immigration, and Trump's immigration plan. Trump, ignoring Ramos, called on someone else. Ramos continued trying to asking the question, to which Trump responded, "Excuse me, sit down. You weren't called." Ramos continued, and Trump repeatedly told him, "Sit down."
Ramos then protested, "I have the right to ask a question." Trump answered, "No you don't. You haven't been called." Ramos again said that he has the right to ask a question, to which Trump retorted, "Go back to Univision."
Ramos continued to press on, at one point stating "You cannot deport 11 million people" as Trump tried to take other questions.
Eventually, a man came over and escorted Ramos out of the event as Ramos continued to try to ask his question and Trump told him to sit down because he hadn't been called on. As Ramos was being removed from the question he said, "Don't touch me, sir. You cannot touch me."
Later, in response to other questions, Trump said he "would love to" have Ramos come back to the presser. He added that Ramos was "out of order" and that he would have taken Ramos' question if he hadn't interrupted.
Less than 20 minutes later, Ramos returned and was able to ask Trump multiple questions. (
Follow Ian Hanchett on Twitter @IanHanchett)
Anyway, in a new poll, the Republican presidential front-runner Donald Trump is dominating the crowded GOP field in the early-voting state of New Hampshire, holding a 24-point lead over his nearest rival, according to this new poll.
Trump is supported by 35 percent of GOP primary voters in the state, followed by Ohio Gov. John Kasich (11 percent) and businesswoman Carly Fiorina (10 percent), according to the survey released Tuesday from the left-leaning Public Policy Polling.
Former Florida Gov. Jeb Bush and Wisconsin Gov. Scott Walker each take 7 percent, followed by retired neurosurgeon Ben Carson at 6 percent. New Jersey Gov. Chris Christie, Texas Sen. Ted Cruz and Florida Sen. Marco Rubio each have 4 percent, while Kentucky Sen. Rand Paul has dropped to 3 percent.
The new poll has found a drop in support for several candidates, including a major drop for Walker (17 points), who has similarly seen his Trump recently steal his lead in Iowa, another early-voting state.
Bush and Trump duked it out in New Hampshire last week, before the latest figures were recorded showing only 38 percent of primary voters have a favorable opinion of Bush compared to 41 percent with a negative one.
On the Democratic side, Sen. Bernie Sanders (I-Vt.) is leading longtime front-runner Hillary Clinton by 7 points, 42 percent to 35 percent. That's the same margin found in a separate poll in the state earlier this month.
Nearly eight in 10 Democrats in New Hampshire, 78 percent, view Sanders favorably in the latest poll. Clinton was viewed favorably by that percentage in April, but that has dropped 15 points among Democrats.
While Clinton is ahead 51 percent to 34 percent among seniors, Sanders has a 45 percent to 29 percent advantage among everyone under the age of 65, according to the poll. The two are closer on ideological metrics.
The survey of 436 Republicans and 370 Democrats was conducted Aug. 21-24 mostly via telephones but also through the Internet with margin of error of 4.7 points on the GOP side and 5.1 points on the Democratic side.
Conversely on the Democratic side of the races, Second straight poll shows Bernie Sanders leading in New Hampshire. But can the Vermont senator take those results nationally?
In just over two months, Bernie Sanders has risen from a more-than-30-point underdog in the polls to leading Hillary Clinton in New Hampshire.
Sanders is leading Clinton 42 percent to 35 percent among Democratic primary voters in the state, according to a poll released Monday by Public Policy Polling.
It's the second time in less than two weeks a poll showed Sanders ahead in the Granite State.
"Two polls in a row gives a little more credence to the idea that things are deadlocked, essentially neck and neck," Danta Scala, University of New Hampshire professor of political science, told Boston.com. For the first time, Sanders is also leading Clinton by a slim margin according to the latest polling average by Real Clear Politics.
But the bigger surprise is in the details, said Wayne Lesperance, professor of political science at New England College.
Not only does Sanders lead Clinton among men, 44 percent to 30 percent, but he also leads among women, 41 percent to 38 percent (but within the 5.1 percent margin of error).
"If that's right, that's stunning," Lesperance told Boston.com, "because Hillary Clinton is running a historical campaign to become the first female president. That Sanders is leading among women would be shocking."
There is also a deep generational divide.
"Clinton is ahead 51/34 with seniors, but Sanders has a 45/29 advantage with everyone under the age of 65," said the poll press release.
Yet, despite the surge in New Hampshire, polls in virtually every other state have been a bucket of cold water on the Sanders campaign.
RCP's polling averages show Sanders trailing Clinton nationally by 24 percentage points. He's also down in early voting states: in Iowa by 27 points (a Suffolk poll Tuesday showed Clinton up by 34) and in South Carolina by 56 points. Sanders also trails Clinton by more than 25 points in Florida, Ohio, and Pennsylvania, according to a Quinnipiac University poll released last week.
One reason for the drastic difference in New Hampshire versus elsewhere is geography, according to Scala.
"Sanders has something of a home court or backyard advantage," said Scala, who added that New Hampshire Democrats have a history of backing progressive, anti-establishment candidates.
The Sanders campaign also credited their so-called homecourt advantage.
"People in New Hampshire already know him better than people in other states because he's their next door neighbor," Sanders campaign spokesman Michael Briggs told Boston.com. "There are television and radio stations and newspapers that reach audiences in both New Hampshire and Vermont, so he starts off with a little more familiarity in New England than in other parts of the country."
The Clinton campaign did not immediately respond to requests for comment.
"Granite Staters really appreciate retail politics and that's been happening a lot with the Sanders campaign, more so than Clinton," Lesperance said, noting the difference in the two candidates' campaign styles.
"The more people get to know him the better they like him," said Briggs. "He's gaining ground and drawing the biggest crowds for any presidential candidate all over the country."
Politico recently reported the Sanders campaign was attempting to use the their massive rallies to organize the frenzied crowds into a national into a grassroots political machine that could rival Clinton on the national level.
"It is sort of a reverse way of building a campaign, but it makes sense," Lesperance said. "They drive these huge crowds, and encourage these people to become donors, become volunteers."
Scala is less optmistic of Sanders's chances outside New Hampshire, noting that Democratic primary voters become "less progressive and more racially diverse." Lesperance also said the self-described democratic socialist would be a "tough sell in the South."
"Democratic primaries are full of candidates that did well in New Hampshire and hit a wall after that," Scala said.
In 2000, Bill Bradley campaigned to the left of Al Gore, coming closest in New Hampshire, but eventually losing every state primary. In 2004, Howard Dean, the liberal alternative to John Kerry, also got closest in New Hampshire, but ultimately dropped out mid-way through the primaries.
Of course, Scala did note one "unusual candidate" who, after narrowly losing to Clinton in New Hampshire, was able to unite a coaltion of progressives and black voters.
That candidate, of course, was Barack Obama.
Also on the Dem side of the aisle, Howard Dean just mentioned a Michael Tomasky article written in the Daily beast today that is about how a
Hillary vs. Biden Would Get Ugly Fast.
You thought Clinton-Obama 2008 was bad? Wait until a white guy steps in a woman's path and attacks her integrity.
You've got to admit it was kind of a stroke of genius for Joe Biden to have that "secret" meeting with Elizabeth Warren over the weekend. The mind of course jumps instantly to the prospect of a Biden-Warren ticket, even to the idea that Biden could, when announcing his candidacy, say, next month, also announce that Warren will be his running mate.
Game-changer is a hoary expression in this town, so forgive me, but that really would be one. I'd guess Biden would go instantly from his current 13 percent to at least twice that. His ego would have to adjust to having a running mate who is more beloved than he is and who draws crowds about four or five times the size of his. But even something short of an official alliance, a nudge-wink implication that Warren is somehow on Team Biden, makes him a much more serious player.
The big Biden question is whether he's just preparing in case Clinton becomes felled by scandal or "scandal," or whether he decides in the near future that she's damaged enough already that he might as well hop on the bus and see where it takes him. The former course of action, well, that's all right; given what appear to be Bernie Sanders's general-election limitations and the fact that Martin O'Malley isn't exactly setting the nation on fire, it seems a reasonable thing for him to be thinking about.
But what if he just decides the hell with it, I'm running? A Biden vs. Clinton primary battle could be—and if Biden manages to win a couple of primaries, most certainly would be—far more acrimonious than the Clinton-Barack Obama fight of 2008.
Why? Three reasons. The first has to do with race and gender and history. When Clinton announced in 2007, she was going to be the first woman president. Then Obama got in, and he was going to be the first black president. He totally trumped her on the history-maker scale. I realize not everyone saw it that way, but in general terms, given the, ah, special racial history of this country, and given the role the Democratic Party played in changing that history for the better, Obama had the larger and more morally urgent historical claim to make in the minds of most Democrats and liberals. The woman would have to wait, as women so often do.
Well, she's waited. Not that she had any choice in the matter, but she did. And now, to a lot of Democrats, it's her turn. The party can make history twice in a row. Imagine!
He's going to have to run a campaign that says, sub rosa: "I'm a stronger and safer nominee because she's corrupt."
So now, an old white guy is going to saunter in and step on that? And if he's going to do it, he's not going to be able to do it politely, which brings us to reason number two why this would get ugly. Biden is not going to get anywhere with a campaign that says: "I have better ideas than Hillary Clinton does," because he probably doesn't, and she has perfectly fine and laudable ideas, even if a lot of liberals don't want to admit that yet.
No. He's going to have to run a campaign that says, sub rosa: "I'm a stronger and safer nominee because she's corrupt." Because that's the only argument, is it not? He can't out-populist her, really, even with Warren promoting him—he's been in politics for 40 years and he's always been a pretty conventional establishment liberal on economics. He can maybe say he has more experience, but she's got plenty of that, and it's not a deficiency; it would be like Tim Duncan saying "I have more experience than LeBron James." Yeah, you do. So what?
Biden would have no choice but to build a run around the idea that she's too risky. He or his surrogates will need to press the idea that the party could nominate Clinton and then next fall, Trey Gowdy finds that Holy Grail email that brings the whole thing crashing down. In other words, his candidacy is going to have to be built around what is in essence a Republican Party talking point.
And if he goes for the jugular, the Clinton team will surely respond in kind. They're not wallflowers, those folks. They know how to fight. And they'd be fighting on behalf of the millions of Democratic women out there for whom it's Clinton's time. That's her emotional rationale. But Biden has an emotional rationale, too: Beau. Where women will be protective of Hillary, Biden's backers will be protective of him, too, because of his war hero son's death.
As I said above, Biden would have to win a few primaries for this to happen. If he gets in and loses the first four primaries and she wins them, then he's out, and so is everyone else, with the possible exception of Sanders, who is the kind of candidate who might hang around for a while to make his point. But if he wins a couple and finishes well enough in others to collect a respectable amount of proportional delegates, he could well stick around until at least the Pennsylvania and Delaware primaries, which are scheduled for April 26.
That's a long fight, and it brings us to our third reason why this would be worse than 2008. The media would be rooting for and trying to foment Democratic chaos every step of the way. Of 2008, I do think it's fair to say that the press liked Obama and kinda wanted to see him win, for the historical reasons noted above. "America Elects First Black President" was the best of the possible story lines on offer and it made (most) people feel good about the country. Well, today, the media want to see Clinton lose, it's pretty obvious, and so they'd do everything they could to promote Biden and turn the campaign into all-out war. And in contrast, the press likes Biden, and reporters will cut him lots of slack and lash into her for daring to attack Biden after the personal tragedy he's suffered.
And by the way, what would Obama do in a Biden-Clinton match? Those comments by Josh Earnest on Monday were strange. He ladles praise on Biden and says he "wouldn't rule out the possibility of an endorsement during the Democratic primary." Really? He'd knife Clinton like that? The Clintons delivered pretty well for him in 2012 as I recall.
Besides, powerful people don't endorse people who are nearly 40 points behind in the polls, as Biden currently is to Clinton. The normal thing for a spokesman to say in such circumstances is something like "the president has enormous respect for both Clinton and Biden and will respect whatever decision..." and that kind of thing, but Earnest went well beyond that.
I suspect Biden is thinking only about a contingency run. But once these guys start thinking... Well, he, and Democrats ought to think a little about the above.
Now, to shift gears here today, the New York Times reports (By Mark Mazzetti and Matt Apuzzo)
about an Inquiry that Weighs Whether ISIS Analysis Was Distorted
.
The Pentagon's inspector general is investigating allegations that military officials have skewed intelligence assessments about the United States-led campaign in Iraq against the Islamic State to provide a more optimistic account of progress, according to several officials familiar with the inquiry.
The investigation began after at least one civilian Defense Intelligence Agency analyst told the authorities that he had evidence that officials at United States Central Command — the military headquarters overseeing the American bombing campaign and other efforts against the Islamic State — were improperly reworking the conclusions of intelligence assessments prepared for policy makers, including President Obama, the government officials said.
Fuller details of the claims were not available, including when the assessments were said to have been altered and who at Central Command, or Centcom, the analyst said was responsible. The officials, speaking only on the condition of anonymity about classified matters, said that the recently opened investigation focused on whether military officials had changed the conclusions of draft intelligence assessments during a review process and then passed them on.
Iraqi Army recruits in Taji in April with U.S. Army trainers. About 3,400 American troops are advising Iraqi forces. Credit John Moore/Getty Images
The prospect of skewed intelligence raises new questions about the direction of the government's war with the Islamic State, and could help explain why pronouncements about the progress of the campaign have varied widely.
Legitimate differences of opinion are common and encouraged among national security officials, so the inspector general's investigation is an unusual move and suggests that the allegations go beyond typical intelligence disputes. Government rules state that intelligence assessments "must not be distorted" by agency agendas or policy views. Analysts are required to cite the sources that back up their conclusions and to acknowledge differing viewpoints.
Under federal law, intelligence officials can bring claims of wrongdoing to the intelligence community's inspector general, a position created in 2011. If officials find the claims credible, they are required to advise the House and Senate Intelligence Committees. That occurred in the past several weeks, the officials said, and the Pentagon's inspector general decided to open an investigation into the matter.
Spokeswomen for both inspectors general declined to comment for this article. The Defense Intelligence Agency and the White House also declined to comment.
Col. Patrick Ryder, a Centcom spokesman, said he could not comment on a continuing inspector general investigation but said "the I.G. has a responsibility to investigate all allegations made, and we welcome and support their independent oversight."
Numerous agencies produce intelligence assessments related to the Iraq war, including the Defense Intelligence Agency, the Central Intelligence Agency and others. Colonel Ryder said it was customary for them to make suggestions on one another's drafts. But he said each agency had the final say on whether to incorporate those suggestions. "Further, the multisource nature of our assessment process purposely guards against any single report or opinion unduly influencing leaders and decision makers," he said.
It is not clear how that review process changes when Defense Intelligence Agency analysts are assigned to work at Centcom — which has headquarters both in Tampa, Fla., and Qatar — as was the case of at least one of the analysts who have spoken to the inspector general. In the years since the Sept. 11, 2001, attacks, the Pentagon has relocated more Defense Intelligence Agency analysts from the agency's Washington headquarters to military commands around the globe, so they can work more closely with the generals and admirals in charge of the military campaigns.
Mr. Obama last summer authorized a bombing campaign against the Islamic State, and approximately 3,400 American troops are currently in Iraq advising and training Iraqi forces. The White House has been reluctant, though, to recommit large numbers of ground troops to Iraq after announcing an "end" to the Iraq war in 2009.
The bombing campaign over the past year has had some success in allowing Iraqi forces to reclaim parts of the country formerly under the group's control, but important cities like Mosul and Ramadi remain under Islamic State's control. There has been very little progress in wresting the group's hold over large parts of Syria, where the United States has done limited bombing.
Some senior American officials in recent weeks have provided largely positive public assessments about the progress of the military campaign against the Islamic State, a Sunni terrorist organization that began as an offshoot of Al Qaeda but has since severed ties and claimed governance of a huge stretch of land across Iraq and Syria. The group is also called ISIS or ISIL.
In late July, retired Gen. John Allen — who is Mr. Obama's top envoy working with other nations to fight the Islamic State — told the Aspen Security Forum that the terror group's momentum had been "checked strategically, operationally, and by and large, tactically."
"ISIS is losing," he said, even as he acknowledged that the campaign faced numerous challenges — from blunting the Islamic State's message to improving the quality of Iraqi forces.
During a news briefing last week, Defense Secretary Ashton B. Carter was more measured. He called the war "difficult" and said "it's going to take some time." But, he added, "I'm confident that we will succeed in defeating ISIL and that we have the right strategy."
But recent intelligence assessments, including some by Defense Intelligence Agency, paint a sober picture about how little the Islamic State has been weakened over the past year, according to officials with access to the classified assessments. They said the documents conclude that the yearlong campaign has done little to diminish the ranks of the Islamic State's committed fighters, and that the group over the last year has expanded its reach into North Africa and Central Asia.
Critics of the Obama administration's strategy have argued that a bombing campaign alone — without a significant infusion of American ground troops — is unlikely to ever significantly weaken the terror group. But it is not clear whether Defense Intelligence Agency analysts concluded that more American troops would make an appreciable difference.
In testimony on Capitol Hill this year, Lt. Gen. Vincent R. Stewart, the agency's director, said sending ground troops back into Iraq risked transforming the conflict into one between the West and ISIS, which would be "the best propaganda victory that we could give."
"It's both expected and helpful if there are dissenting viewpoints about conflicts in foreign countries," said Micah Zenko, a fellow at the Council on Foreign Relations and author of a forthcoming book, "Red Team," that includes an examination of alternative analysis within American intelligence agencies. What is problematic, he said, "is when a dissenting opinion is not given to policy makers."
The Defense Intelligence Agency was created in 1961, in part to avoid what Robert McNamara, the Secretary of Defense at the time, called "service bias." During the 1950s, the United States grossly overestimated the size of the Soviet missile arsenal, a miscalculation that was fueled in part by the Air Force, which wanted more money for its own missile systems.
During the Vietnam War, the Defense Intelligence Agency repeatedly warned that even a sustained military campaign was unlikely to defeat the North Vietnamese forces. But according to an internal history of the agency, its conclusions were repeatedly overruled by commanders who were certain that the United States was winning, and that victory was just a matter of applying more force.
"There's a built-in tension for the people who work at D.I.A., between dispassionate analysis and what command wants," said Paul R. Pillar, a retired senior Central Intelligence Agency analyst who years ago accused the Bush administration of distorting intelligence assessments about Iraq's weapons programs before the beginning of the Iraq war in 2003.
"You're part of a large structure that does have a vested interest in portraying the overall mission as going well," he said.
Also on the show today is the wife and hubby tandem, James Carville and Mary Matalin. Carville is staunch Democrat and Mary is a staunch GOP'er. They are discussing the anniversary of Hurricane Katrina which in NOLA was a man made disaster but in Bay St. Louis, the damage was caused by mother nature.
Hurricane Katrina: 10 years later! Hurricane Katrina made landfall on the Gulf Coast on August 29, 2005, leveling buildings and destroying lives. Ten years later, see how the region is moving forward.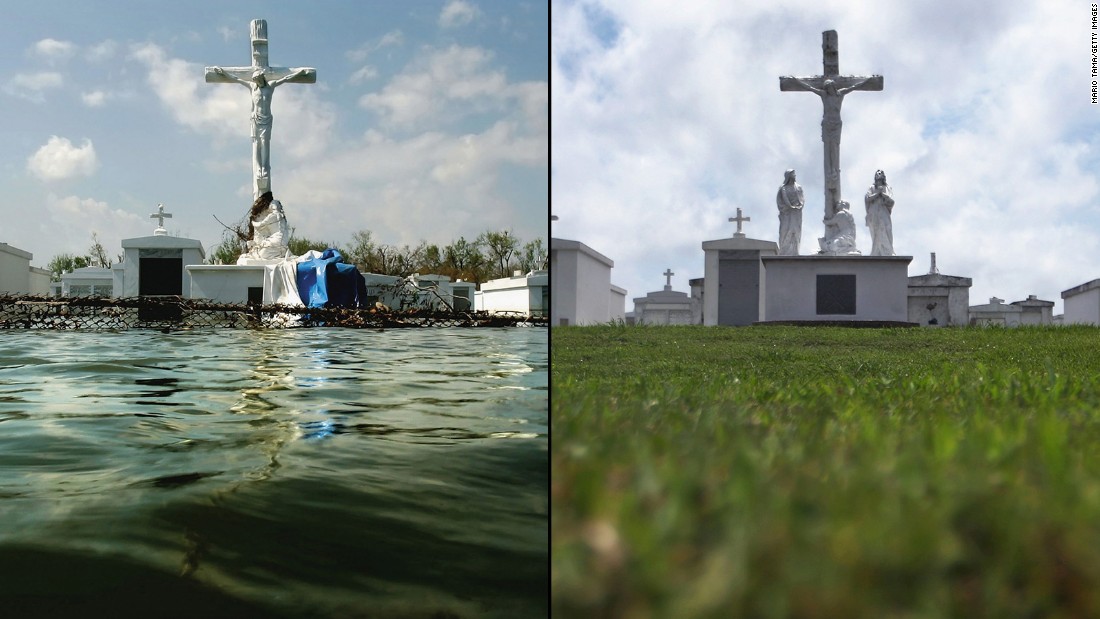 Bay St. Louis makes comeback. Hurricane Katrina's wind and floodwater nearly wiped out all of Bay St. Louis — homes, businesses, municipal buildings and even the four-lane U.S. 90 bridge connecting the city to neighboring Harrison County.
Only 50 or so homes of the approximately 4,500 escaped destruction.
"How badly damaged were we?" Mayor Les Fillingame asked, repeating the question. "As close to being 100 percent as you could be. There were very few homes that didn't have major damage. Most outside of those 50 were basically destroyed. Some were still standing, but the floodwaters destroyed them."
The historic city on a bluff overlooking the Bay of St. Louis has a reputation as a colorful arts colony and casual weekend haven for south Louisiana residents. Clarinetist Pete Fountain lost his beachfront home to Katrina and later sold the property to New Orleans-based political consultants and commentators James Carville and Mary Matalin, who built their getaway home on it.
Getting the city back on its feet was a challenge on every front, recalled Fillingame, who was director of recovery before being elected to his first term as mayor in 2009.
"You had a building department that was virtually working on every home in Bay St. Louis, and you had a city administration that was completely involved in rebuilding the public infrastructure," he said.
As the city and its citizens dug their way out, volunteers from across the country poured in, preparing meals, distributing clothing and other necessities, hauling off old appliances, anything they could to lighten the burden during the early recovery.
"Many volunteers just showed up at people's doors and said, 'what can I do to help,' " Fillingame said. "You couldn't give them too much to do. That was by and large the biggest blessing of the whole thing."
The overwhelming job of rebuilding the city was picked up by the Federal Emergency Management Agency, the U.S. Department of Housing and Urban Development and other federal agencies that began pumping millions of dollars into a long list of recovery projects.
What started out as $12 million worth of repairs paid for by FEMA grew to $80 million over the next several years. One early project was the replacement of nearly all of the city's aging utility system. Another was building a bridge across the Bay.
HUD funds went into revitalization projects including construction of a community hall, streetscape efforts and a $21 million harbor for recreational boaters that proponents believed would bring people into the Old Town shops, restaurants and galleries.
"The harbor is the most prominent of all the revitalization projects and the final one," Fillingame said. "And the harbor is doing exactly what it was designed to do. It is driving our economy in a very real way."
Tish Williams, executive director of the Hancock County Chamber of Commerce, keeps track of all the "best of" lists that Bay St. Louis has landed on in the past few years, including Best Little Beach Towns, America's Coolest Small Town and Top 12 Places You Need to Visit. "That really sums it up: We're back and we're better," she said.
The Katrina comeback continues to attract more residents, Fillingame said. With a population of 11,388, it has surpassed the 11,211 residents it had pre-Katrina, making the city the fastest growing in the state.
"In order for that to happen, every cylinder in the engine has to be hitting," Fillingame said.
But former Mayor Eddie Favre, who was in office when Katrina hit and in its aftermath, said that while the city has made great gains, particularly in tourism, restaurants and night life, there's a "difference of opinion" on the residential comeback.
"I still believe that we're missing 3,000 to 4,000 people," Favre said. "That (11,388) figure includes an annexation that didn't become effective until June of 2006, and I believe that's where the numbers come from. There's still an awful lot of empty slabs. They're having to rebuild way up in the air, in the nosebleed section, and only some people can afford to rebuild."
Clarion-Ledger political editor Geoff Pender contributed to this report.
Regardless of it all, please stay in touch!